The Bachelor Gives Nick the Redemption Edit
The season 21 premiere of the reality dating show presented a former villain, looking for love.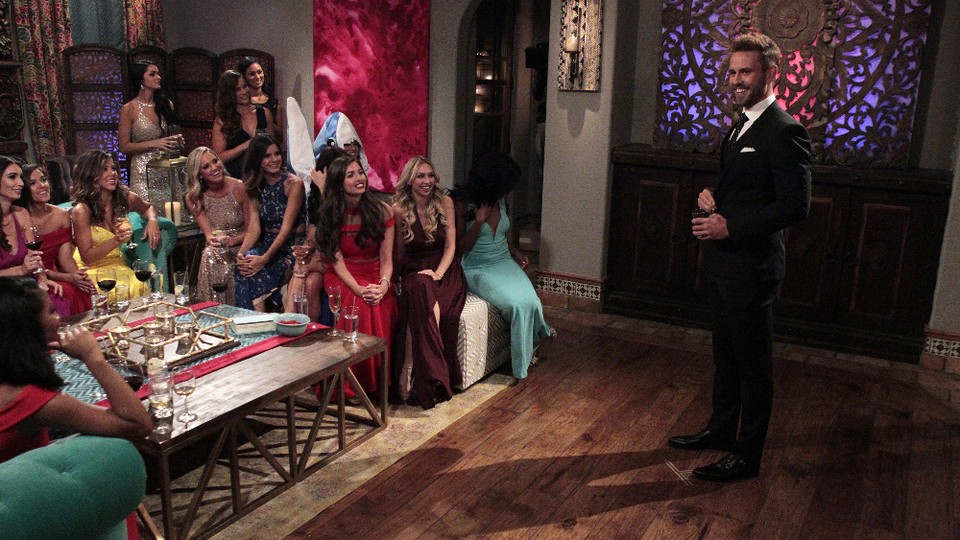 There are many ways to be a villain on The Bachelor. You can be overly aggressive in pursuit of the Bachelor or Bachelorette whose heart—and, in the meantime, whose rose—you are seeking. You can be disrespectful of your fellow contestants. You can be overly emotional. You can be not emotional enough. Or you can be, if you are Nick Viall, all of those things at once: a multi-dimensional villain—someone who is not villainous in one particular way, but whose villainy instead accretes, episode by episode, by way of bad behavior and good editing.
In his two seasons as a contestant on The Bachelorette, Nick, a 30-something software salesman from Wisconsin, annoyed the other guys by bragging about his connection with the Bachelorettes in question, and also by writing fawning poems, and also by singing weird songs with sexually explicit lyrics. During the live After the Final Rose special that concluded Andi's season, Nick violated one of the cardinal, if unspoken, rules of Bacheloretteism: He discussed what happened between the two in the Fantasy Suite—the one place where a couple can interact away from the show's otherwise omniscient cameras. And he revealed that he and his almost-fiancée had indeed had sex during their stay in the Suite. Cue, for Andi, the slut-shaming.
So it was a matter of thinkpiece-friendly controversy, then, when, in August, The Bachelor announced that Nick, for all this aggregated awfulness, would get rewarded with a prize that is even more valuable than a telegenically red rose: He would be the next Bachelor. Come January, Nick would have 30 women—not just beautiful women, but also "accomplished" ones, the show goes out of its way to insist—vying for his heart. It was a casting decision that presented a challenge for a show that, for all its glitter and fluff, revolves around its own implied moralities: about marriage and the path that should lead to it, about sex, about the things that make one, in one of the show's recurring phrases, "deserving of love." With Nick, who snagged the bachelorship over the expected candidate, the sensitive cowboy Luke, The Bachelor's producers needed to find a way to have it both ways: to benefit from the ratings-grabbing drama of a controversial Bachelor while also maintaining the moralism of a televised mating routine that demands that its participants, all of them, be "there for the right reasons."
Their solution, it seems: The Bachelor is insisting that its star, while still "controversial," has changed. Nick is a villain no longer, it claims, but a man whose prior mistakes have now made him more intent than ever to Find Love. "This is the season of redemption," Kathy Griffin—yep, that Kathy Griffin—announced in a special leading up to Monday's season 21 premiere. And during the premiere itself, The Bachelor's host, Chris Harrison, laid things out yet again: "From bad boy to Bachelor," Harrison said, with ceremonial solemnity, "we've all seen Nick grow." With Nick's season, the show that perfected the villain edit, and more recently the crazy edit, is giving its viewers a new one: the redemption edit.
The groundwork for Nick's comeback story was established this summer, when he made his third appearance on the franchise's shows as a contestant on Bachelor in Paradise. That season's villain spots being already occupied by Chad and Lace and Ashley, the show found another role for Nick: as a straight-talking adviser to Ashley, as a good boyfriend to Jen, as an affable friend to all. Nick's willingness to participate in three rounds of Bachelor-hood established him as the best thing the show can imagine a person to be: as someone who believes  in Love, and who is willing to undertake whatever ritual humiliations Journey might be necessary to find it.
That narrative spilled over into the new season of the show. Nick, The Bachelor's Season 21 made clear on Monday, would redeem himself from his previous villainy not just by abandoning the antics of the past, but also by searching, with earnestness of heart and purity of purpose, for "a woman to spend his life with." Monday's premiere began with Nick receiving adorable dating advice (be open-minded, be honest, "don't mumble") from his young sister. It continued with the typical stuff of Bachelor scene-setting: with shots of Nick joking with his large family (he's one of 11 kids) and running, pensive and shirtless, and looking, longingly, into the middle distance.
But the episode also added, for good measure, a heavy dose of payback. Many of the show's new contestants, as they introduced themselves to their suitor on the water-washed driveway of the Bachelor Mansion, made a point of bringing up Nick's past to him. Taylor, a therapist from Seattle, announced at length that her friends had warned her about Nick and his villainous ways. Many of the other women ribbed him for being a three-time loser on the show. They all tempered the typical Bachelor-hagiography with acknowledgements that, this time around, the Bachelor isn't perfect. Instead, he's perfectly flawed. He is probably, dear viewer, a lot like you.
And so, with that, The Bachelor has found something that might well be as compelling, good-TV-wise, as villainy: forgiveness. The Bachelor has always relied on fairy tale frames for its narrative drama; now, it will be Nick—Snow White clad in a skinny-cut suit—who may or may not be saved by his lover's kiss. Will he be able to redeem himself, in the eyes of the women competing for him and in the eyes of the members of Bachelor Nation? Will he be there, in the end, For the Right Reasons? Will he be, finally, Deserving of Love?  If Nick "gets down on one knee" at the end of the series, Chris Harrison noted, soberly, during Monday's premiere, "he's also asking that person to forgive him for all the mistakes he's made in his life."
Or, as Nick put it to a fan, as he embarked on his pre-Bachelor-appearance tour of the nation: "If we hug, will you, like, forgive me?"