The Australian Open Turned Back the Clock
The 2017 singles finals in Melbourne saw the unlikely return of iconic rivalries, for what may well be the last time.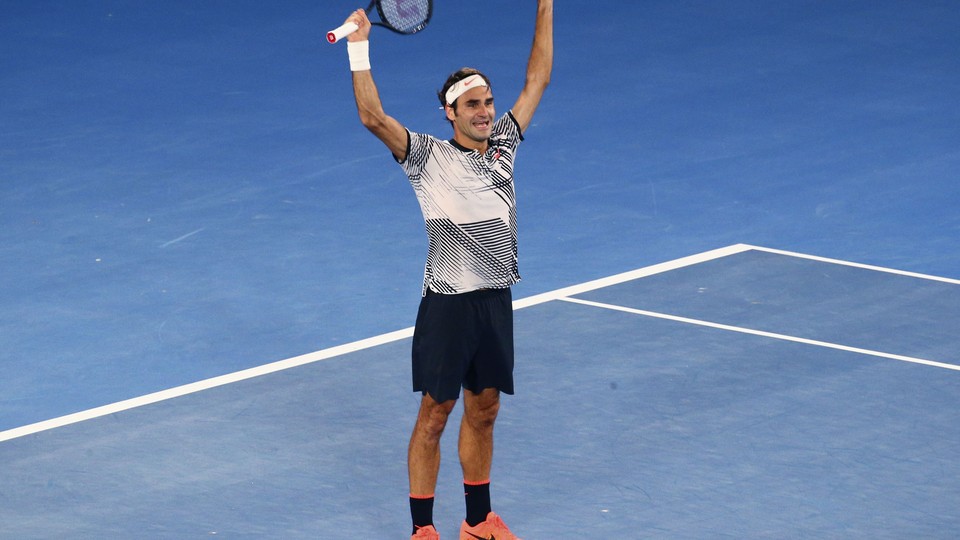 There is an age-old archetype in sports of the decorated legend who, with nothing left to prove, throws in the towel to rapturous applause. They've served the game for a decade or even two, created sparkling moments that will live in the memories of those who've witnessed them, in person or on television, as adults or kids. Kobe Bryant, Derek Jeter, David Ortiz, Ryan Giggs, Michael Phelps, and Peyton Manning are among the greats who've recently walked out of the game and into the history books. All were legends who retired and made way for younger, fresher blood, and who recognized the sport could and would evolve without them.
So when the 35-year-old Roger Federer threw his hands up and leapt in celebration after beating his longtime nemesis Rafael Nadal 6-4, 3-6, 6-1, 3-6, 6-3 in a thrilling final of the Australian Open Sunday morning, the expression on his face seemed to suggest that he had just cheated history. It was a tearful smile of disbelief and awe, a rare look for a man who has played almost 30 Grand Slam finals and had just clinched an 18th. It was a beautifully cyclical moment, a display of raw emotion tennis fans haven't often seen on the famously stoic Swiss.
The 30-year-old Nadal had a similar look a couple of days earlier, when he collapsed to the floor after clinching an exhausting fifth set in his semi-final against Grigor Dimitrov, burying his face in his hands and shaking his head as he lifted himself off the court. Tennis fans saw this same expression in the women's singles semi-final as well, when Venus Williams, 36, was unable to control her sheer joy at the prospect of winning her first Major in almost nine years. On Saturday, Williams, the oldest women's singles finalist in the Open Era, faced her sister Serena, who at 35, has showed little sign of slowing down as she not only regained the No. 1 ranking but also won her 23rd Grand Slam title, surpassing Steffi Graf.
The script that unfolded this weekend in the Rod Laver Arena, then, could not have been any more compelling. Here was a rare chance for a sport to turn back the clock and relive, for an extended moment, some of its glory days. The matches were preceded by intense coverage of past epic battles waged between the two sets of players, battles that few imagined would happen again. But the men's and women's finals proved to be far more than just nostalgic events. They were dynamic and genuinely fascinating match-ups that hinted at where these athletes' seasons, perhaps even their careers, could be headed in the future.
After beating Mischa Zverev in the quarter-final in straight sets, Federer repeated a common gripe about how the game has changed from a faster, serve-and-volley approach to a more defensive, endurance-heavy one. "I used to like those days," he told Jim Courier. "It makes for nice points, a lot of passing shots and volley winners. The game has changed; tournament directors chose to make it slower. Tennis balls have become slower too," he added. "But it's okay, I had to adapt my style. I enjoy this too, the baseline slogfest." Federer has indeed adapted his play like few could at his age, having struggled with career-threatening knee or back injuries that kept him off the tour for six months, and not having won a Major in five years. While he can no longer hope to match the groundstrokes of powerful, younger players like Novak Djokovic or Andy Murray, who both lost in shock upsets in earlier rounds, Federer has cracked the code to tackling these kinds of players while staying true to his own game on one of his favorite surfaces.
Throughout the tournament, he was running consistently less than his opponents while hitting more winners and aces, and taking more points at the net; this kept rallies short and preserved the energy that took him to the championship. Not only was he covering less distance, he was, as Craig O'Shannessy points out, also moving considerably less per point than anyone else. In essence, Federer knew exactly what he needed to do coming into Sunday's final. In their many matches over the years, Nadal still held a narrow head-to-head lead on hard courts against the Swiss, and a lead of 9 wins versus Federer's 2 in Grand Slams overall, a number that would have definitely given him a mental advantage.
It's fitting then that Federer, known for his fluid and offensive play, faced off against the man that in many way ushered in the new era of hard-hitting groundstrokes lathered with unmanageable topspin, meant to tirelessly wear the opponent down. While Nadal has struggled with a nagging wrist injury that kept him out of contention for much of the last season, he seems to have bounced back this year with his monstrous cross-court forehand—which has inflicted much damage on Federer's backhand in the past—intact.
But on Sunday, Nadal's relentless push to get to every ball was matched by the 17th-seeded Federer. In addition to doing what he does best, by winning the lion's share of his points at the net and hitting five times as many aces as Nadal, Federer also challenged  his opponent at his own game. Somewhat uncharacteristically, he came out on top of longer rallies, including a marathon 26-shot baseline spar that ended with a piercing forehand down the line. After the semifinal round, Federer noted that he would leave it all out on the court, even if he couldn't walk for five months after, and he appeared to keep that promise on Sunday, covering almost as much distance as Nadal, both overall (2 miles) and per point (37.4 feet).
In the six consecutive years (2005-2010) that they topped the Association of Tennis Professionals rankings, the pair have played some of the greatest matches in the Open Era. The last meeting between the two at the Australian Open final came in 2009; Nadal won in five sets, beating a tearful Federer. This year, the Swiss was in tears for happier reasons, shaking his head at perhaps the sweetest and most unlikely of victories in an already glittering career. "I just wanted to make the quarter-finals," he said, laughing, in his post-match speech.
A day before that game, the world witnessed another classic throwback tennis rivalry, as the Williams sisters faced each other in a Grand Slam final for the first time since Serena's victory at Wimbledon in 2009, which also marked Venus's last singles finals appearance in a major. The sisters, who have won 14 Grand Slam doubles titles playing together and hold an astonishing 30 singles titles combined, still had much individual glory on the line to play for in this game.
Serena, widely considered to be the best tennis player of all time, was the clear favorite going into the match, having all but dominated the game over the last five seasons. In 2015, she won four consecutive Grand Slam titles for the second time, a feat so immense it's been dubbed a "Serena Slam." While Venus gave little away in a tight match that saw only two breaks of her serve, Serena came out on top to win in straight sets 6-4, 6-4, racking up a seventh Australian Open, and a 23rd Grand Slam title overall, the most by any singles player in the Open Era. The match proved to be high-octane, with two of the game's fastest and hardest serves facing off against each other, but Serena's aggressive play saw her kill off points quickly; the average rally length was a quick-fire three shots per rally. Shorter points meant she was able to use her powerful groundstrokes to wear her older sister down (visible toward the tail-end of the match), hit 27 winners to just 23 unforced errors, and capitalize on her incisive serve.
In both finals, all four players managed to simultaneously create history and relive it, prompting the question: What will happen to them now? In the case of the women's game, Serena is likely to add to her successes for at least another two seasons, given her dominance over her closest competitors, Angelique Kerber and Agnieszka Radwanska. Kerber, who returned the No. 1 ranking to Serena after Saturday's results, has won just two Majors in the shadow of the younger Williams sister. Venus, who missed out on the chance at an eighth major title, is now more likely to start shifting focus to a still-strong doubles career with her sister; we may not be so lucky as to see her in another Grand Slam final.
The men's game is more difficult to predict. While the fact that Federer and Nadal reached a Grand Slam final in 2017 is a testament to their longevity and skill, it's notable that in the absence of Djokovic and Murray (and, to a lesser extent, Stan Wawrinka), arguably the stalwarts of the current generation, there are few players who are able to proffer challenges at the highest level. Sunday's 18th Grand Slam for Federer may well be the high note he's been waiting for before announcing eventual retirement, something he's fiercely held off on doing. The Swiss quickly hinted at the possibility of not returning to Melbourne in his post-match speech, saying, "I hope to see you next year, and if not, it was a wonderful run."
However, given his current boost of confidence, and Wimbledon (his favorite tournament) on the horizon, a 19th  title could always be in the cards. A seemingly revived Nadal was also no doubt inspired by a successful run in Australia, and is probably relishing the chance to return to the clay—a surface he's conquered—at the French Open in June. Whatever happens to these legends on the 2017 tour, tennis fans will have savored the unlikely trip back in time this weekend, to bear witness to two iconic rivalries that may have finally come to a fitting end.