The New Celebrity Apprentice and the Scourge of Faux Inclusivity
The show, once hosted by Donald Trump and now hosted by Arnold Schwarzenegger, manages to celebrate diversity and to mock it—both at the same time.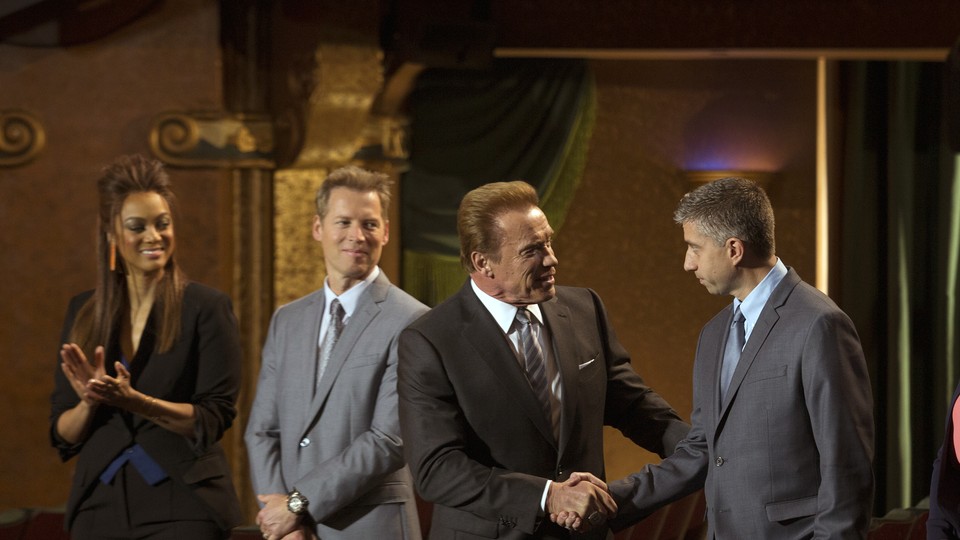 This post contains mild revelations about the results of season 15 of The New Celebrity Apprentice.
"We now live in an inclusive society where no one's left out," Boy George announced during Monday evening's episode of The New Celebrity Apprentice. He shared this piece of good news while describing the series of ads he and his team had developed on behalf of Kawasaki's new line of ergonomically customizable motorcycles. "The idea of this campaign," the Culture Club singer explained to Arnold Schwarzenegger, The New Celebrity Apprentice's recently installed new host, "was that, you know, anybody can be a biker—not just the traditional person who uses the bike. It's open to everyone, whatever their sexuality, whatever their age, whatever their gender. And I think that was a really, really positive message."
A positive message it was. And in response to it, Schwarzenegger replied: "Good." The actor-turned-governor-turned-TV-host added no more to the conversation. Instead, he went on to fire (or, this being Schwarzenegger, to "terminate") Kyle Richards, the Real Housewife who had been the project manager for the women's team. Her firing came partially because the campaign the women had created for Kawasaki had failed to do enough to subvert traditional gender roles. At least, it had failed to do that in Schwarzenegger's judgment, which is, in the show's executivecentric universe, the only judgment that matters.
It was all, on the surface, a rousing endorsement of diversity and inclusion—a reality show, just as Boy George suggested, serving as a metaphor for reality itself. And it was unsurprising that the show would do that: The New Celebrity Apprentice, like so many of its fellow reality shows, is extremely skilled at making pageantry out of progress. And the newly Schwarzeneggered version of the show, to its credit, offers many of the same things the Trumped-up iteration did: an equal number of women contestants and men, of various ethnicities and backgrounds; a general focus not on contestants' appearance, but on what they bring to the table; an opening montage that emphasizes moral extraversion by asking, in all caps, "WHAT IF … YOU COULD … MAKE A DIFFERENCE?" The initial episodes of Schwarzenegger's version of The Celebrity Apprentice divided season 15's contestants by gender, pitting men and women against each other and implying, in the process, that both groups are equally fit to compete in the only competition the show respects: the dogged pursuit of money (money, money, money, MUH-nay).
There are many, many criticisms you can make of The Celebrity Apprentice both as a franchise and a phenomenon, only some of them connected to the show's money-myopia, only some others of them related to the man who was once the show's host and who still serves, in a major ethical breach, as its executive producer. One argument in the show's favor, however, is that it treats celebrity as the only currency that matters. In that very particular way, and despite its many absurdities, The New Celebrity Apprentice, which is not a ratings juggernaut but which is a show that airs during primetime on a major TV network, could be a productive force: It could model for its viewers the precise kind of society Boy George was describing in his speech. One broad argument for capitalism, after all, is that it is, as a system, less concerned with a person's race or gender or age or appearance or sexual orientation than it is with that person's ability to make money. The New Celebrity Apprentice, say what else you will about it, subscribes to this kind of brute egalitarianism.
But: It does so only on the most superficial of levels. The New Celebrity Apprentice's sense of inclusion is perfectly attenuated to its genre: It offers "reality" that too often fails to be, well, reality. Boy George made his declaration about the "we" who "now live in an inclusive society" during the same week that will see the inauguration of a man who has publicly mocked the notion of inclusivity itself—a man who was propelled to the presidency with the help of the very show in which the "Karma Chameleon" singer was participating. The New Celebrity Apprentice champions diversity while often, at the same time, questioning its value. And, often, in the manner of its former host, outright mocking it.
Take Monday's episode. Kawasaki, like many of the show's previous advertisers (Tyra Banks cosmetics, Trident gum, Welch's grape juice, King's Hawaiian barbecue sauce) asked the celebrity contestants to design an ad campaign that would reflect their aspirations to expand their market. The brand, its executives told the contestants, wants to sell to women. It wants to sell to people of all shapes and sizes, not just to the biker dudes of tradition and cliché. And the men's team, under the project managership of the TV personality Carson Kressley, responded to the request with an editorial-style fashion shoot featuring several celebrities—the drag queen Alaska Thunderf-ck, the comedian Jon Lovitz dressed as a priest, the Motley Crue frontman Vince Neil posing with his puppy, the former football player Ricky Williams posing with a cigar, Kressley  posing in the nude—astride a Kawasaki bike. The resulting images were meant to suggest the very thing Boy George claimed they did: diversity, idiosyncrasy, comfort in one's own skin. The notion that "anybody can be a biker."
The women, as has been the case in many of the new season's challenges, had a harder time. They did their photo shoot in downtown LA, featuring themselves—the boxing champion Laila Ali, the basketball champion Lisa Leslie, Kyle Richards, Real Housewife Porsha Williams—posing on the bikes, in an effort to celebrate women's empowerment. The actor and TV host Brooke Burke-Charvet enlisted the help of her husband, the former Baywatch star David Charvet, to pose with her on the bike—the idea being that she would be driving, with him in the back, because 2017 and women's power and all that.
Charvet, however, adamantly refused. The man who would agree to be driven by his wife, he informed his wife, angrily, "is a stupid guy. That's a stupid husband." ("You're not gonna look wimpy, because I'm a great driver!" Burke-Charvet said, further trying to convince him. Charvet responded, "Are you out of your tree? I would never trust you.") Later, in a talking-head interview, Burke-Charvet tried to apologize for her husband: "He's very macho," she said apologetically, "and he's not the most cooperative guy."
And he really is not: The Charvets ended up doing the photo shoot with David in the driver's seat of the Kawasaki, his wife clutching his midsection. The photo that resulted was pretty; it was not, however, terribly celebratory of the empowerment of women.
For that, Burke-Charvet almost got kicked off the show. For that, too, Richards got fired. That it all played out as it did would seem to suggest that the show wanted Burke-Charvet in the driver's seat, with all that that implies. And so would the exchange about the photo that took place in the board room. "He could have just asked me to sit on the back of the bike," Schwarzenegger told Burke-Charvet. "I would have been more than happy. I have no qualms about it—to look feminine sitting on the back of a motorcycle with a woman."
"You would've gotten on the back of the bike?" Burke-Charvet asked, incredulously.
"Yes, absolutely," Schwarzenegger replied. "Any time. For a photo—for selling something like this, I would do it in two seconds."
Burke-Charvet, still incredulous, followed up. "And what about in real life? Would you have let me drive you on the back of a motorcycle?"
Schwarzenegger seemed to sense a trap. A look of discomfort crossed his face. "Absolutely. I would sit in the back of your bike," he replied. "Of course I would…" His voice trailed off, awkwardly. They moved on.
There was The New Celebrity Apprentice in a nice, if awkward, nutshell: the performance of egalitarianism, pitted against the reality of it. For a photo, I would play the woman's part. For selling something, I would do it in two seconds. When the issue is "real life," however, the swagger switches to uncertainty. When things get real, "looking feminine" by being a passenger on a motorcycle is much less appealing for the man at the center of The New Celebrity Apprentice.
The "reality"-versus-reality disconnect repeated itself several more times during Monday's episode. There was, on the one hand, Kressley describing his team's work like so: "Everyone was coming together in a spirit of love and togetherness. It's a bike to remove barriers, and you should feel like you're included, and it's everyone's bike. Anything's possible. Everyone's welcome." And then there was on the other the MMA star Chael Sonnen, who was a part of that team, saying in a talking-head interview, "At some point the governor's gonna say to me, 'Did you have anything to do with the gay man and the drag queen on the motorcycle?' And I'm gonna say, 'Governor, what do you think?'"
There was Lovitz, watching Kressley's nude photo shoot and making jokes about Purell. There he was again, caught by the show's camera holding hands with Kressley as the men's team reviewed the results of their photo shoot—and then saying to the former Queer Eye star, "Let's not hold hands too long." There was Kressley, narrating the campaign meant to celebrate society's having surpassed its stereotypes, explaining one of the images the team created with this: "She's the typical girl. She loves to shop."
Again and again: The words, colliding against the reality. The pageantry of inclusion, proven, behind the scenes, to be messy and chaotic. In that, The New Celebrity Apprentice is a kind of metaphor, just as Boy George suggested—not necessarily for an inclusive society, but for a Hollywood that still struggles, so obviously, with representing America in all its shades and stripes.
The New Celebrity Apprentice is a show that professes equality between men and women, but is hosted by a man who was accused, in 2003, of sexually harassing six different women. Here is a show that used to be hosted by a man who bragged about grabbing women "by the pussy"—and who, in a 2013 board room conversation, commented to contestant Brande Roderick that "it must be a pretty picture, you dropping to your knees." The Apprentice is a franchise that tries to have it both ways—in many, many ways—not just when it comes to its now-enormous political conflicts, but also when it comes to the broader project of modeling social progress. It knows what it wants to be; repeatedly, it falls short of fulfilling that desire. That's the problem with reality TV: Sooner or later, it's going to have to reconcile with reality.