Superstars May Be Rebelling Against the Grammys
Drake, Justin Bieber, and Kanye West may skip the show because of its "irrelevance"—which is to say its lack of inclusivity.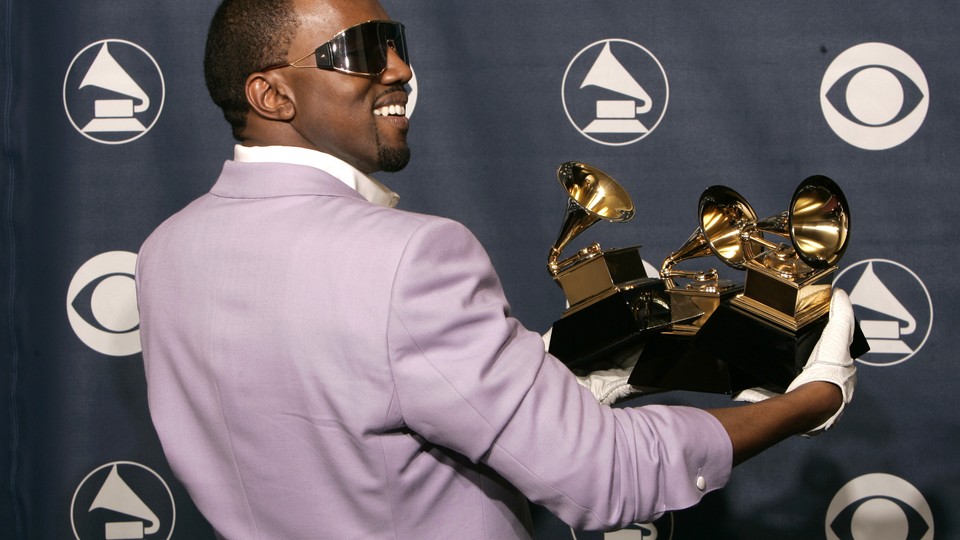 Frank Ocean made what's widely considered one of the best albums of last year, but he won't be at the ceremony meant to recognize the best in music—the Grammys. This is by choice: He didn't submit Blond(e) for consideration. In November, he told The New York Times that the Recording Academy "doesn't seem to be representing very well for people who come from where I come from," noting that black artists have rarely won Album of the Year. He added that sitting the awards out would be his "Colin Kaepernick moment," a reference to the San Francisco 49ers player who took a knee during the National Anthem to protest America's racist history.
Ocean's decision to boycott signaled wider discontent with the Grammys, and it may have even started a chain reaction of pop-star protest. TMZ reports that Drake, Kanye West, and Justin Bieber may all also skip the awards show because it's "irrelevant." While the news hasn't been confirmed elsewhere, it would fit a general trend of artists rebelling against their industries' gatekeepers in what might be the most effective way possible: by withholding their star power.
West has a long and infamous history of sparring with the Grammys—even as he racked up 21 trophies from them over the years. The most famous example came in 2015 when West hopped onstage as Beck's folksy Morning Phase won the Album of the Year prize over Beyonce's self-titled tour de force. For him and many others, Beck's win embodied the great Grammy hypocrisy: It profits from boundary-pushing popular black artists by having them at the ceremony, but tends to reserve its top awards for more musically conservative white artists.
While many saw the moment as another example of West's vanity, really he'd been expressing solidarity for a cause bigger than himself.  On Twitter, he argued that the hip-hop presence at the Grammys should be more than "just me and Jay in a suit," citing Future and Young Thug—rappers who are vital with young and black crowds—as examples of who's getting left out. Later on tour, he announced he wouldn't show up at the 2017 ceremony unless Ocean was nominated. His call to make the Grammys "culturally relevant again" got the attention of Recording Academy president Neil Portnow, but it's unlikely that West is thrilled by the nomination class for the Feb. 12 ceremony: No Future, no Young Thug, no Ocean, and West's The Life of Pablo left out of the album of the year category. (He was nominated a number of times, but only in the rap categories—as has been typical for him and many other emcees over the years.)
Drake and Justin Bieber did make the cut for album of the year consideration, though, which means that the threat of them spurning the Grammys could be more consequential than West's. Neither is a particularly political pop star; if they're skipping the ceremony, it's possibly a marketing consideration—a distressing one for the Recording Academy. TMZ's sources say Bieber "doesn't think the Grammys are relevant or representative, especially when it comes to young singers." The sentiment might come from personal experience: Despite enormous popularity for more than half a decade, Bieber had only been nominated three times prior to 2017.
He, of course, cannot claim racism for that. But he may have an intuitive understanding of how the academy's strained relationship with hip-hop—a genre Bieber loves—has hurt its cultural cachet. Drake, arguably the most influential pop figure this decade, has been nominated 27 times but only won once. He's mostly kept mum about his opinion of the Recording Academy, though he did once memorably use his trophy as a chalice. And one song on his Album of the Year nominee Views features a Grammy-less Future rapping a chorus that goes "They gon' think I won a Grammy"—a statement implying the academy's judgement is out of sync with the wider public's.
The conversation over the Grammys hasn't quite as explicitly centered on questions of representation and racial justice as, say, recent Academy Awards controversies have. And the show still has the power to generate memorable TV moments (see Kendrick Lamar at last year's ceremony), honor vital young artists (Chance the Rapper's nomination this time is historic), and attract an array of talent (Anderson .Paak, Maren Morris, Metallica, Adele, Daft Punk, The Weeknd, and A Tribe Called Quest are among the featured performers this year). But if major stars bow out due to aesthetic objections, it'll be a reminder that relevance and inclusivity often amount to the same thing—awards that don't reflect the culture won't be respected by the culture.