Roe: Can a Play Influence the Abortion Debate?
Lisa Loomer's production about the legendary Supreme Court case opens during a time of renewed uncertainty over a woman's right to choose.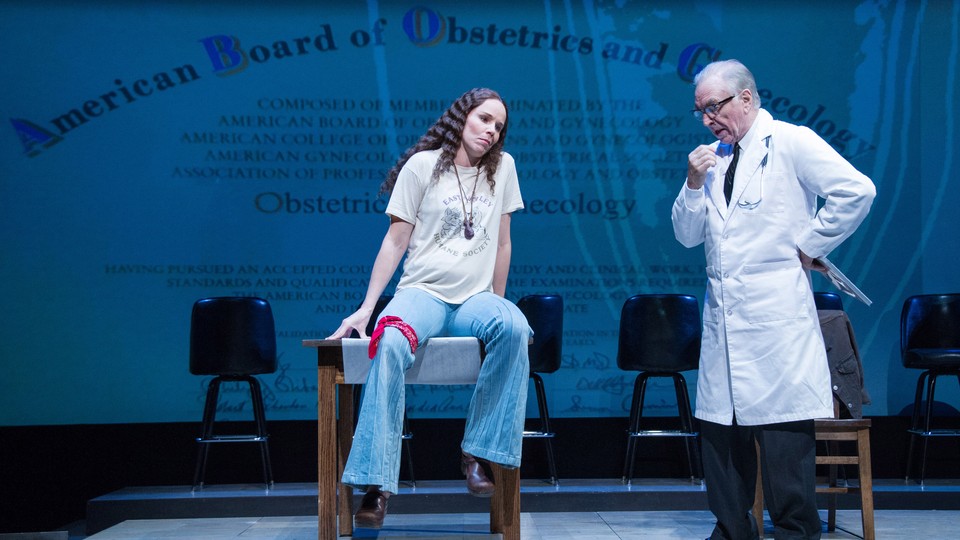 Roe, which opened at Washington, D.C.'s Arena Stage just days before the inauguration of President Donald Trump, is a modern kind of history play, a production that considers a crucial issue in American politics. But its playwright, Lisa Loomer, didn't expect the timing of Roe to be quite so pointed, coinciding with the arrival of a new president opposed to abortion rights and a vacancy on the Supreme Court. "It's daunting," Loomer says. "I feel like the play has become accidentally urgent."
But Roe isn't a particularly polemical play, or a deliberate attempt to advocate for one side or another. It frames its story around the two women at the center of Roe v. Wade, the 1971 case that enshrined the legal right to have an abortion in American law: Sarah Weddington, the then-26-year-old attorney who argued on behalf of the plaintiff, and Jane Roe, a.k.a. Norma McCorvey, a young Texan woman in her early 20s who wanted to end her pregnancy. The actors who play the two women serve as both narrators and central characters, telling their own, sometimes opposing versions of the roles they played in a landmark judgment, and how it changed their lives. The case itself is dealt with in just a few minutes: Loomer is much more interested in the larger history of abortion in the U.S., and why, after 40-some years, public opinion on the subject is just as divided as ever.
As Roe opens, abortion rates in the U.S. have fallen to their lowest levels since Roe v. Wade was decided, with both sides divided once again on the reason. Pro-choice advocates argue that access to contraception enabled by the Affordable Care Act has resulted in fewer unplanned pregnancies, while pro-life activists claim that the hundreds of measures to restrict abortion access throughout the last eight years have been successful. It prompts the question: Can a play have an impact? In a fiercely polarized cultural landscape, as even the hundreds of thousands of women descending on Washington to protest a new president are divided on the subject of abortion, can art actually shape history as well as mine it?
In Roe's first scene, the two primary characters break the fourth wall to introduce the play with all the gusto of ring announcers presenting a boxing match. They will, they explain, present their stories of how Roe v. Wade happened, even if those accounts don't always entirely match up. Weddington (Sarah Jane Agnew) was just 26 and one of 40 female graduates in her law-school class of 1,600 when she was approached about challenging anti-abortion statutes in the state of Texas.  McCorvey (Sara Bruner) was 23, an unattached lesbian of no fixed abode, and pregnant for the third time when she sought advice from an attorney about having an abortion. The lawyer referred her to Weddington, leading to a meeting between the two women in a Dallas pizza restaurant.
Even in their earliest encounter the two characters break the fourth wall to argue over the details of their meeting (McCorvey insists she never wanted to be a figurehead for a movement and was misled into thinking she might be able to get an abortion despite the timeline of the lawsuit; Weddington implies McCorvey told different versions of how she got pregnant). But McCorvey agrees to be Jane Roe, and Weddington finally gets to argue her case in the Supreme Court in 1971, after McCorvey has given birth and given her child up for adoption. The scene is short but powerful: The play's director, Bill Rauch, intersperses Agnew's live arguments as Weddington with recorded audio of the Supreme Court justices who asked questions, including William Rehnquist and Thurgood Marshall.
In framing Roe around Weddington and McCorvey, Loomer gets to explore abortion both as a political issue and as a personal one. And her treatment of it is often uncomfortable. Weddington, attending a consciousness-raising meeting at the beginning of the play with some blissfully clueless friends, furiously describes the various ways women are trying to end their own pregnancies, from drinking Lysol and turpentine to using chopsticks and broken Coke bottles. The graphic language seems intended to dispel assumptions that this is an easy issue for anyone. And by including real-life characters such as the charismatic Flip Benham (Jim Abele), an Evangelical minister and anti-abortion activist, Loomer allows all sides of the various arguments to be heard.
In this sense, Roe is deeply thought-provoking, although Loomer says it isn't necessarily intended to spur debate. "I think we have a lot of debate in this country, a lot of slogan-slinging, a lot of yelling," she says. "What I wanted to do was tell a very human story, so that someone on one side could begin to hear the feelings, the thoughts, the story of the other side." After the play premiered in Oregon last year, she received more than 100 letters from people who'd seen it and who were grateful for its nuanced treatment of such a contentious subject. "I think they were grateful to not be told what to think, but rather to be presented with a story that allowed them to think and allowed them to feel," she says.
By allowing its characters to break the fourth wall so often, Roe acknowledges that history isn't finite, and that some have much more power to spell out their versions of the truth than others. Weddington, in the play's first scene, explains to the audience that history is often defined by factors like sex, race, class, and religion. But this understanding of history also suggests that it can be shaped by information and choices. "The play begins in the present and ends in the present," Loomer says. "It has a prologue and an epilogue, and I changed that epilogue last month because we're in a different present now."
Ultimately, the power of Roe may come down to who sees it. Arena Stage is poised to help in this regard: Its reputation as a forceful regional theater just two miles from the White House means that it frequently hosts members of Congress, cabinet secretaries, and Supreme Court justices (Ruth Bader Ginsburg is a regular visitor). In 2015, the theater premiered The Originalist, a play by John Strand about the late Justice Antonin Scalia, and the previous year President Jimmy Carter attended Camp David, a play by Lawrence Wright about Carter's 1978 efforts to negotiate a Middle East peace treaty. Late last year, Arena announced a new series called Power Plays, dedicated to producing and commissioning works about politics and policy.
Plays like Roe, then, seem intended to directly reach people in power, and Loomer's thoughtful, well-researched, sometimes surprisingly funny work is a strong primer not just on the history of the abortion debate, but on the people most touched by it. The play acknowledges that influence can take unexpected shapes—in one scene, it's revealed that Justice Harry Blackmun, who wrote the majority opinion in Roe v. Wade, was strongly affected by the opinions of his wife and daughter. "As human beings, we are constantly making choices," Loomer says. Her hope is that works of art and entertainment can help inform those choices, not just with knowledge, but with compassion.