Paterson Is a Quiet, Considered Masterpiece
Jim Jarmusch's new film stars Adam Driver as a bus-driving poet.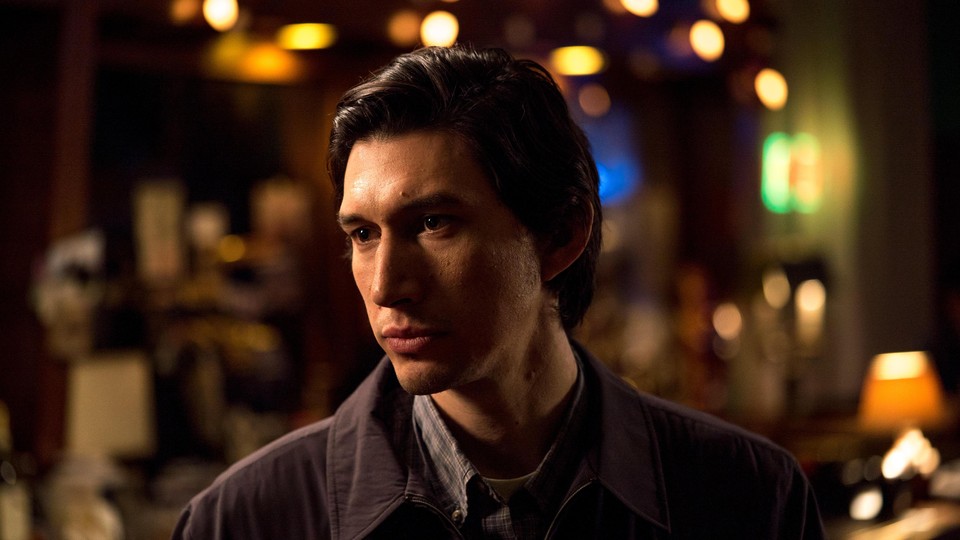 Paterson (Adam Driver) is a bus driver who lives in Paterson, New Jersey. He lives a sedate domestic life with his wife Laura (Golshifteh Farahani) and their dog Marvin, an unflappable English bulldog. At work, he writes careful lines of poetry in a notebook; when he gets home, he takes Marvin for a walk and stops at a local bar for one drink. It's a prescribed existence, but not an unhappy one. In Jim Jarmusch's new movie Paterson, there's no major action day to day, but magic is constantly bleeding in from around the edges.
Paterson is an extraordinarily humane film about the creative process, told on the smallest scale possible. It moves at the pace of life (in other words, slowly), but like all the best works of quiet realism, it builds narrative momentum as it goes on. It's a portrait of a person's daily routine that's deeply felt and remarkably powerful, one where even mundane conversations can seem loaded with meaning. Jarmusch is the rare director who can actually ground the audience in a character's point of view, letting you see through his or her eyes. As a result, Paterson emerges as a person who takes the world on its terms and delights in its details; this is a film blessed with a similarly utopian outlook.
The magic of Paterson lies in its discovery of poetry on the margins and in the ordinary. Jarmusch's last film Only Lovers Left Alive was another languid portrait of mundanity in a faded American city, but it concerned immortal vampires whiling away the time in Detroit. In that movie, Jarmusch was exploring the lives of jaded artists who are unmoved by every piece of art around them. Meanwhile, Paterson finds inspiration in the smallest things, like a box of matches or an overheard snippet of bar talk.
If there's any tension at all to the film, it's in Paterson's intense privacy. He's soft-spoken and mild-mannered, and lacks close friends outside of his wife and his local bartender Doc (Barry Shabaka Henley). He keeps his poetry, which he jots in notebooks on his lunch break, in his basement. Laura gently encourages him to share it with the world, but both she and the audience understand that's not really the purpose of his writing. There's something elemental to Paterson's artistry that Jarmusch is trying to help the audience understand; this is not a tale of a successful poet, but rather a celebration of that indefinable spark that exists in everyone, in some way or another.
While Paterson writes poetry, Laura's originality pours out of her in all sorts of ways, from her bizarre experiments with cooking to her penchant for decorating their house in different black-and-white patterns, each more oddly mismatched than the last. Doc is obsessed with chess, sharing his insights with Paterson whenever he stops by for a drink; also at the bar is a constantly fighting couple (played by William Jackson Harper and Chasten Harmon) who demonstrate their furious passion for each other through heated arguments. On every bus ride, Jarmusch moves the camera away from Paterson, capturing bits of chatter between the other passengers, some of them nonsensical, but all of them weirdly fascinating.
By steering clear of any grand plot, Jarmusch subtly forces viewers to pick up on the minutiae, to weigh each piece of dialogue carefully, to see things as Paterson does. There are magical little moments that seem somewhat otherworldly: Paterson runs into a strange number of twins in his journey around the city, and near the end of the movie has an encounter with a Japanese tourist that almost feels serendipitous. But these dreamlike elements aren't bizarre omens—they're just reminders of the thrilling, unusual details that might strike anyone as interesting as they go about their day.
Paterson is helped to greatness by its two fantastic leading performances. Farahani, an Iranian actress who shone in Asghar Farhadi's 2009 drama About Elly, is a perfectly effervescent balance to Driver's more muted work. Driver doesn't play Paterson as simply stoic; by confining so much of his emotion to his eyes and occasional smile, he manages to convey the act of thinking with grace. Paterson is a film about looking at our world through different, less distracted, more thoughtful eyes; in the last year of cinema, there's been almost nothing made with such a beautifully defined perspective.