NBC's Emerald City Takes Dorothy to a Darker Oz
The influence of Game of Thrones is palpable in this edgy new network drama.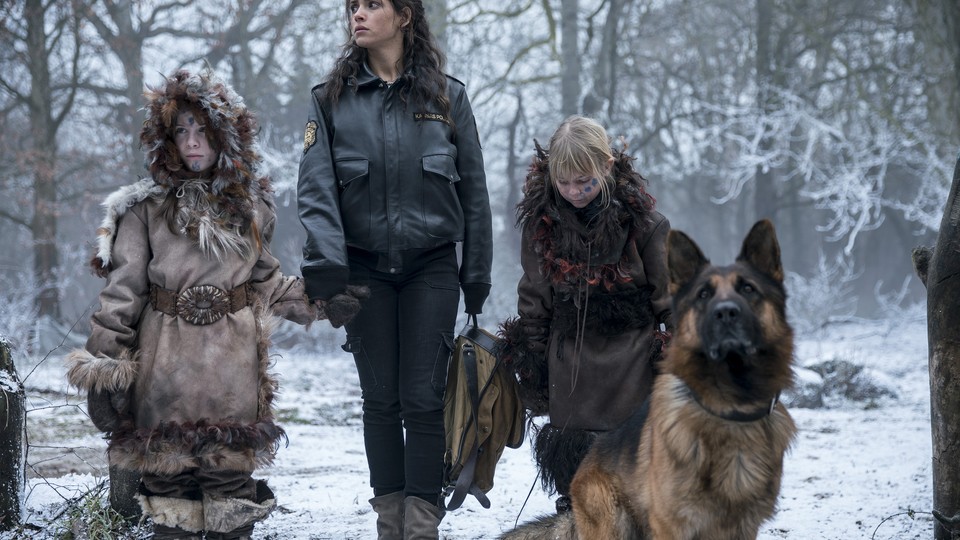 The minute that Dorothy Gale (Adria Arjona) first enters the Land of Oz in Emerald City—by way of a tornado, yes, but also an abandoned cop car and a couple of bloodied corpses—you might wonder whether the show's primary influence is L. Frank Baum or Game of Thrones. With its sweeping shots of otherworldly landscapes, the giant effigies of warriors looming over coastal cities, and the fur-clad tribesman and ethereal but steely women, Emerald City clearly had the HBO show in mind when conjuring up its dark alternative universe. Call it the Wizard of Westeroz, if you will.
Emerald City, whose first two episodes air on NBC Friday night, has long been in development by the network, which canceled it in 2014 before production started, then revived the project the following year. Pitched as a sinister, adult-oriented update of Baum's Oz novels, it joins a wealth of fantastical dramas on the small screen, from Thrones to Westworld to Once Upon a Time. Emerald City is a sometimes chaotic cocktail of familiar characters, fairytale elements, sex and drugs, and a hero's journey that doesn't ever feel totally cohesive. But its visuals, crafted by the director Tarsem Singh, are endlessly creative, and the weaker primary cast members are buffeted by an array of gifted supporting actors. It's a strange trip, but not a tedious one.
In the first episode, a baby with a cryptic tattoo on its hand is brought to a trailer in the middle of a terrible storm. Twenty years later, that baby is Dorothy, a nurse living in a tiny town in modern-day Kansas who's contacted by the mother who gave her up. Dorothy goes to find her but seeks shelter from a tornado in a nearby police car and, along with a friendly K-9 German Shepherd, is swept into Oz, where she accidentally hits a woman with her car.
There are counterintuitive twists right from the start: The first people Dorothy encounters in this unfamiliar land capture and torture her for her actions, the woman she hit isn't really dead, the flying monkeys are actually drones. The show veers between scenes showing Dorothy's trip down the yellow brick road (occasionally a literal one, since the yellow color comes from poppy pollen) and those presenting the primary characters of Oz, including the Wizard (Vincent D'Onofrio), the Wicked Witch of the West (Ana Ularu), the Mistress of the Eastern Wood (Florence Kasumba), Glinda of the North (Joely Richardson), and Tip (Jordan Loughran), an orphan kept prisoner by a witch (Fiona Shaw). Mysteries abound regarding a great beast whose return is predicted in prophesies, and the witches' magic, which has been forbidden in a peace agreement with the wizard, but which resurfaces in the second episode in a breathtaking scene set in a temple. It's all too much to grasp most of the time, but the show's striking landscapes and details compensate for some of the foggier plotting.
The show's biggest weakness is Arjona as Dorothy, who rarely proves she has the range to work opposite a Shakespearean actor like Shaw, and whose one-note performance fails to communicate any wonder or confusion at the bizarre and terrifying world she finds herself in. D'Onofrio is also strangely muted as the wizard, hiding beneath a deliberately fake wig, and radiating none of the menace that made him such a memorable villain on Netflix's Daredevil. But Ularu, as the wicked, opium-addled bad witch to Richardson's icy Glinda, is mesmerizing, toying with dark magic in a wanton and self-destructive fashion. And the show's subplot about Tip, taken straight from Baum's stories, is surprisingly nuanced on the subject of gender and identity. Emerald City finds intriguing ways to introduce Dorothy's companions, including Lucas (Oliver Jackson-Cohen), a "scarecrow" whom she rescues from a makeshift crucifixion, and who suffers from amnesia.
If the show sometimes feels like it's trying too hard to amp up the edginess, it's counterbalanced by the strictures of network television, which help keep most of the episodes reasonably tight. And, while Emerald City is set in a sprawling and overcomplicated universe, it also feels, for the most part, fully conceived, presumably thanks to the source material. It's worth remembering that there's plenty of darkness in Baum's original stories, realized onscreen in the cult 1985 children's movie Return to Oz, which terrified oldlennials with nightmarish steampunk clowns with wheels for feet, a deadly desert, and a princess who kills beautiful young women to steal their heads for herself. Emerald City's horror tends more toward the familiar—stolen children, addiction, suicide—but it's a fascinating world to enter, if not always a totally absorbing one.