Remembering Mary Tyler Moore
The television icon who helped redefine the sitcom, both in front of and behind the camera on her eponymous show, died at age 80.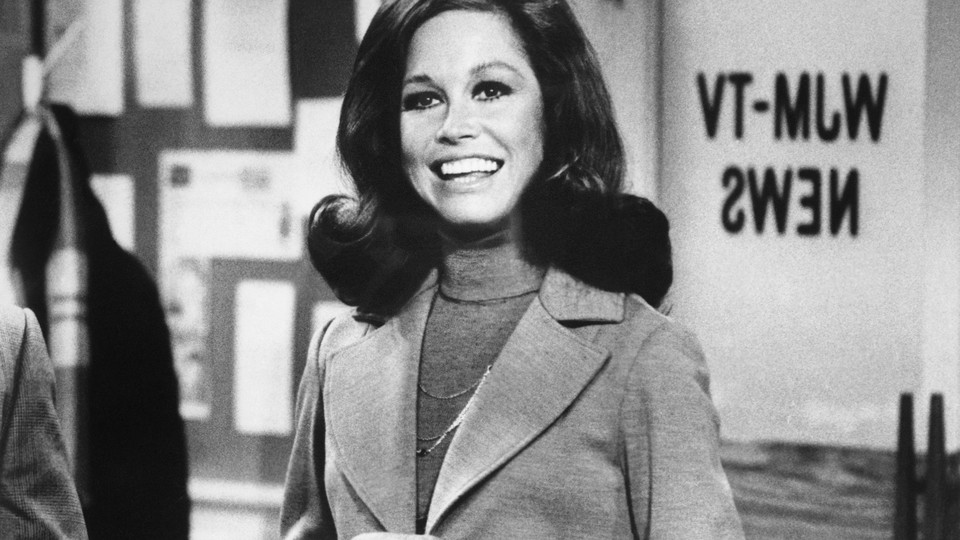 Mary Tyler Moore was a sitcom star who redefined what a sitcom could be, both onscreen and behind it. She was an actress who became a producer, a Hollywood mogul who worked hard to change her industry. Moore, who died Wednesday at the age of 80, was a TV icon in the 1960s and '70s whose on-screen persona radically changed with the times she lived in and helped set new benchmarks for America's image of the working woman. She died of cardiopulmonary arrest in Greenwich, Connecticut, after contracting pneumonia.
Born in Brooklyn in 1936, Moore began her Hollywood career as a dancer in television commercials in the late '50s, before landing bit parts on various serialized dramas. In 1961, she was cast as Laura in The Dick Van Dyke Show, Carl Reiner's showbiz sitcom about Rob Petrie (Dick Van Dyke), the head writer for a TV variety show. Moore was the definitive image of the harried, though supportive, sitcom wife of the early 1960s, a restrictive role that she nonetheless managed to stand out in. The Dick Van Dyke Show emphasized slapstick physical comedy; Moore and Van Dyke, who both came up in Hollywood as dancers, were rare comic talents who invented many of the vaudevillian aspects of the sitcom pratfall.
Moore was 24 when she was cast in The Dick Van Dyke Show, which ended in 1966 after 158 episodes. In 1964, when she won her first of two Emmy Awards for her performance on the show, she joked in her acceptance speech, "I know this will never happen again." (She would go on to defy that prediction a total of five times.) In 1969, Moore and her second husband Grant Tinker formed the TV production company MTM Enterprises, and hired James L. Brooks and Allan Burns to create a sitcom focused on her. The Mary Tyler Moore Show launched on CBS in 1970 and ran for seven seasons, and to this day remains a foundational work for the medium, establishing comedic (and dramatic) tropes that helped revolutionize what the still-young medium could accomplish.
As Mary Richards, Moore was an unusual female character for America in the early '70s: a single woman who, at the age of 30, moves to Minneapolis for a job at a local TV news station after being jilted by her longtime boyfriend. It was seen by studios as a gamble—that an actress so ensconced in the public eye as a married woman could play a single, independent one (in the initial pitch, Mary Richards was divorced, which was altered to satisfy nervous executives).
The Mary Tyler Moore Show was a hit, the jewel of CBS's Saturday night programming, winning three consecutive Emmys for Outstanding Comedy Series as well as three trophies for Moore, and many more for the ensemble that included Ed Asner, Ted Knight, Valerie Harper, Cloris Leachman, John Amos, and Betty White. Beyond its success, it was a show that was unafraid to talk about topics long considered off-limits for television, such as pre-marital sex, equal pay for women, homosexuality, infidelity, and divorce. In a famous fifth-season episode, Mary is jailed for refusing to reveal a journalistic source in court.
Mary was a liberated woman in an era of television where such characters were scarce. Moore was similarly powerful behind the scenes, using her clout to hire a revolutionary number of female writers for the show (including the legendary Treva Silverman, who won an Emmy in 1974) and to spin off some of its best characters into similarly progressive sitcoms. Rhoda Morgenstern (played by Harper) became the star of Rhoda, which ran for 5 seasons on CBS; Leachman's character became the star of Phyllis; and Asner's grumpy boss character was the lead of the great Lou Grant, one of the unusual examples of a sitcom spinning off a realistic, gritty drama.
Moore ended the show in 1977 as ratings began to flag, then struggled to re-establish her foothold, with her variety series The Mary Tyler Moore Hour flopping in 1979 and a new sitcom titled Mary bombing after 13 episodes in 1985. She appeared infrequently in films, largely rejecting the industry after appearing in the 1969 Elvis Presley drama Change of Habit (in which she played a nun who falls for the musician). Her next film role came in 1980, where she played the stiff, repressed matriarch of Robert Redford's Oscar-winner Ordinary People (she was nominated for an Academy Award but lost to Sissy Spacek for Coal Miner's Daughter). It was an uncommon sighting of her serious side—one she could employ with devastating effectiveness— and a glimpse of a weighty film career that could have been.
In her later years, Moore rarely acted and instead focused on charity work, especially seeking to secure funding for diabetes research (Moore was diagnosed with the disease at the age of 33) and campaigning for animal rights. She went public about suffering from a drinking problem in the 1980s, bringing further awareness to an under-discussed problem of the era. In the '90s and onward, she acted only occasionally: She played Ben Stiller's mother in an incredible two-scene performance in 1996's Flirting with Disaster, and was a memorable guest star on That '70s Show in 2006, but such appearances were few and far between. In 2011, Moore had brain surgery to remove a meningioma, which further reduced her public appearances. In announcing Moore's death on January 25, her representative Mara Buxbaum praised a staggering legacy:
A groundbreaking actress, producer, and passionate advocate for the Juvenile Diabetes Research foundation, Mary will be remembered as a fearless visionary who turned the world on with her smile.