Mariah Carey Feeds the Schadenfreude Cycle
Her botched New Year's performance had something for everyone.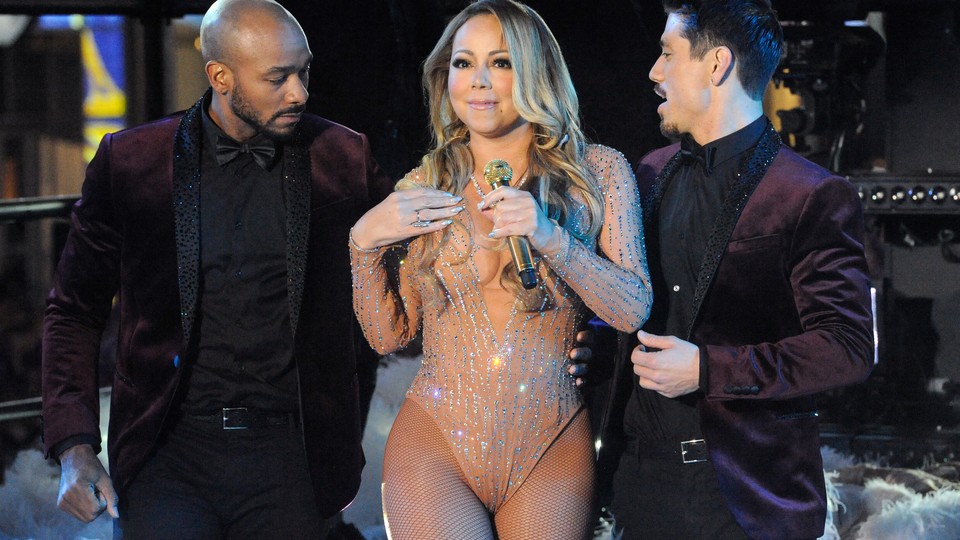 On New Year's Eve, Mariah Carey gave 2017 an ominous curtain-raiser by grimacing and complaining, rather than singing or even correctly lip-syncing, through two songs, later saying that technical errors prevented her from hearing her backing tracks. It was the kind of moment a fiction writer wouldn't put on page for fear of being too unsubtle. Without 29 years in the public spotlight, without her unbeaten slew of No. 1 hits as a solo artist, without the gymnastic comparisons her vocal range once inspired, without her zany "diva" persona—the all-salmon-and-capers diet, the only-photographed-from-one-side policy, the "I don't know her" moment—and without her every recent singing error having gone viral, the internet might have served up some "welp, 2016" jokes and moved on.
Instead, there were cracks like this—
2016 was channeling The Little Mermaid and ended the year by stealing Mariah Carey's voice.

— The Dark Lord (@Lord_Voldemort7) January 1, 2017
—and images like this—
—both of which, knowingly or not, flip an internet fandom trope in which Carey is shown as Ursula and her presumed rival Ariana Grande plays Ariel. It's a perfect example of how Carey has become a catchall target of attitudes about aging, femininity, and talent; after all, the gender-studies read of The Little Mermaid is way too easy, with a girl made to trade her speech for love and an elder woman evilly coveting a younger woman's abilities.
Carey has also long embodied America's conflicting attitudes around celebrity, with the hunger to create idols matched by a hunger to tear them down. Her original success came from a physical gift—a vocal range—comparable to athletic ability, extraordinary but bound to diminish with time. Around that talent she built a persona, a business, a following, and an impressive recording catalogue, all of which remain intact even as her voice does what voices do: age. Her recent E! reality show, Las Vegas residency, and bookings like Times Square on New Year's Eve demonstrate a demand for her to remain in the public eye. But the gleeful social media response to this latest bust of a performance also demonstrate how some element of tragedy is now part of her appeal.
Carey knows America likes to laugh at her; for evidence, see her tweet after the performance, or see the fact that she is blaming the New Year Eve debacle on sabotage. She wandered around without singing for two of the three songs she'd been set to perform, her camp says, because Dick Clark Productions repeatedly ignored Carey's technical warnings—perhaps for cynical reasons. "We live in this viral world where anybody will do anything for a viral moment," Carey's manager Stella Bulochnikov told EW.
Dick Clark Productions has called such allegations "absurd," but regardless of the truth of the matter, a viral moment happened, serving up something for everyone. The people who like to tell Carey to just quit got to sound off again. The folks morally opposed to lip-syncing and backing tracks—even in a loud, hyper-produced environment like Times Square on New Year's Eve—got to preach their beliefs. Carey's status as a semi-self-aware performance artist, commenting on fame and delusion simply by existing, was further cemented. The national pastime of resenting the rich while also paying them continued. And, more than anything, the Mariah Carey fan army got to do what it now exists to do: defend.
It's all a reminder that schadenfreude is one of the most powerful forces in pop culture—a negative complement to the praise that makes any particular celebrity successful. Justin Bieber's tabloid antics release pent-up adult disdain for a boy superstar; Kanye West's mental health troubles gave some an opportunity to discredit his boasts to genius; Kim Kardashian's robbery was a chance to condemn conspicuous consumption. And Mariah Carey may not have performed her hits on New Year's Eve, but other people got the pleasure of singing their same old songs about her.