La La Land's Double-Edged Nostalgia
Damien Chazelle's film is a self-aware throwback—one that portrays the limits of worshiping the past.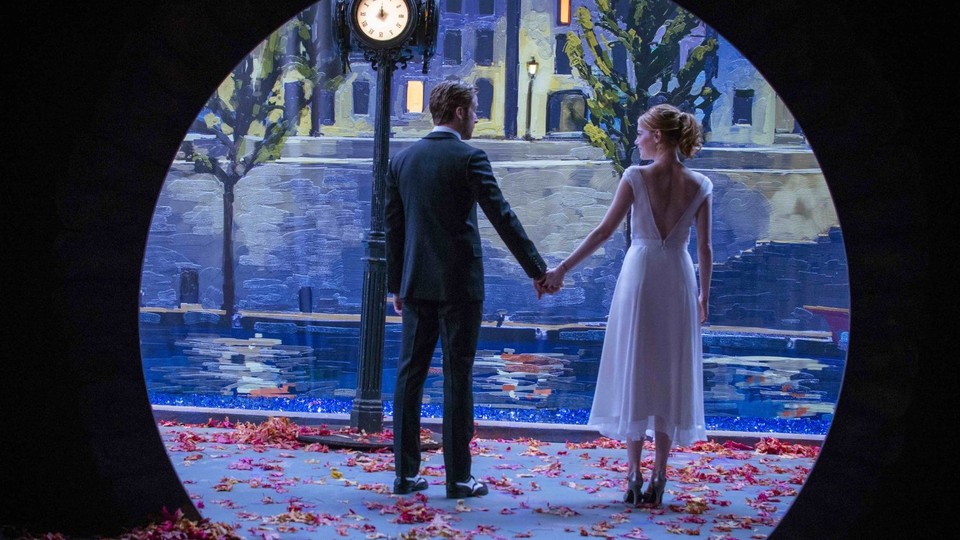 This post contains spoilers for the entirety of La La Land.
Midway through La La Land, an aspiring actress named Mia (Emma Stone) performs her one-woman show for her love interest, Sebastian (Ryan Gosling). It remains, perhaps mercifully, unseen by the audience. "It feels really nostalgic to me," she says, fretting about staging it in public. "That's the point!" he assures her. "Are people going to like it?" she asks. Sebastian shrugs. "Fuck 'em!"
In the end, Sebastian is right to encourage her; Mia's play strikes a chord with a casting agent, which is enough to set her on the path to celebrity. But for all its colorful musical numbers and starry-eyed Hollywood mythmaking, La La Land has an uncomfortable relationship with nostalgia. Sebastian might encourage Mia's backward gaze, but the writer and director Damien Chazelle has made a film that understands the limits of worshipping art at its most ossified. La La Land delights in its throwbacks, referencing some of musical history's greatest cinematic moments, but clinging to the past isn't an approach that ends entirely well for its characters.
Mia's embrace of nostalgia shines through the most in her climactic audition scene, in which she sings a song memorializing her aunt (a failed actress herself) and the other "fools who dream." It's a wistful, optimistic number, a resolute and soaring ballad about the value of never giving up on your art, a sentiment that feels right out of the Golden Age Hollywood musicals that Chazelle grew up loving. But at this point in the film, Mia knows how ridiculous her aspirations are—she's crashed out of the industry and moved back home to Nevada, and only at Sebastian's insistence does she appear before a pair of casting executives for one last shot.
The song is a hit, and Mia is catapulted to stardom. When we next see her, she's an A-list actress who's happily married (not to Sebastian) and has a child. It's a classic Hollywood rags-to-riches story, a miracle accomplished through the power of song alone, and it echoes the kind of magical unreality of the early movie musicals that Chazelle said inspired him in making La La Land. When accepting the film's award for Best Film at the New York Film Critics Circle on January 3, Chazelle referenced 7th Heaven, Frank Borzage's 1927 silent film starring Janet Gaynor, as a prime influence. In 7th Heaven, Gaynor's Diane falls in love with Charles Farrell's Chico, who then dies on a World War I battlefield. At the end of the film, he's somehow returned to her, telling her, "They thought I was dead, but I'll never die!" It's a happy ending that feels both oddly tacked-on and strangely melancholy.
Chazelle said the wild ambiguity of the ending struck him as archetypal of the genre. Is Diane being given a studio-enforced happy ending, to satisfy some mandate that these films should end on an emotional upswing? Has she finally lost her mind, and in doing so hallucinated a vision of her dead lover? To Chazelle, it could work both ways: "He died, but he is alive, because of how deeply she loved him," he said in his speech. "It's an idea that speaks to only what movies can do—that emotion can override everything, override the reality reflected onscreen."
In La La Land, Mia gets her happy ending—but it's without Sebastian, whom she leaves behind on her way to the top, after they mutually decide they can't pursue their goals while trying to provide a life for each other. In the film's climax, however, they're magically reunited when Mia visits Sebastian's jazz club by chance. As he plays a mournful tune on the piano, time rewinds and the two enter a fantasy dream ballet, dancing through the life they could have had together. Visually, it recalls sequences like the painterly Parisian tableaus of Vincente Minnelli's An American in Paris or the surreal, stripped-down sets of his The Band Wagon. But emotionally, this epilogue touches on that deeper ambiguity in 7th Heaven that so struck Chazelle; he's letting audiences see the fantasy and the reality, and take their pick.
Of course, Mia does eventually snap back to the present, and she leaves the club with her husband, sharing one last glance with Sebastian. La La Land's darker note is more pronounced by the end. Sebastian, who spends the entire movie preaching the purity of jazz as an art form, has achieved his goal of erecting a temple to it, but he has seemingly little else going on. After the film's jump forward, Chazelle only shows Sebastian inside the club, whereas he shows Mia's life outside of work. While Mia has both a family and fame, Sebastian is stuck behind a piano. From everything we see of his club, "Seb's," he's presenting his art form as he prefers it: beautiful, but trapped in amber.
Sebastian's worshipful relationship with jazz has been much remarked upon since the film opened. Writing for MTV News, Ira Madison III noted its "white jazz narrative," in which Sebastian is "convinced that the genre is on its last legs and it's his sole purpose in life to restore it to glory," rather than participate in its reinvention. Chazelle clearly sees much of himself in Sebastian—he played jazz drums while growing up and has frequently spoken of his affection for the genre, which was central to his previous film Whiplash.
At the beginning of La La Land, Sebastian's fanaticism is resolute, but once he meets and falls for Mia, he begins to compromise, taking a job touring with an old jazz acquaintance, Keith (John Legend), whose band has a synth-focused poppy sound. To Keith, the best way to save the genre they both care about is to let it better reflect the changing world. "How are you gonna be a revolutionary if you're such a traditionalist? You hold onto the past, but jazz is about the future," he lectures Sebastian. But in the end, Sebastian gets what he wants, and La La Land communicates the drawbacks of his obsession quite powerfully—the apex of his achievement is dwelling in a basement club where jazz can be preserved, at the cost of seemingly everything else (including the woman he loves).
Perhaps others don't see the ending that darkly, but it arguably underscores the ambiguity of the genre Chazelle spoke so fondly of. It recalls the final scene of La La Land's most obvious influence, Jacques Demy's French musical The Umbrellas of Cherbourg, a sung-through tale of young lovers Geneviève and Guy (played by Catherine Deneuve and Nico Castelnuovo) who are, much as in 7th Heaven, separated by military service. Demy's film is sharp and colorful, even as its story is told in a minor key. After a first act that shows the couple in love, circumstance directs them toward other partners, and when they briefly reunite years later, Guy can barely hold a conversation with her, not wanting to reopen old wounds.
Far earlier in the film, as Sebastian and Mia begin to fall for each other, they walk around the studio lot she works on, admiring the pieces of Hollywood marginalia around them. Below the "window from Casablanca," as my colleague Christopher Orr hinted, is an umbrella shop very similar-looking to the titular setting of Cherbourg (an earlier dance sequence set amid an L.A. traffic jam recalls another of Demy's films, The Young Girls of Rochefort). Mia and Sebastian are trapped in amber, too, but for Mia, there's an escape—the curious magic of the musical, which turns her inner creativity into visual splendor. Getting ready for a party turns into a song-and-dance number with her roommates called "Someone in the Crowd," which resembles "I Feel Pretty" from West Side Story. Later, a first date with Sebastian sees them dancing among the stars at the Griffith Observatory.
When Sebastian and Mia reunite at the end of La La Land, they don't speak. The moment isn't quite as painful as the end of The Umbrellas of Cherbourg, because of their shared fantasy, which we witness as a dream ballet. But the reality seems crueler. Nostalgia has propelled Mia to stardom; it's given Sebastian his artistic integrity, but little else. Chazelle hands his audiences a surprisingly bitter pill, made that much stranger for how smoothly it goes down. Viewers can still easily imagine an ending where Mia and Sebastian reunite, even as they're parting. To paraphrase Chazelle, it's something only the movies can do: create a world where feeling alone can override every sad truth.