How Victoria Aims to Connect With Young Women
The new Masterpiece period drama, set to debut in America, tells a timely story about an unlikely female ruler.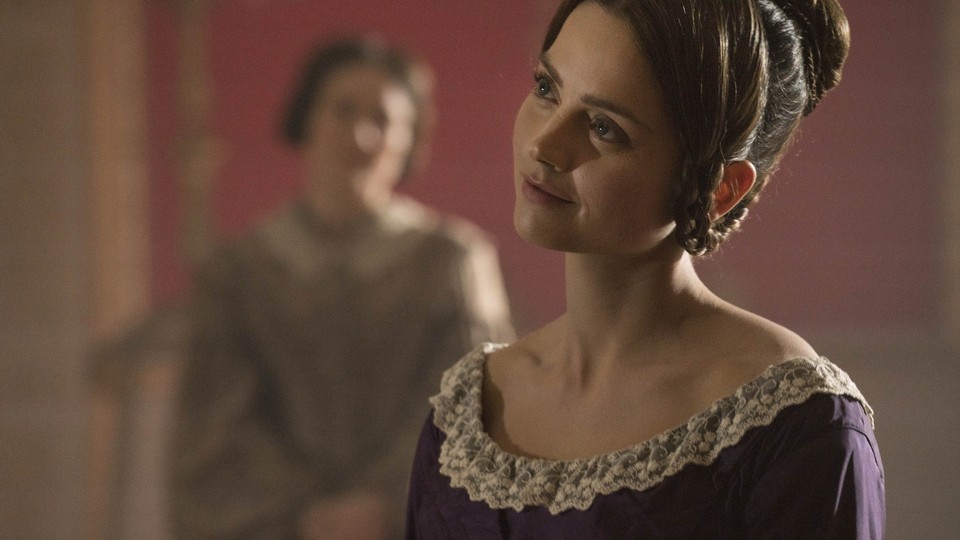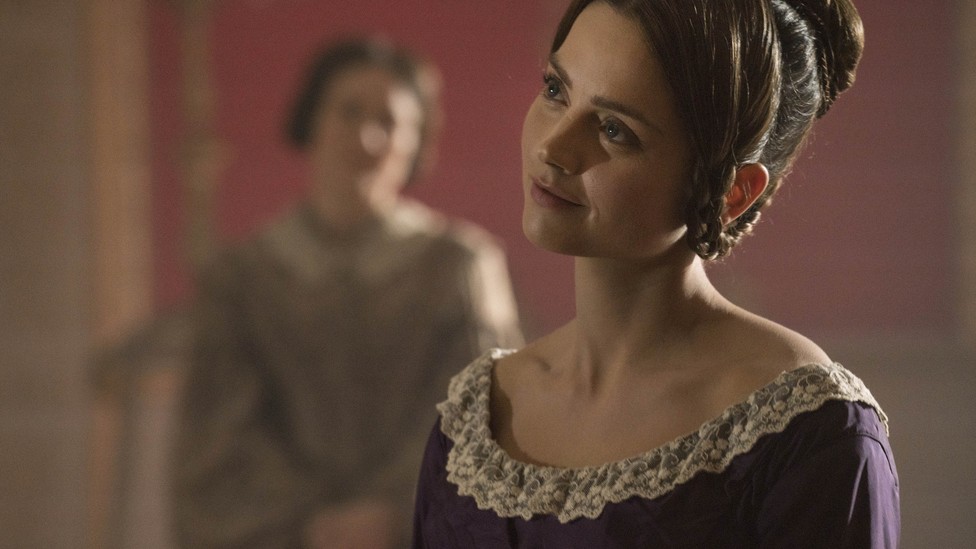 Victoria, a new miniseries charting the famous queen's early reign, premieres Sunday on PBS's Masterpiece—nearly 180 years after the monarch ascended the British throne and five days before Donald Trump assumes the American presidency. Here in Columbia, Missouri, the college town where I live and teach, we had a special preview of Victoria's opening episode on December 5. More than 500 people turned up, most of them women in their 40s through 60s. But college students, many of whom came into adulthood following the soapy adventures of Downton Abbey's Lady Mary and Lady Edith, also attended. So did teenagers, who texted right up to the moment the lights went out.
Judging by audience reactions and conversations I had with attendees, the older women enjoyed Victoria, but the younger ones devoured it. They oohed and aahed over the palaces. The gardens. The shot-silk gowns. Many gushed over Victoria's lapdog. Some mooned over Rufus Sewell, who plays a smoldering Lord Melbourne. Most of all, they seemed to thrill at watching a feisty teenage girl running a country. Afterward, in the theater's lobby, their comments entwined Victoria with the U.S. election. "Why can't we live in England, where people are smart enough to put a female in charge?" one asked another. "I want a girl NOW for president!" declared a child of nine or ten, whose teenage sister replied, "America doesn't want a woman in power." Her words spoke to the value of shows like Victoria: In offering true stories about inspiring leaders, period dramas can speak to the politics of the present. And, in the case of Victoria, to  young women.
The miniseries exemplifies a new turn in British television period drama, away from literary adaptations and toward political history. Within the last two years, over 20 such dramas have appeared, and, according to sources like IMDB, at least 20 more are in production. They include Wolf Hall; Rebellion; The Hollow Crown; Churchill's Secret; Victoria; The Crown; and King Charles III. If we assume that period drama is always somehow about national identity, these series offer British audiences a way to think critically about nationhood in the wake of Brexit, the referendum whereby 52 percent of British citizens voted to leave the European Union. But in the months after the U.S. election, as Victoria illustrates, they also give Americans a means to reflect on leadership—its abuses and constraints, its symbols and privileges, its long history as an anxious and inconstant idea.
Like Victoria, these series seek to engage young audiences. Many of the shows portray political leaders in their youth, casting popular actors like Matt Smith (who plays Prince Philip in The Crown) and Jenna Coleman (who plays Victoria). Collectively, they also seem to renounce nostalgia, that emotion so native to the genre and so appealing to, ahem, older audiences. With its understated tone and behind-the-scenes approach to the Windsor family, The Crown, for example, seems to studiously avoid sentimentality about the past. Wolf Hall's portrait of Henry the VIII's court, despite its stunningly beautiful camerawork, recalls scenes from The Godfather more than it does earlier period dramas about the king. It's as if the past is no longer to be wistfully mourned but, rather, reconsidered. Hence, the surprises that lie in wait for many viewers, whether the discovery that Prince Philip was a radical reformer, or that Wolf Hall's Thomas Cromwell wasn't quite the nasty thug we thought him.
Victoria, however, delivers the biggest surprise. Although scores of photographs exist of Victoria as a young woman in the 1830s and 40s, an image of her as a stout, jowly sourpuss garbed in widow's weeds persists—as do certain myths about her monarchy. Myth #1: Victoria relinquished all political responsibility to her husband, Prince Albert, after they got married. Myth #2: Victoria stopped ruling once her beloved Albert died. Myth #3: Victoria remained a grieving widow, an incurable melancholic, up to the day she drew her last breath. These myths are, of course, "dead wrong," Daisy Goodwin, the creator and writer of Victoria, told me. As a doctoral student at Cambridge University, Goodwin wrote her dissertation on Victoria, using the queen's voluminous diaries to unearth a woman who reveled in the freedom the crown brought her, who loved sex and relished power. The reward of finding this Other Victoria has deeply influenced Goodwin, a novelist and TV producer who said she "loves filling in the female blanks of British history."
Projected to run for six seasons, Victoria spans the long life and career of the queen. For Goodwin, who wanted to try a "bigger, less solitary project" than novel-writing, it marks a foray into scriptwriting. But how do you begin the story of a woman who ruled for 64 years? Goodwin got her answer after having a fight with her teenage daughter, Lydia, about homework. Reflecting on how Victoria assumed world-historical power at roughly the same age, she wondered, "What would it be like if Lydia were the boss of me?"  And so Victoria took root.
The first season, airing weekly through March 5, follows Victoria from the time she becomes Queen in 1837 through her courtship and marriage to Albert. It portrays Victoria as a bold, sparkling, and clever teenager possessed of an iron will. "The first thing she did was give herself a new name," Goodwin tells me. The monarch's real name was Alexandrina Victoria, but as Goodwin explains, "Nobody back then was called Victoria. It was ...  like calling yourself Beyonce."
Still, Victoria's first season doesn't seek to lionize its subject or sugarcoat her reign. "She makes tremendous mistakes," Goodwin says, "because she doesn't yet understand the world in which she is operating. She shows girls that you can make mistakes and move on." For example, Victoria callously decides to have the unwed Flora Hastings, one of her ladies-in-waiting, medically examined when she suspects Hastings is pregnant. It turns out the devoutly religious woman had a tumor. She dies soon afterward. Humbled and ashamed, Victoria becomes a much less impulsive ruler after this event.
As the series evolves, Victoria will also need to take into account those aspects of Victoria's reign that cannot be written off as youthful "mistakes." The British government's response to the Irish potato famine during the 1840s and early 1850s, for example, was horrendously inadequate. Victoria often expressed pity for the plight of the Irish, but she took no action to address it. And so one million people starved to death over the course of seven years, thrown into the ground without ceremonies or coffins. During the Indian Mutiny of 1859, Victoria offered her support to those military leaders who punished troops for their revengeful actions against the Indian rebels. But during her reign, countless women in India, Africa, and elsewhere were raped or killed or widowed in the endless series of "little wars" that expanded her empire. Future Victoria episodes remain to be seen, but one hopes Goodwin will also address these more complex, more systemic failures; her audience needs to know about them too.
For now, and in keeping with its youthful appeal, Victoria's first season deploys conventions from romance, fairytale, and young-adult fiction but refashions them to offer a complex portrait of its female protagonist. The series makes Victoria the dominant character (she appears in every scene of all seven episodes). It romanticizes her relationship with Lord Melbourne, the older and wiser man, but underscores his shortcomings as well as hers. The show plays up Albert as Victoria's Prince Charming but also portrays him as a buttoned-up nerd who's far less appealing to watch. And as with all young-adult fiction, the series presents a protagonist who matures quickly and dramatically; by the end of the season, Victoria is far kinder and less impulsive than she was at the outset. Most notably, Victoria offers elemental truths about courage, love, justice, and kindness all through a female perspective.
No doubt, some critics will view Victoria's portrait of the queen as naïve or simplistic. They'll point out the inaccuracies or scoff at the show's occasional use of caricature. But they'd be missing the point: Victoria aims to provide a political history that resonates with today's young women. And, apparently, in Britain it  has. Victoria consistently dominated TV ratings with a consolidated average of seven million viewers, according to Goodwin. She added that many of the show's viewers were females between 13 and 25, and that Victoria is the highest-rated period drama ever among this age group in the U.K. Some of these viewers tweet Goodwin about their new resolve to study history or post photos of themselves hugging their copy of Goodwin's novel, Victoria. Hundreds of these women, calling themselves "Vicbournes," have taken to writing fan fiction or creating mashups based on the series, imagining plots in which Victoria elopes with Lord Melbourne. "It's a real phenomenon here," Goodwin says. Like her, these girls are filling in the female blanks. But they also live in a country with a strong tradition of women holding top political positions, including the prime minister.
And what of America's young women—will they enjoy Victoria? The night of my hometown's preview suggests the answer is yes, but with a caveat, a subtext. As that night conveyed, many young women in America remain devastated by the election. Recently, when I asked one of my college students to share her thoughts with me about Hillary Clinton's defeat, she said, "The election told me that it doesn't matter how smart you are, how qualified you are, how well you understand the system and can play the game—you will never win." Comments like these raise questions about period drama's relevance and responsibility to young women, especially now. As a story grounded in history, Victoria can give them hope coupled with truth. Young viewers can think, "This story happened and so, no matter what present history tells me, a woman can be in power."
Rebecca Eaton, the executive producer of Masterpiece, tells me Victoria's U.S. premiere wasn't timed to coincide with the week of the presidential inauguration. But she says she hopes it will have a positive influence on America's young women. Since Masterpiece's rebranding in 2008, Eaton has aggressively sought period dramas that will capture a new audience of "smart girls," girls in their teens and 20s who read good books, imagine big careers, and want to learn about history. Until this past year, Eaton had mainly been focused on providing them with good drama. But 2017 brings a slightly different agenda. "This is a very important time to present stories of strong, independent women," says Eaton. "Victoria had her own glass ceiling. She was surrounded by men who told her she couldn't do the job." She adds, "I'm very pleased to have this story at a time when women's issues, unfortunately, are back in play all over again."
On Sunday night, I'll re-watch Victoria with my 15-year-old niece Sophie and her friends. I'll take pleasure in seeing their reactions and sharing with them what I know about Victoria's life: how she often performed small, individual acts of kindness to the poor; how, against the advice of her senior counselors, she pardoned under-age criminals; how she survived eight assassination attempts. It will be a different viewing party than those I had for Downton Abbey, a more earnest experience. We'll watch Victoria not because it depicts an old-fashioned past, but because it portrays their imagined future.