How Amazon Got a Best Picture Oscar Nomination
Manchester by the Sea is the first film released by an online streaming service to get an Academy Award nod—mostly because the movie hasn't premiered online yet.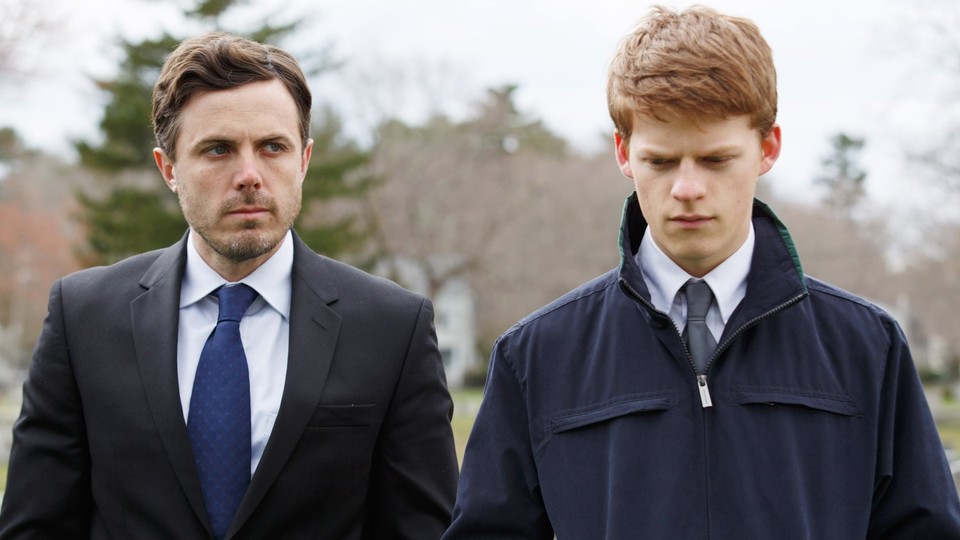 With all the discussion of this year's Oscar nominees—which embraced a more diverse range of performers and stories—another big industry change went largely unremarked on: the first Best Picture nomination for a film distributed by a streaming service. The movie? Manchester by the Sea, Kenneth Lonergan's weighty, if darkly funny drama about a Massachusetts family dealing with tragedies in their present and past. If you were unaware that Manchester was available on streaming media, that's because it's not—yet. Though acquired by Amazon when it debuted at Sundance last year, the film got a proper theatrical release last November and has grossed an extremely healthy $39 million at the domestic box office so far.
Over the last few years, streaming networks (particularly Netflix and Amazon) primarily known for their TV output have strived to make inroads into the film world with splashy acquisitions. But only Amazon's approach has really worked, earning a total of six Oscar nominations this month for Manchester by the Sea—Best Picture, Best Director, Best Actor, Best Supporting Actor, Best Supporting Actress, and Best Original Screenplay. Unlike Netflix, Amazon has quickly built up a reputation in terms of prestige because it gives its films actual theatrical runs, rather than treating the cinema experience as an afterthought.
Since moving into movie production, Amazon's approach has been to mostly work with established independent filmmakers, leveraging whatever clout comes with their name recognition. This began with Spike Lee's Chi-Raq in 2015, followed by Whit Stillman's Love & Friendship, Nicolas Winding Refn's The Neon Demon, Todd Solondz's Wiener-Dog, Woody Allen's Café Society, and Jim Jarmusch's Paterson this year. In each case, Amazon partnered with a theatrical distributor to release the films nationwide before premiering them on Amazon Prime a few months later, where they can be streamed for free by subscribers.
It's an approach filmmakers will always prefer, and, in most cases, one that helps spread the word about their movies. Love & Friendship was undoubtedly a niche property—an acidic adaptation of Jane Austen's novella Lady Susan replete with Stillman's typically florid, dense dialogue. But a slowly expanding release in May made it the biggest indie hit of 2016; it ended up grossing $14 million, the most for any movie that never reached more than 800 screens nationwide. A streaming network might balk at such success, because it cuts into the viewership one might hope for at home. But Amazon has so far struck the right balance, garnering appropriate hype for its films before they're available to stream.
Like Netflix, Amazon has had to lay out massive cash sums to get a toehold in the movie industry. Manchester by the Sea was acquired at Sundance for $10 million. Woody Allen went to Amazon to make Café Society, abandoning his usual partners Sony Pictures Classics, because the company could provide the bigger budget required for a 1930s-set Hollywood drama. Aside from Manchester and Love & Friendship, none of Amazon's films has been a big earner yet, although films like Chi-Raq, Paterson, and Park Chan-wook's The Handmaiden got the kind of critical acclaim the studio was looking for.
Amazon is a blockbuster factory compared to Netflix, which is barely interested in releasing its movies at all. Netflix came on the scene with Beasts of No Nation in 2015, which made a paltry $90,000 in theaters, partly because almost every theater chain declined to feature it. Unlike Amazon, Netflix insists on releasing its films in theaters and online simultaneously, rather than prioritizing the theater experience. Though the company claimed 3 million people watched Beasts online in its first week, Netflix doesn't make its ratings data public, so that claim was hard to parse—especially how many viewers sat through the entire film.
Beasts of No Nation won a SAG Award for its star Idris Elba, but was snubbed at the Oscars, as has every other Netflix movie. Potential indie hits like The Fundamentals of Caring, Tallulah, Mascots, and Barry simply get added to Netflix's ever-expanding library, which is harder and harder to browse (especially because the company doesn't create easy landing pages for its original content—which, to be fair, is also a problem Amazon Prime has). This is why Netflix struggles to attract big names at film festivals like Sundance. It tried to get involved in the biggest bidding war of last year for Nate Parker's The Birth of a Nation. Though it reportedly outbid Fox Searchlight by $2.5 million for the distribution rights, Parker went with the other studio because it could promise him a proper theatrical run.
With its binge-watchable seasons of original content that all release on the same day, Netflix has revolutionized the television industry, but so far it's continued to struggle on the film side, and not for lack of trying. Manchester by the Sea was a hit with Academy voters because of its general critical acclaim, but that wasn't the only reason it did well with them—it also seemed like a real movie that the general public was excited to go see, rather than add to their watch queues at home. One day, Netflix may get its hands on a word-of-mouth hit so extraordinary that it garners Oscar attention despite its unusual release model. But thus far, traditions are holding fast.