Will Hollywood Learn From Hidden Figures's Success?
The film is poised to gross at least $100 million on a comparatively small budget—yet another reminder that audiences will pay to see diverse stories.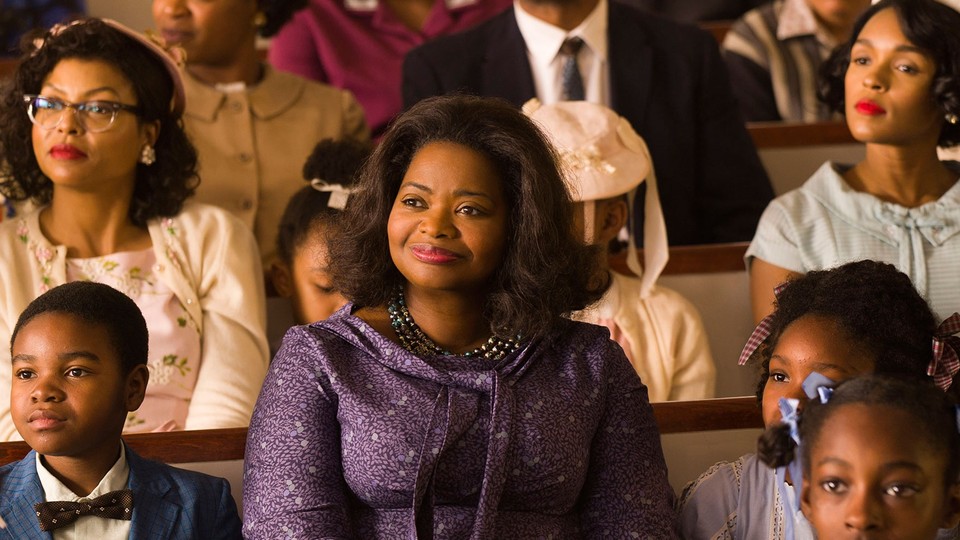 Hidden Figures has been the breakout film of 2017 thus far. Starring three African American women (played by Taraji P. Henson, Janelle Monáe, and Octavia Spencer), it focuses on an unheralded piece of American history: the work of black female mathematicians and engineers at NASA in the 1960s. Released to strong reviews, Hidden Figures seems destined for a few Academy Award nominations next week. Since it expanded nationwide, it has spent two weeks at the top of the box office, ahead of big-budget films like Monster Trucks, Patriots Day, Live By Night, and Oscar frontrunner La La Land. Made for a comparatively small $25 million, the film is essentially guaranteed to gross at least $100 million in the United States alone, posting a very healthy profit for its studio, 20th Century Fox. The viewing public's desire for a film like Hidden Figures is indisputable. So why does Hollywood make so few of them?
In 2015, only 32 of the top 100 films at the box office featured a female lead or co-lead; only three of those leads were women of color, and almost half of them did not feature a black female character in any capacity. After having an all-white slate of acting nominees for two years in a row (spurring the hashtag #OscarsSoWhite), the Academy is trying to diversify its voting body with the hope of rewarding a broader selection of films. But Hollywood at large is showing few traces of change. Last year's most successful films, largely superhero sequels and animated blockbusters, lack for variety in their storytelling. The slow nature of film production means it can take years to really reflect a shift in studio thinking, but Hidden Figures still feels (disappointingly) like an anomaly rather than a sign of a real transformation.
That said, it wouldn't be hard for major studios to increase the number of films written by women: The ratio in 2015 was 69 percent male to 31 percent female, but by commissioning just five new scripts by women per year, things would be equal by 2018. But the supposed "surprise" of Hidden Figures's success feels especially galling because it repeats a similar conversation from a year ago. Films like Creed and Straight Outta Compton were smash hits, clearly refuting the discriminatory maxim that films about people of color are more of a box-office risk for studios. A year later, Hidden Figures is "disproving" that trend yet again—even though that kind of backwards thinking about diversity should feel entirely irrelevant by now.
In its first weekend of wide release, Hidden Figures defied tracking numbers that saw it grossing less than the fourth weekend of Rogue One; it made $22 million, also beating out that week's new blockbuster, Underworld: Brood Wars. For the subsequent four-day Martin Luther King, Jr. holiday weekend, Hidden Figures actually increased its gross, making $26 million and staying at number one, holding off the expansion of La La Land, the horror film The Bye Bye Man, and Paramount's broad-skewing children's adventure Monster Trucks.
That last film provides a particularly interesting lesson in Hollywood economics. The industry, in general, has focused in recent years on films that have the potential to be launching pads for major franchises. As the movie business becomes more globally focused and tries to compete with TVs that can offer a near-theater-quality viewing experience at home, splashy big-budget extravaganzas have become a routine matter of course. This is frequently put forward as an explanation for why Hollywood seems loath to cast actors of color in leading roles, because they supposedly have less market pull worldwide (an argument soundly disproven by hits like the Fast & Furious franchise or Star Wars: The Force Awakens, as well as many smaller-scale films).
And yet Monster Trucks is a patently silly piece of kids entertainment about a young man who finds a squid-like monster living in his truck. It stars Lucas Till, hardly an A-lister (though he had a small role in the recent X-Men movies), and cost $125 million to make—$100 million more than Hidden Figures. Devoting such a large budget to a film with little brand recognition that was basically guaranteed to get terrible reviews was quickly regarded as a disastrous decision. Viacom, the company that owns the Monster Trucks studio Paramount Pictures, took a $115 million write-down in earnings last September in anticipation of its failure (it opened to a lackluster $15 million last weekend).
This is what Hollywood's emphasis on big-budget films with "broad appeal" inevitably leads to: hundreds of millions of dollars being spent on toy-focused action films with no real audience. For the cost of Monster Trucks, Paramount could have made five Hidden Figures—smaller films, focused on telling grounded stories to fill a market gap that studios continue to ignore. That Hidden Figures's success has to serve as a lesson to Hollywood in 2017 is ridiculous, but the lesson is nonetheless there to be learned. Audiences are hungry for films that look beyond the movie industry's narrow worldview. It's time to start delivering them.