Waking Up to Coachella's Conservative Tinge
Entertainment tycoon Philip Anschutz's politics were never a secret. Why only now is there a billionaire-businessman backlash?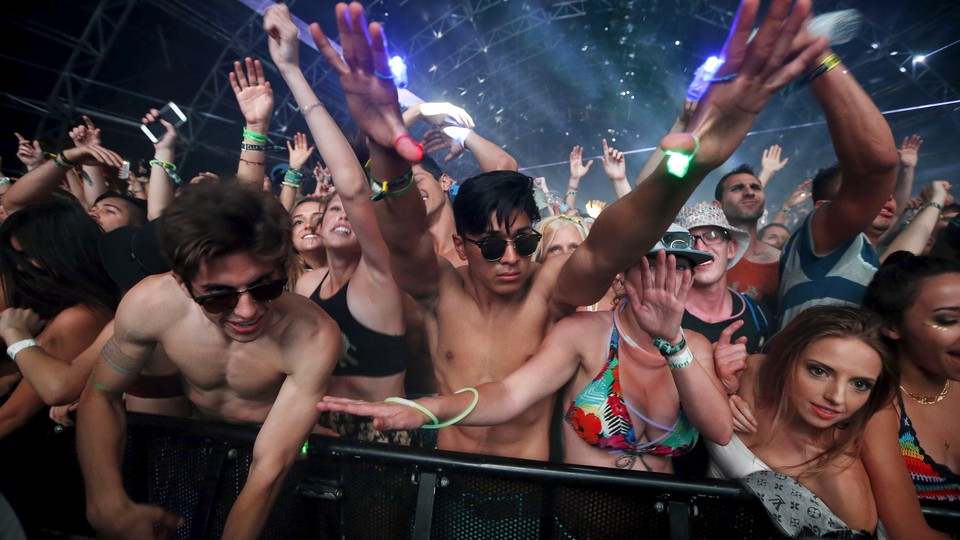 Just as one right-leaning businessman takes command politically, another has become the focus of debate in rock and roll. Earlier in January, the music press suddenly seemed to realize that the parent company of Coachella, the iconic two-weekend Southern California festival, is owned by Philip Anschutz, a prominent Republican donor who has supported efforts hostile to LGBT rights. The fallout: calls for boycotts, accusations of "fake news," and a petition asking headliners Beyonce, Radiohead, and Kendrick Lamar to donate their festival profits to the Human Rights Campaign.
The situation that led to the brouhaha isn't new. In fact, it's one that is very familiar in American entertainment. A large corporation long ago acquired a cultural organization valued for its coolness, and left-leaning consumers and creators continued to patronize it in spite of the fact that large corporation owners don't tend to lean left. Only by a quirk of the moment—some combination of the online media economy, shifting generational mores, the election, and this year's particular headliners—have the politics behind Coachella become a factor.
The festival's operator Goldenvoice first made a name as an independent champion of underground sounds in Southern California in the '80s and '90s, but in 2001 Anschutz Entertainment Group bought it. "The deal … should give Anschutz's concert division, Concerts West, added credibility in rock music circles," the Los Angeles Times wrote back then. Coachella's present national profile largely came about after the acquisition—as did its multi-weekend format, sister classic-rock and country-music festivals, and $375 general-admission price tag (up from $50 in 1999).
Anschutz's name really should be familiar: His holdings include the country's second-biggest movies chain, Regal Entertainment, and AEG Live runs a number of prominent events venues, among other things. The man's politics have never been a secret. In 2003, OC Weekly wrote about the Anschutz Foundation—the philanthropy founded by Anschutz that is the source of the current controversy—noting that it had given money to a group whose goal was to stop "the militant gay agenda" and who claimed that "pedophilia is a basic part of the homosexual lifestyle." Over the years, news accounts have mentioned Anschutz or his foundation supporting the likes of Focus on the Family and Rick Santorum while he bankrolled conservative-leaning movies and The Weekly Standard.
What ostensibly got it all started this time around was a (now deleted) blog post at Afropunk that praised the newly announced Coachella 2017 lineup but said that Anschutz's "politics are icky, sticky with the slime of the swamp that folks like president-elect Trump loves to associate [with]." Uproxx aggregated the info about Anschutz's donations to anti-LGBT groups and his ties to climate-change deniers, which then went viral to such an extent that AEG and Anschutz himself replied. The company said that "attempts to perpetuate and spread false news on a variety of topics are part of a long-running and coordinated attempt by our competitors to smear AEG" and touted "a supportive and inclusive environment that respects the rights of all employees, artists and fans, as well as promoting a philosophy of sustainability throughout the world."
Anschuntz's denial was more colorful, bearing some rhetorical trademarks of the current political moment:
Recent claims published in the media that I am anti-LGBTQ are nothing more than fake news—it is all garbage. I unequivocally support the rights of all people without regard to sexual orientation. We are fortunate to employ a wealth of diverse individuals throughout our family of companies, all of whom are important to us—the only criteria on which they are judged is the quality of their job performance; we do not tolerate discrimination in any form.

Both The Anschutz Foundation and I contribute to numerous organizations that pursue a wide range of causes.  Neither I nor the Foundation fund any organization with the purpose or expectation that it would finance anti-LGBTQ initiatives, and when it has come to my attention or the attention of The Anschutz Foundation that certain organizations either the Foundation or I have funded have been supporting such causes, we have immediately ceased all contributions to such groups.
It's an odd reply because it can so easily be picked apart. Pitchfork quickly pulled financial disclosure documents showing that in the past five years the Anschutz Foundation has parceled out hundreds of thousands of dollars to the Alliance Defending Freedom, the Family Research Council, and the National Christian Foundation. The first two organizations have clear histories of opposing gay rights; the National Christian Foundation provides significant funding for the Alliance Defending Freedom.
The outrage is a sign that Coachella, like a lot of pop-culture events, is assumed to be associated with liberal ideology: Roger Waters famously blasted George W. Bush from the stage in 2008 and then blasted Donald Trump last year at a Coachella spin-off festival; 2017's three headliners are all politically outspoken and to the left; flower crowns and MDMA don't generally don't scream Republicanism. Yet all along the festival has also drawn accusations of faux-hippiedom, troubling headware, and rank consumerism: The Daily Beast's Marlow Stern described it as an "Oasis For Douchebags and Trust Fund Babies."
It might seem tempting to now single Coachella out as a uniquely corporate appropriation of indie aesthetics. But many alt-Coachellas in Southern California—L.A.'s FYF Fest and Camp Flog Gnaw Carnival—are also AEG Live productions. So are other significant fests like Seattle's Bumbershoot. Major League Soccer is flush with Anschutz money, as are thousands of movie theaters. The issue at hand is, in reality, far more entrenched in the pop-cultural arena than just Coachella. It may not be a coincidence that new attention is being paid to this fact in the same month of Trump's inauguration—after all, the Afropunk post that began the dustup compared Anschutz to Trump.
In any case, the backlash—however belated it might seem—hasn't quite been futile. When Pitchfork contacted the Anschutz Foundation about its donations, its lawyer reportedly said that anti-gay groups would get no money from the organization going forward. "Once it was explained to us that there was an issue, it stopped," he said. It's not a revolution, but it is the kind of thing a lot of people are clearly itching for lately: a change in the previously ignored status quo.