Live by Night Is Too Epic for Its Own Good
Ben Affleck's follow-up to the Oscar-winning Argo struggles to tell a grand story of Prohibition-era crime in Boston and Tampa.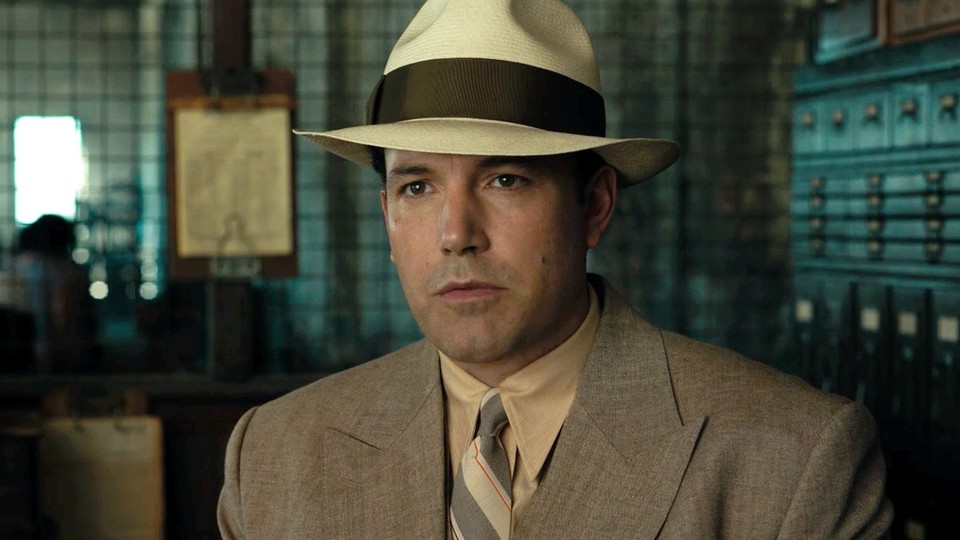 Ben Affleck has a Ben Affleck problem. As a filmmaker, he long ago proved himself an interesting, versatile voice in Hollywood, an heir to the gritty crime-thriller directors of the '70s who excelled at staging small-scale action and getting big, pulpy performances from well-selected ensembles. He keeps making a mistake, though. He keeps casting this stiff, uncomfortable-looking actor in his lead roles, a man who too often seems distracted and unhappy, lacking the movie-star charisma he's shown in other projects. Sadly, that actor is also Ben Affleck, and his appearances in these films show no sign of abating. Live by Night, Affleck's follow-up to his Oscar-winning smash Argo is a fascinating mess of a movie, but it's undone in part by the charisma vacuum at its center.
Why can't Affleck direct himself to a good performance? In his two previous films, The Town and Argo, he played characters burdened with uninteresting arcs but who orchestrated the action around them—it's almost as if Affleck can only imagine himself as a director within his own movies. In Live by Night, Affleck plays Joe Coughlin, a petty criminal in Prohibition-era Boston who robs card games and speakeasies with fellow hoods and hangers-on. Joe is intelligent, intimidating, and politically adept enough to eventually leave his hometown and rise to the top of the Tampa crime scene, playing the Italian and Irish mobs off of each other. Live by Night, adapted from a Dennis Lehane novel, has a fun time picking apart the web of alliances Joe builds, but it never manages to sell the man himself.
Affleck is ridiculously stoic and unfunny throughout the film, an absurd choice given the freewheeling tale being told. Joe, the son of a respected Boston police captain (Brendan Gleeson), is ripping off the card games of Irish mobster Albert White (Robert Glenister) while secretly romancing White's girlfriend Emma Gould (Sienna Miller). Affleck, now 44, struggles most with the youthful exuberance of the film's first act, where Joe is an upstart in a crime world defined by ethnic conflict. Though Irish, he earns his stripes by allying with the Mafia and going to war with White. The film depicts Joe as the kind of leader who can win over his enemies with his charm, but there's not much evidence of that in Affleck's flat performance.
After burning his bridges in Boston, Joe ends up running the Mafia's emergent operation in Tampa, where he tries to untangle a net of power structures, including the immigrant Cuban rum operations and the insidious Ku Klux Klan, whose members occupy a slew of political positions across the state. Lehane's more recent books are intrigued by the levels of government, legal and illegal, present in America's early 20th century, and the systemic racism they usually enforced. Novels like The Given Day and Live by Night are not mere crime thrillers; they're also attempts to flesh out what America's underworld reflect in its legitimate political power structures.
It's easy to see why Affleck was drawn to the book (he wrote the screenplay himself, a first for him), but Live by Night might have been more suited to a blown-out television miniseries. There's the constant feeling that captivating moments are being glossed over as Joe seizes control of the Florida rum industry. Affleck's best film remains his feature debut, 2007's fantastic neo-noir Gone Baby Gone, which was also adapted from a Lehane novel. But that was a much simpler potboiler—a pair of private eyes solving a straightforward mystery (it also featured Affleck's brother Casey in the lead role, rather than Ben himself). Lehane's interests have since deepened, as have Affleck's, but Live by Night is hampered by a 129-minute running time; it feels choppy and abridged when it should linger in the details.
For example, Zoe Saldana is given a plum role as Graciella Corrales, a Cuban rum lord whom Joe partners with and eventually marries. But she's quickly relegated to the role of supportive love interest as the film pivots back to Joe's battles with the KKK and the Irish mob, who resurface in Miami. There's a real sense of missed opportunity in her performance. Elle Fanning plays a crucial role as Loretta Figgis, the Tampa sheriff's daughter who falls into a life of prostitution, is reformed, and then begins to speak out against the legalization of gambling—a key prong in Joe's takeover of Florida. It's an arc that should dominate the second half of the film, but instead feels mildly irritating since Affleck doesn't give her much screen time. The only member of the ensemble who really sticks out is Chris Messina as Joe's right-hand man Dion, an avuncular, shrunken troll of a sidekick who gives the film a sense of humor its leading man sorely lacks.
It's understandable that, coming off a huge Oscar win that capped his comeback and his return to the Hollywood A-list, Affleck would tackle a project of such scope. But along with his own disaffected acting, it's that scope that betrays him. Live by Night is illustrating a crime saga with the ambition of The Godfather, but it's trying to do it so quickly that it ends up simply going through the motions of the genre. One of the film's final set pieces, a chaotic shootout between warring mobs in an opulent Tampa hotel, is so wonderfully staged, its action crisp and easy to follow, that it reminds you what skill Affleck has with the camera. Next time, he should perhaps confine himself behind it.