The Month in Music About Loving Your Fellow Human
New albums from Austra, Japandroids, and The xx imagine personal and political utopias.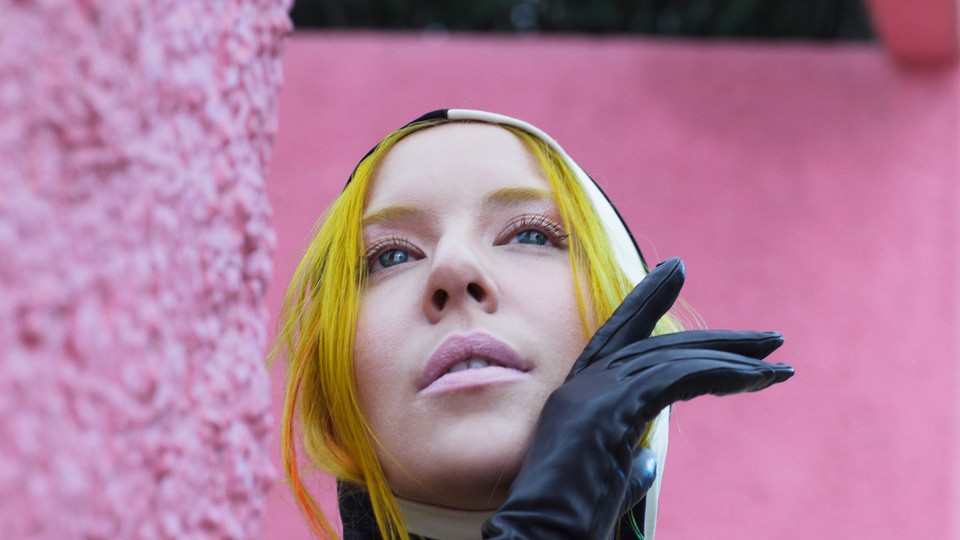 Katie Stelmanis of the electro-pop band Austra is tired of dystopia. Donald Trump's election has spurred quick-turnaround art about unraveling social bonds and authoritarianism, but civilizational decline was a hot topic even before: city-smashing Marvel movies, end-times fantasies like The Walking Dead and Game of Thrones, doomsday as a muse for musicians from Radiohead to Britney Spears. Yet Stelmanis decided to make her third album, Future Politics, precisely the opposite of apocalypse porn. Says Austra's press materials, "The future won't look like the past: Dystopian dread takes this for granted, but utopian imagination is just as valid."
Much of popular music has always been, on some level, about utopia—whether a small-scale, temporary one between two people (The Beatles's "I Want to Hold Your Hand") or a larger vision of deliverance (the protest standard "We Shall Overcome"). Some of January 2017's standout albums envision more perfect realities at various scales, a fact that's especially notable because of the fraught moment in which we're listening. The sociopolitical synth jams of Austra's Future Politics, the expansive bar rock of Japandroids's Near to the Wild Heart of Life, and romantic short stories of The xx's I See You all, in their way, offer comfort and escape as they do pop's eternal work of communicating love for your fellow human.
Austra's brilliant 2011 debut, Feel It Break, introduced the Canadian act's template: synths-'n'-stomping from the school of Depeche Mode, an ear for classical-music composition, and Stelmanis's extremely distinctive voice. She sings plaintively and from-the-throat, producing a sound that's removed yet vividly emotional. This time, the primary emotion is a sense of yearning—both for  a society that has radically reinvented itself, and for smaller personal victories.
The slow-building electronic earthquake of the opener "We Were Alive" imagines what would happen if everyone were cured of the fatigue caused by the capitalist grind. On page you might get the sense that she's waxing didactic—"Doctor, what's the cure for apathy?"—but on record, what stands out is the clarity of her central question, asked again and again: "What if we were alive?" The tenderness of the melody and her delivery makes the slogan portable, multi-purpose—it could be a call to rethink a relationship, or an entire civilization.
The album turns more uptempo from there: The title track, the lead single "Utopia," and the eco-anthem "Gaia" are all ornate, modern disco numbers featuring snatches of heady lyrics ("The system won't help you when your money runs out"). In interviews, Stelmanis has mentioned the Accelerate Manifesto and Inventing the Future: Postcapitalism and a World Without Work, both calls to push technology forward so as to achieve super-egalitarian ends. That idea echoes in these songs' bustle, but so does an underlying notion of empathy for all. The great "I Love You More Than You Love Yourself," for example, could be a pep talk to a society that's given up on itself but it more readily sounds like encouragement to a depressed lover. The song's steady, warm pulse breaks down in the middle, as if letting the darkness in, but then builds itself back up.
Most pop utopias aren't overtly political at all, of course. The Canadian drums-and-guitar duo Japandroids delivers a more typical rock-and-roll feeling of escape, memorializing the bliss of abandon enabled by drugs or love. For their third album, they apply a few new colors—electronic touches, acoustic guitars—to their cult-beloved blend of shoutalong choruses, punk economy, and epic ambitions. At least one reviewer has framed the blast of uplift as inadvertently out-of-step with the times, but the alternative reading is that the band now sounds as vital as it ever could.
Near to the Wild Heart of Life is a travelogue, devoted to finding moments of ecstasy on the road but also pining for someone back home. The high point comes on "Arc of Bar," a seven-and-a-half minute epic built over a guitar loop that recalls a sputtering Tesla coil and a drum part that sounds like it could crack the foundation of any concert venue. The vocals lock into a hypnotic litany of descriptions about a scuzzy New Orleans nightlife spot, just the kind of place that has littered classic-rock lyrical history. It's "a flesh bazaar of diamonds, dust, and drink," a utopia for the night, meant to be left for another once the sun rises.
An urgent portrayal of love threads through the album, with the band refreshingly unafraid of being called corny. The gauzy, interlude-like "I'm Sorry (For Not Finding You Sooner)" says it all in the title; the wistful gallop of "No Known Drink or Drug" declares, for not the first time in music history, that love is better than chemicals. But the song that hits me the most with full-bore inspirationalism is the closer, "In a Body Like a Grave." As with Austra's album, the drags of life are in the foreground: "Christ will call you out / School will deepen debt / Work will sap the soul." But when a later verse offers that "there's heaven in the hellest of holes," the thunderous accompaniment makes it impossible to feel cynical.
If Austra imagines utopia on a mass scale and Japandroids as moments within a lifetime, the phenomenal new release from The xx narrows the lens even further. Since their band arrived in 2009, Romy Madley Croft, Oliver Sim, and Jamie "xx" Smith have made some of the most intimate-seeming rock on the market, with Sim and Croft finishing each others' lines like lovers do over spare, R&B-indebted arrangements. Their third album brings in some brighter textures from the rave-music history that Jamie xx mined to critical acclaim on his 2015 solo album In Colour; the resulting vision of romantic tension and release is all the more transporting for it.
Throughout, love is made to feel like shelter—a sometimes shaky one, but shelter nonetheless. The opener, "Dangerous," is a two-step shuffle brimming with the sound of horns and the thrill of new, conspiratorial love. The singers' friends don't think they're good for each other—but "they must be blind." The devastating "Say Something Loving" uses a sample of an ooey-gooey 1970s pop song to stress the need for reaffirmations of affection once the initial rush of a relationship has worn off. Later, the warm and midtempo "I Dare You" returns to the early stage of love with a narrative of two suitors circling each other, infatuated with visions of a shared future.
Most remarkable is the lead single, "On Hold," an instant classic and a rare celebration of forgiveness. The chopped-up voices of Hall & Oates (yes) echo around as Croft and Sim sing of making peace as a lover moves on with someone else. The sentiment isn't exactly triumphant—"When and where did we go cold?
I thought I had you on hold"—but the sound of the music is. It, like so many great songs, is about the logic of love: the idea that harmony can only come about with intention, thought, honesty, and negotiation—as must be the case with any vision of a better world.