And, Scene: American Honey
The Atlantic looks back at key cinematic moments in 2016, this time Andrea Arnold's electrifying road movie.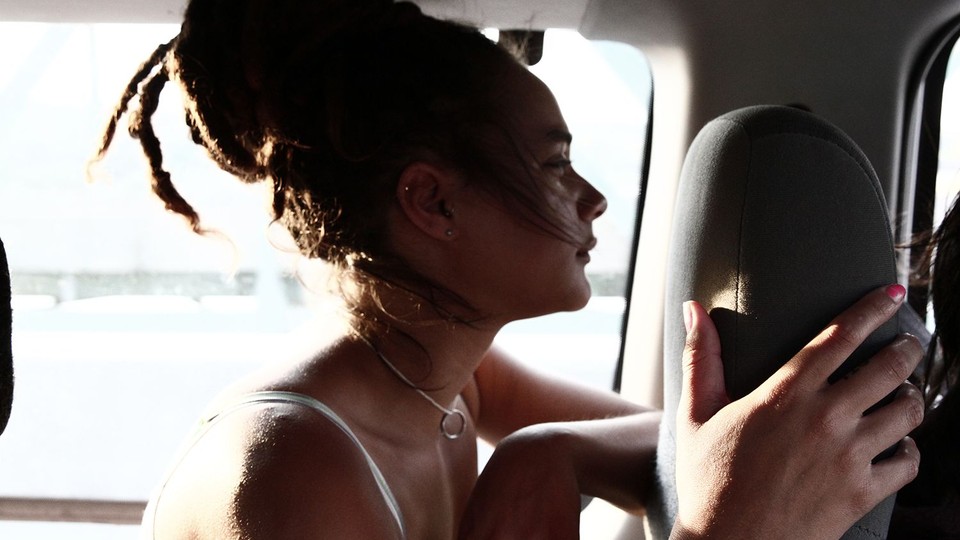 Over the last two weeks, The Atlantic delved into some of the most interesting films of the year by examining a single, noteworthy moment and unpacking what it says about 2016. Today: Andrea Arnold's American Honey. This will be the final installment of the "And, Scene" series, which can be found in its entirety here.
---
If someone had told me a year ago that one of the most alluring cinema images of 2016 would be a ponytailed Shia LaBeouf dancing on a supermarket checkout counter, I might have scoffed. But Andrea Arnold's American Honey is a film that exists to refocus its audience's view of things, ripping us from the theater and jamming us into an environment, and a part of the country, that we might not fully understand. One of the most visually electrifying films of the year, American Honey was also my personal favorite. Nothing crystalized its unique and surprising appeal more than the idea that an exiled marquee idol could worm his way back into moviegoers' hearts by behaving obnoxiously.
As Rihanna's "We Found Love" blares on the K-Mart speaker system early in the film, the teenager Star (newcomer Sasha Lane) spots Jake (LaBeouf) from across the store and is immediately intrigued. Jake is clad in gray suit pants held up by suspenders and a short-sleeved button down, and his prominent, braided rat-tail is slung over one shoulder, but he radiates a strange sort of movie-star charisma all the same. The scene plays out like a childish flirtation—Star sticks out her tongue at him, he replies in kind, then starts dancing along to Rihanna, eventually jumping on top of a conveyer belt and leading those around him in dance.
Much like my last pick for this series, Hell or High Water, American Honey is not subtle about the message it's trying to get across. "We found love in a hopeless place," Rihanna croons as Star looks on at Jake; seduced, she follows him into the parking lot where he offers her an opportunity to escape her depressing life in Oklahoma. Star is gorgeous and charming, but also hostile and defensive. She's seeking any kind of escape, but has no idea how to chart a path to the future she wants. Taking Jake up on his offer, she joins his "mag crew," tearing around Middle America in a van with other misfits, selling magazine subscriptions door-to-door and crashing in motels along the way.
Arnold, a British director well-versed in her own country's aimless youth (her 2009 film Fish Tank is a spiritual sibling to American Honey) spent years researching her script by traveling around the country with mag crews. Their rootlessness, and strange (if limited) sense of independence, speaks to something appealing about America—that you can pick up sticks and move on in search of something different—as well as to the inherent limitations of that way of life. Seeing Jake is love at first sight for Star: She's drawn in by his swagger, his idiosyncratic style, his joyful willingness to flout the rules of society. Their relationship, as it plays out over the next two and a half hours, is fiery but doomed from the minute it begins.
American Honey has a garishness to it that some critics found reductive. Star's mag-crew boss Krystal (Riley Keough) is an imperious, often cruel matriarch who spends one crucial scene wearing a Confederate-flag bikini. In her travels across the country, Star encounters families ripped apart by drug addiction, oil-field workers who have no idea how to interact with women outside of paying them for sex, and various other strangers who often straddle the line between helpful and predatory.
Still, every lurid detail feels part of a cohesive whole. Star is a window onto a world that won't make all viewers feel comfortable, but that shouldn't be ignored simply because of the unease it may inspire. In Jake's initial dance and everything that follows, Arnold distills the twin prongs of his appeal: He represents the thrill of non-conformity and a chance to escape, both of them classic American dreams, in all their dishonesty.
Previously: Hell or High Water