A Politically Charged Night at the SAG Awards
Almost every winning actor gave a speech that, in some way, addressed the Trump presidency and his recent actions—signaling a new normal for Hollywood's award season.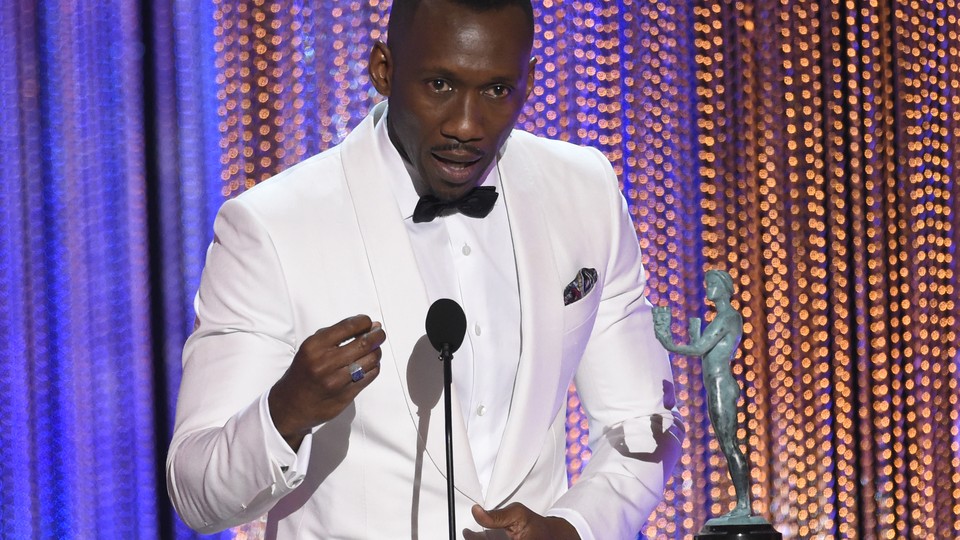 Mahershala Ali converted to Islam 17 years ago. His mother, an ordained minister, "didn't do backflips" when he called to tell her the news, the actor recalled in his acceptance speech at Sunday's SAG Awards, where he won Best Supporting Actor in a Motion Picture for his work in Moonlight. "But I tell you now, we put things to the side, and I'm able to see her, she's able to see me—we love each other, the love has grown, and that stuff is minutiae," Ali said.
It was a powerful, personal sentiment on a night that carried a topical charge, one where most of the winning actors (and some of the presenters) took the opportunity to speak on the politics of the moment, particularly President Donald Trump's sweeping, restrictive executive order on immigration, which targeted citizens of seven majority-Muslim nations, as well as refugees. "What I've learned from working on Moonlight is, we see what happens when you persecute people. They fold into themselves," Ali told the SAG audience, which responded with cheers and applause. "There's an opportunity to see the texture of that person, the characteristics that make them unique. And then there's an opportunity to go to war about it, and to say that that person is different than me, and I don't like you, so let's battle."
In Moonlight, Ali plays Juan, a local drug dealer who shelters and mentors a young gay boy he finds hiding from bullies in an abandoned Miami building. The film has a humane message of looking beyond stereotype and prejudice, directed at both its characters and its audience. Ali distilled that message in his speech and tried to emphasize compassion as he addressed current events. While many a Hollywood awards ceremony in the past has featured political comment, Sunday night was notable for just how pervasive the sense of dissent toward the Trump administration's recent actions was on the part of the winners.
Sarah Paulson, who won for playing Marcia Clark in The People v. O.J. Simpson: American Crime Story, urged viewers to donate to the ACLU "to protect rights and liberties of people across this country." Bryan Cranston, who won his fifth SAG trophy for his performance as Lyndon Johnson in All the Way, said that the 36th president might have some typically colorful advice for the 45th: "Something he said often, as a form of encouragement and a cautionary tale: 'Just don't piss in the soup that all of us got to eat.'"
Julia Louis-Dreyfus, named Best Actress in a Comedy Series for Veep, referenced her father, Gérard Louis-Dreyfus, who moved to the United States from France in 1940, fleeing religious persecution from the Nazis (his father, Pierre, was a Jew who fought in the French Resistance during World War II). "I'm an American patriot and I love this country," Louis-Dreyfus said. "And because I love this country, I am horrified by its blemishes, and this immigrant ban is a blemish and it's un-American."
The loudest speech came from David Harbour, who accepted on behalf of the cast of Netflix's Stranger Things, named Best Ensemble in a Drama Series. He called on the assembled actors in the audience to create a "more empathetic and understanding society by revealing intimate truths that serve as a forceful reminder to folks that, when they feel broken and afraid and tired, they are not alone."
At the Golden Globes this month, Meryl Streep gave a pointed address criticizing Donald Trump while receiving her lifetime achievement award, drawing familiar criticism from some corners about Hollywood's liberal "bubble," and actors' tendency to preach to the choir regarding current events. But, as my colleague Spencer Kornhaber noted, it was effective both in drawing a furious response from the president and in asserting "that the election's results would not silence Hollywood when it comes to Trump," in effect, resisting the specter of "normalization" in the wake of his victory.
After Trump's first week in office ended with nationwide protests over the executive order on immigration, there was little doubt that such political response would continue through awards season. It will likely build to a fever pitch for the Academy Awards next month, where the global audience numbers in the hundreds of millions. Last year's SAG Awards served as a repudiation of the Oscars, giving trophies to Idris Elba, Viola Davis (who won again this year), Uzo Aduba, and other actors of color in a year when the Academy's slate of acting nominees was all white. This year, it may serve as more of a preview, as public protest in all its forms becomes the norm for Americans unhappy with the new administration.