20th Century Women Is an Ode to Female Resilience
Mike Mills's film is an emotionally smart story about a 15-year-old boy who comes of age with the help of three offbeat women.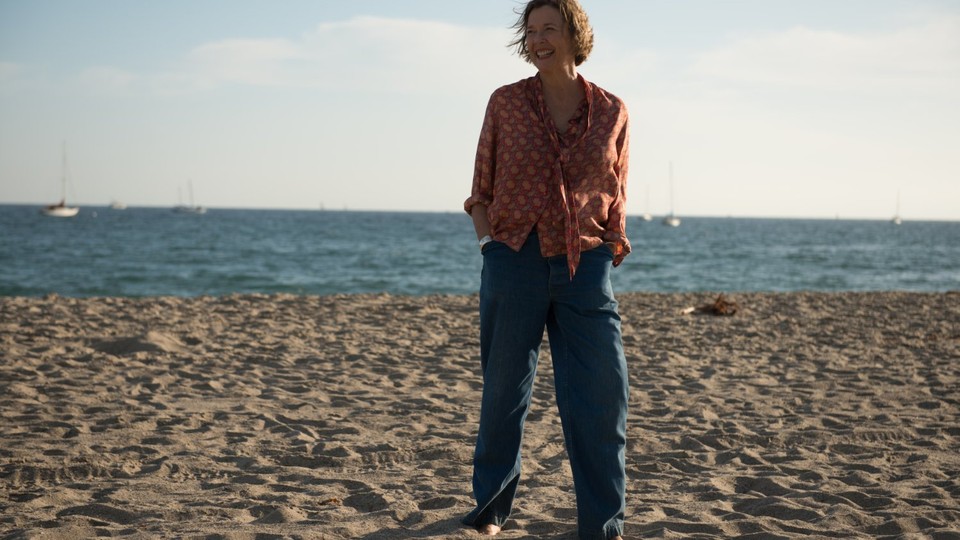 In a scene early on in 20th Century Women, Dorothea (Annette Bening) helps her son construct a birthday cake in the kitchen, plugging candles into a mess of whipped cream and strawberries. "Wait a few seconds and then bring it in," she says, heading into the living room. Then, dutifully, she feigns surprise as he places it in front of her, while all the assembled guests sing "Happy Birthday."
The nuances of Bening's performance—in just a few seconds, she communicates both the requisite efficiency and the sharp loneliness of single motherhood—anchor 20th Century Women, Mike Mills's paean to the women he grew up with. Set in Santa Barbara in 1979, it's a charming, unfocused movie that acknowledges nostalgia but doesn't wallow in it, capturing the emotional messiness of womanhood from the perspective of an outside observer, 15-year-old Jamie (Lucas Jade Zumann). Over the course of two hours, Jamie considers three different women in his life, while Dorothea considers the fact that, in growing up, he is turning into a creature who's increasingly alien to her.
The film is based, loosely, on Mills's own experiences being raised by his mother and sister. (He tends to draw on his own life for inspiration: 2005's Thumbsucker follows an anxious 17-year-old coming of age, while 2010's Beginners is about an adult man whose father comes out as gay late in life, as Mills's father did.) Dorothea, feeling that she knows Jamie less each day, enlists the help of two women, Abbie (Greta Gerwig), a photographer immersed in the emerging punk scene, and Julie (Elle Fanning), a friend of Jamie's whom he's besotted with. Jamie narrates brief portraits of each woman, each very much a product of her time and place: the year they were born, the books they read, their hopes and dreams. And Dorothea, in turn, considers Jamie, how she can help him become a good man, and what that even means at a time when the strictures of masculinity are evolving so quickly.
If that sounds yawningly idealistic, it's buffeted by a wicked sense of humor and Mills's distinctive visual approach, honed during his years making music videos and TV ads. Jamie describes characters as the camera glances through the detritus of their lives: Dorothea's Birkenstocks and Salem cigarettes, Abbie's birth-control pills and tattered red shoes, Julie's Judy Blume novels and teen-therapy sessions. This approach adds depth to the characters that often bests simple description. While we learn a fair amount about William (Billy Crudup), Dorothea's lodger, from her description of his history, we learn infinitely more in the moment where he professes to Abbie that he makes his own shampoo.
The most surprising part of the movie is how well Mills writes his three women, and how accurately he pinpoints their very distinct anxieties, aided by three spectacular performers. As the fiercely independent Dorothea, who was raised in the Depression, Bening is magnificent and unflappable, accepting her son's various experiments with indomitable spirit, but also revealing the loneliness that keeps her up at night. Gerwig, an endlessly versatile actor, shows Abbie's toughness and vulnerability along with her frustration at being stifled by the limits of life in Santa Barbara. Fanning's Julie is sweet and complex, mistaking the freedom to act out with freedom itself.
But Zumann's Jamie matches all three with his sensitivity and awkward attempts at masculinity, reading Abbie's feminist manifestos and lecturing surly boys at the skate park on clitoral stimulation. He's so emotionally intelligent and so curious that it's hard to share Dorothea's concerns for his future, which stunts the dramatic tension of the movie just a little. Mostly, it's a pleasure to be in the company of the engaging misfits living in Dorothea's vast, crumbling house, and to remember flashes of what it felt like to be encountering adulthood in all its perplexities. Mills creates a strong sense of the late '70s via music (Black Flag and the Talking Heads), clothing, cars, and political flashpoints (Jimmy Carter's "crisis of confidence" speech features in one scene), but the most nostalgic element of the movie might stem from how familiar his characters can feel: 20th-century women in all their adaptable, resilient glory.