What Is America's Next Top Model Without Tyra Banks?
Pretty much the same, it turns out, as America's Next Top Model with Tyra Banks.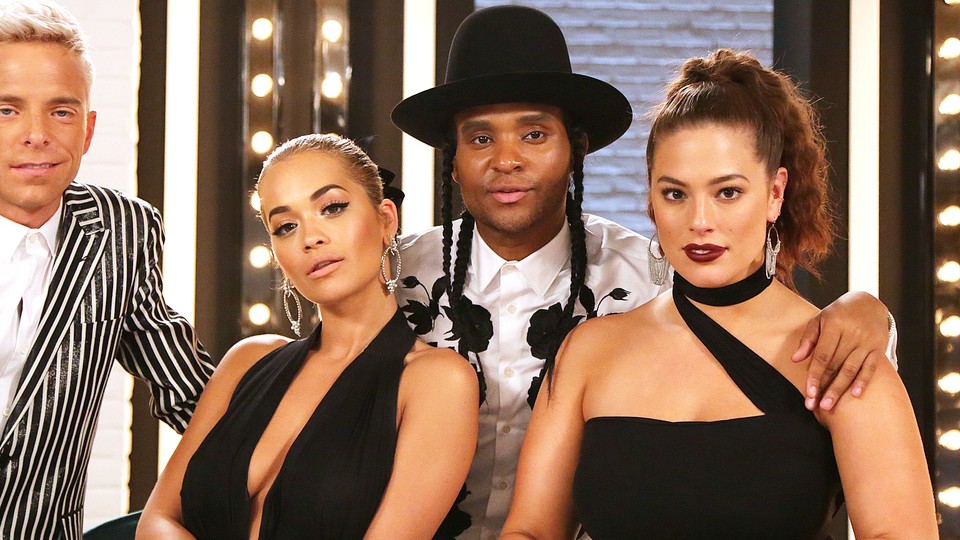 The host of a reality competition is often a hybrid creature: a judge, a coach, a friend, a foe, an imparter of lessons, a decider of fates. No host, however, has played so many roles for her particular show as Tyra Banks has played for America's Next Top Model—for which she has served not only as presenter, but also as creator and executive producer, as first mover and final force. Top Model, the Tyra Banks Show even before there was an actual Tyra Banks Show, has been infused with the supermodel at every level. Photos of her have decorated the rooms that have housed the contestants during their time on the show. Challenge winners have been rewarded for their successes with stays in the (similarly Banks-bedecked) "Tyra Suite." Models have received communiques in the form of "Tyra Mail," and have found themselves on the receiving end of "Ty-Ty tips." They have used "fierce" as a noun. They have lived in—and invited the rest of us to enter—a Tyracentric universe.
Top Model, after 12 years and 22 seasons (or "cycles," in the show's fanciful parlance), was canceled in 2015; in February of this year, VH1, which had long served as a home for its reruns, announced that it had acquired the show—and that it would resurrect the series with one notable change: Banks would no longer be the show's host. Instead, Top Model would be presented by Rita Ora, the singer/actor/model/personality/brand. It was a shakeup that would put Top Model's distinctive physics to the test: Could the show continue intact, even without its center of gravity? Could Top Model keep on spinning, even without Tyra acting as its axis?
Monday evening brought both the show's return and a tentative answer: Yes, Top Model lives on, and distinctly Top Model-y. And that's because the version of the show that is not hosted by Tyra looks, it turns out, so much like the show that was hosted by her. Banks remains, for one thing, Top Model's executive producer, but she is not, for the moment, merely a behind-the-scenes presence; on Monday's show, she made an entrance even before Ora did—first via a video, a montage of Tyra-isms ("FIERCE," "BYOB—BE YOUR OWN BOSS"), and then in person, where she and the contestants carried out the traditional starting-the-cycle ceremony that has been practiced since Top Model's premiere: Tyra appeared on a stage, at which point the gathered girls screamed and cheered and generally lost their minds.
"Do you understand where the modeling industry is right now?" Tyra asked them, as they tried and failed to calm themselves. "I'm not looking for a traditional model, and I'm not looking for a social media model. I'm looking for both."
She reiterated that idea, using herself—coach, judge—as the example to emulate: "A personal brand is so important, and I really worked my entire career to make sure that I could be in control of my destiny and my own boss. That I was about beauty, business, and badassery, not just a pretty picture."
But it wasn't just Tyra who stressed all the dimensions that Top Model professes to highlight. When Ora, and then her fellow judge-coaches—the supermodel Ashley Graham, the stylist Law Roach, and Paper magazine's creative director, Drew Elliott—made their appearances, the quartet discussed, with the stilted spontaneity of unscripted TV, the new Top Model regime.
"This competition is revamped," Ora announced, to her fellow judges and to the show's audience. "What I hope the girls learn is how to be a 25-year old boss."
She continued, a few moments after that: "As you know, we're looking for the model with the triple B: business, boss, and brand."
Graham agreed, echoing Banks's decree: "It's not just about a pretty face anymore."
This was all extremely heavy-handed, but with good reason. Top Model, when it appeared in 2003, came with a built-in challenge: to be at once about modeling and also about so much more than modeling. The series claimed, like so many of its fellow skills-based reality series, to be about the work that goes into the illusion—"I want to take someone from obscurity to fame," Tyra told her audience in the show's premiere, "and I want to chart the entire process and show America how it happens"—but it was also, unavoidably, about finding a girl who was visually striking. The show, especially since it coincided with a moment in which feminist blogs were ascendant, and during which the rise of social media meant that critics suddenly had platforms for their criticisms, needed to figure out how to navigate its own internal pitfalls, to celebrate the superficial without also celebrating superficiality itself.
It took time for the show to strike that balance. In the beginning, there were makeovers (Tyra unilaterally deciding to lop off a girl's long hair, or to dye another's black) and, in the very beginning, bikini waxes. Some girls cried. Some girls left, breaking under the pressure. Judges were blunt in their assessments of contestants' appearances; they were so blunt, sometimes, that they verged on cruelty. Top Model, at first, justified a lot under the logic that in modeling, the industry that is also an attitude, the superficial is the substance.
But its decade-plus on the air found Top Model reconciling, sometimes slightly desperately, with its own central conflict: The show moved farther away from the find-a-pretty-person premise, and toward a more holistic examination of the fashion industry. It experimented with gimmicks, including "Guys and Girls" versions of the show and a "British Invasion" (veterans of the British version of Top Model competing against American novices); it periodically swapped judges and coaches. It added "social media scores" to its assessments of its models, and gave viewers, in the vague manner of American Idol, the ability to help determine those assessments. Toward the very end, in cycle 22, Top Model removed its controversial height requirement—opening the door for models who might not be of runway height, but who would be effective for, say, social media campaigns.
So Top Model, cycle after cycle, has undergone its own makeover: What started as a show about modeling one's body has become a show about modeling one's brand. And the new, Ora-cular version of the show—business, boss, and brand—continues that emphasis, and doubles down on it. "The model of today," Ora reiterated to her fellow judge-coaches, "has to be able to be a boss, has to be able to act, move, have a following." She paused. "We're gonna find a star, you guys!"
Her excited comment represented a full-circling: In Top Model's first episode, too, Tyra had declared, "What I'm looking for is a star. That's all." And, in that, it suggested all that has not changed within a show that has been on the air for decades and spawned so many imitators: namely, Tyra herself. As she told the contestants who had gathered  in New York to re-make themselves in her image, at the start of the show she technically is no longer hosting: "I won't be here. But I will be watching you."