Understanding the Women of Pedro Almodóvar's Movies
The Spanish auteur has been accused of making films with misogynistic themes. But too infrequently have critics considered an important factor: the director's sexuality.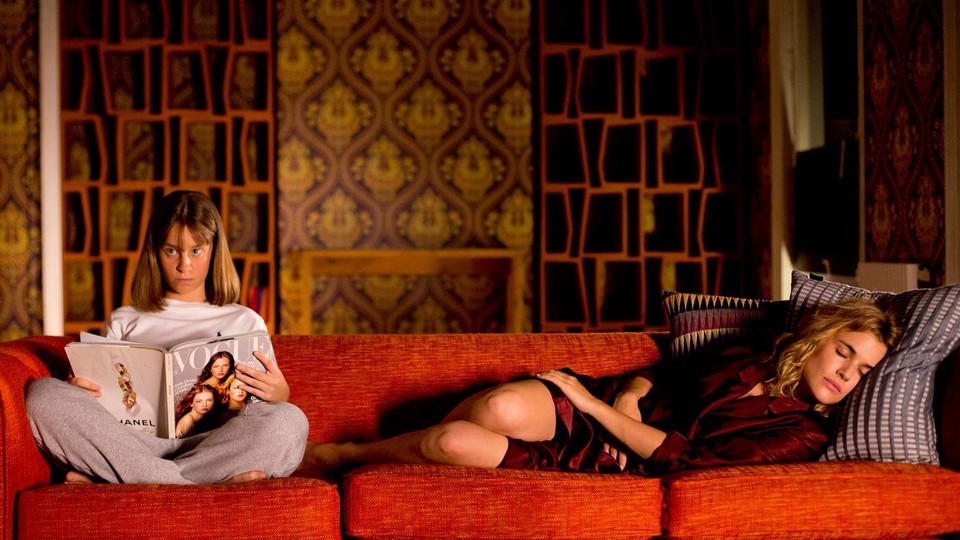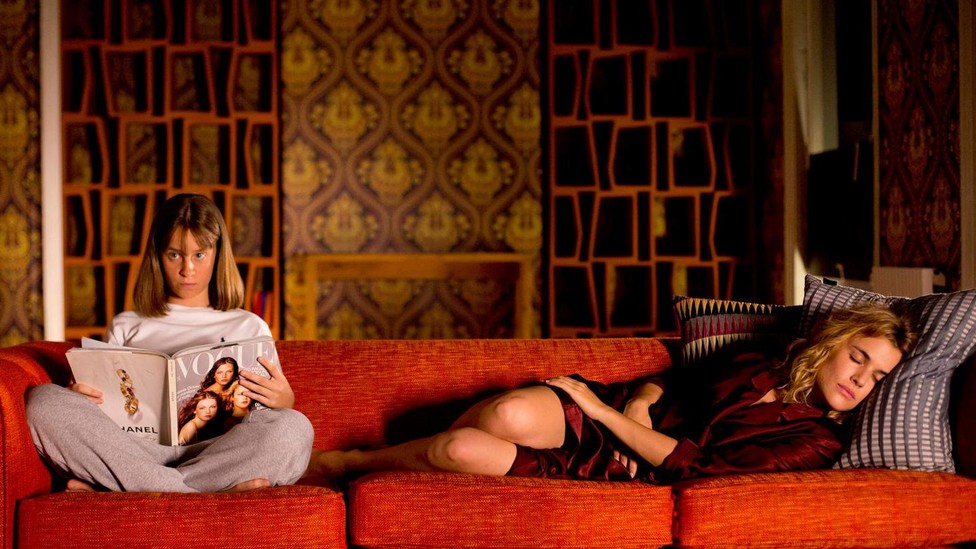 In Julieta, the latest from Pedro Almodóvar, the Spanish director has created his most restrained film to date. This, he admits, was by design. In order for him to properly adapt three of Alice Munro's stories from her 2004 collection Runaway, he had to strip away what had become his recognizable moves. And so, Julieta features no singing, no hard-to-follow plotlines, and, no outrageous characters to offer comic relief. What remains, and what makes it an unmistakably Almodóvarian drama, though, is its commitment to exploring women's stories—or rather, women's suffering.
From his breakout screwball comedy Women on the Verge of a Nervous Breakdown (1988) to his late-career melodramas of strong-willed protagonists, Almodóvar's films find humor and beauty in female hardship. With Julieta, he's centered an entire movie on a woman's loss: The eponymous character is first unable to move on after her husband dies in a boating accident and later has to cope by herself when her only daughter leaves their shared home unexpectedly. Spanning several decades, the film marries Munro's keen attention to the quiet lives certain women lead with Almodóvar's flamboyant style. Moments of still reflection in Munro's words become beautifully art-directed scenes that look like stylish tableaux vivants.
Writing for the feminist online magazine Píkara, the Spanish critic and author María Castejón Leorza negatively reviewed Julieta, arguing that in its stylized depiction of suffering, it contributed to what has become Almodóvar's signature sensibility: the glamorization of pathos and victimhood. To her, this is an element that merely repurposes the latent misogyny of Spain's patriarchal society. Castejón Leorza's complaint against Almodóvar is not a new one. Already in 1992, for example, the film critic Caryn James had written a scathing appraisal of the director in The New York Times. Arguing that his films can leave a bitter aftertaste, James posited that while he creates strong women characters, he "then takes away their strength; there is a definite trace of misogyny lurking beneath his apparently fond creations of women."
As Castejón Leorza's critique of Julieta suggests, the intervening 24 years have only given those looking at his films from a decidedly feminist perspective more reason to be suspicious of the director's otherwise lauded work. What's often missing in these discussions is an engagement with the Spanish director's sexuality, a factor Almodóvar has been reticent to discuss but that is nevertheless central to his artistic sensibility.
To talk about Almodóvar's gay sensibility, or what the queer critic and University of Michigan professor David Halperin describes in his book How to Be Gay as "gay male culture's exuberant portrayals of extravagant, flamboyant, hysterical, suffering, debased, or abject femininity," is to confront head-on two complementary cultural anxieties: sexism and homophobia. Both of these crucially intersect when gay men respond to and celebrate a defiant femininity, one they see as their own.
The intersection between gay male culture and melodramatic femininity is at the heart of Almodóvar's 1999 film All About My Mother. It earned the director some of the best reviews of his career—as Armond White wrote in his New York Press review of the film, the director's "gay male identification with women frees him to do his best work." The Oscar-winning movie is centered on a young queer artist, Esteban, whose death sets the plot in motion. It is Esteban's fascination with cinema that opens the film (he's watching the Bette Davis classic All About Eve with his mother) and his diva adoration that leads to his untimely death (he's struck by a car while trying to get an autograph from the actress playing Blanche DuBois in a Spanish theatre production of Tennessee Williams's A Streetcar Named Desire). The film may not have been as explicitly autobiographical as Almodóvar's later Bad Education (2004), but it nonetheless corralled many of his most famous themes and images—he even borrowed an organ-donor conversation at a hospital following Esteban's death from his earlier film The Flower of My Secret (1995).
In referencing Williams's famous play, Almodóvar showed himself to be keenly aware of the pushback gay artists face when romanticizing women's suffering. Williams's treatment of Blanche has as often been critiqued for its sexism against her as praised for its sympathetic treatment of her struggles. Depending on how you read the play's ending, where the former Southern belle is whisked off to an insane asylum after her sister Stella refuses to believe the rape allegations against her own husband, Blanche can emerge as a tragic figure that lays bare a culture's misogyny.
Here, after all, is yet another woman punished by a man who takes it upon himself to teach her a lesson. Or, she can stand as another instantiation of that misogyny; as a character, she's still subject to a man's whims, in this case Williams's. Thus, Blanche can, in the literary critic Kathleen Margaret Lant's words, be an example of the way Williams "draws on the most heinous and trivializing myths about woman and about rape that inform our culture." But the relationship between a gay male playwright and his victimized female protagonist is further complicated by its porousness: As Williams playfully, if earnestly, asserted on more than one occasion, "I am Blanche DuBois."
Such pronouncements reveal the way vivid, female characters like Blanche (see also: Truman Capote's Holly Golightly and Christopher Isherwood's Sally Bowles) could function as a way for gay artists to express themselves. Without, that is, explicitly impressing their homosexuality on their work—which, given the censorship of mid-20th century mainstream American art, was sometimes necessary. As the film critic Molly Haskell put it in her seminal 1974 book From Reverence to Rape: The Treatment of Women in the Movies, there's the sense that these women worked to exorcise something that wasn't about "real" women to begin with. Williams's women, she wrote, "are as unmistakably a product of the fifties as they are of his own baroquely transvestised homosexual fantasies." Her language rankles in 2016 for the implicit homophobia it signals if not outright endorses. Haskell did help, however, to point out the outdated elements of the cross-gender identification that Williams came to define—incompatible not only with the awareness of women's cultural representations in the late-20th century, but also with the increasingly visible fight for LGBT rights that followed the Stonewall riots of 1969.
This is why Almodóvar, who came of age in what Haskell herself called "the Age of Ambivalence," can still find himself the subject of critiques like those of Casterjón Loerza. His campy melodramas and his histrionic leading ladies, following in Williams's template, seemingly efface the female experience even as they exalt it.
While some critics would like to see this gay vision of femininity trail off into history, it is very much alive today. Take Ryan Murphy: The successful television writer and director has elicited decidedly strong (and often well-deserved) negative reactions to his treatment of women in his shows, including American Horror Story and Scream Queens, and his upcoming project looks to be a provocative entry in this long tradition. Feud may well be the perfect distillation of the fine line between exposé and exploitation that characterize many gay men's interest in divas: The anthology show's central premise (based on the book Best Actress by Jaffe Cohen and Michael Zam) is the feud between larger-than-life icons Bette Davis and Joan Crawford on the set of What Ever Happened to Baby Jane?
Here is, as Lant might argue, another example of a male creator drawing on toxic myths about female rivalry. With Feud, and to borrow a Crawford line, these women—already in some ways best recalled via snappy catchphrases like "Fasten your seat belts! It's gonna be a bumpy ride!"—would seem to risk being solely remembered as the type of name not used in high society outside of a kennel.
Still, writers like Manuel Puig and John Rechy saw in such starlets an unrealistic performance of femininity they could tap into as a way to fight back against society's contemptuous ideas of effeminacy and homosexuality. Puig's Kiss of the Spider Woman and The Buenos Aires Affair are paeans to the power gay men drew from female stars, while Rechy's Marilyn's Daughter was a celebration of Monroe, the epitome of the outlaw sensibility the Chicano writer has always championed. Those oft-shamed moments of gay boys lovingly devoted to outsized divas, their work argues, have a power of their own, shattering as they do contemporary ideas of gender and orientation.
Almodóvar's filmography rests on this same conviction. Even when creating his own female protagonists he alludes to those divas that have come before, deploying the strength they exuded onscreen. In 1988's Women on the Verge of a Nervous Breakdown, for example, Carmen Maura's character Pepa, who spends the film unsuccessfully trying to drown her sorrows in a sleeping pill-spiked gazpacho, is a voiceover actress tasked with dubbing Joan Crawford's lines in Johnny Guitar. Penelope Cruz's prostitute-turned-actress Lena in 2009's Broken Embraces uses the same pseudonym as Catherine Deneuve does in the film Belle de Jour when visiting her clients. As if to further make his point, Almodóvar has Lena wear a red blazer reminiscent of Pepa's signature look during the climactic moment when she finally leaves her wealthy and controlling husband for good.
With these cinematic references, Almodóvar's films repeatedly return to the liberating power of performing femininity, an argument best epitomized by characters like Bad Education's glamorous drag queen Zahara (played by Gael García Bernal) who gleefully upend gender and sexual norms. Like many of Almodóvar's protagonists, Zahara is marked by a tempestuous past, one she's escaped by embracing her seductiveness, directing its power against the men in power who once wronged her.
As female filmmakers continue to wrestle their narratives and representations away from the male imaginary, the efforts of gay male artists interested in women's stories might feel, to some, like yet another example of men framing female-driven storytelling. But Almodóvar's stories, focused as they are on mothers, sinners, sex-crazed maniacs, vengeful domestic abuse survivors, drag queens, sex workers, grieving daughters, pregnant nuns, drug-addicted actresses, and everything in between, ultimately emerge as an iconoclastic and deeply empathetic celebration of womanhood rooted in the Spanish director's own sexuality.
Even, or especially, when creating long-suffering women like Julieta, Almodóvar is putting himself in her place. There's a clear attempt to evoke and model the empathy he feels for his characters, even when he lets viewers know that it's all too perfectly art-directed to be taken as reality. At the end of All About My Mother, a red curtain comes down. The screen is filled with a dedication: "To Bette Davis, Gena Rowlands, Romy Schneider ... To all actresses who have played actresses, to all women who act, to all men who act and become women, to all the people who want to be mothers. To my mother." Almodóvar, with his work, both leans into the critical conversation around his portrayal of women, and subtly subverts it. For him, to be a woman is to be an actress, a definition that is at once unfashionable and radical.