And, Scene: Moonlight
The Atlantic looks back at key cinematic moments in 2016, this time Barry Jenkins's film about a young man's life in three acts.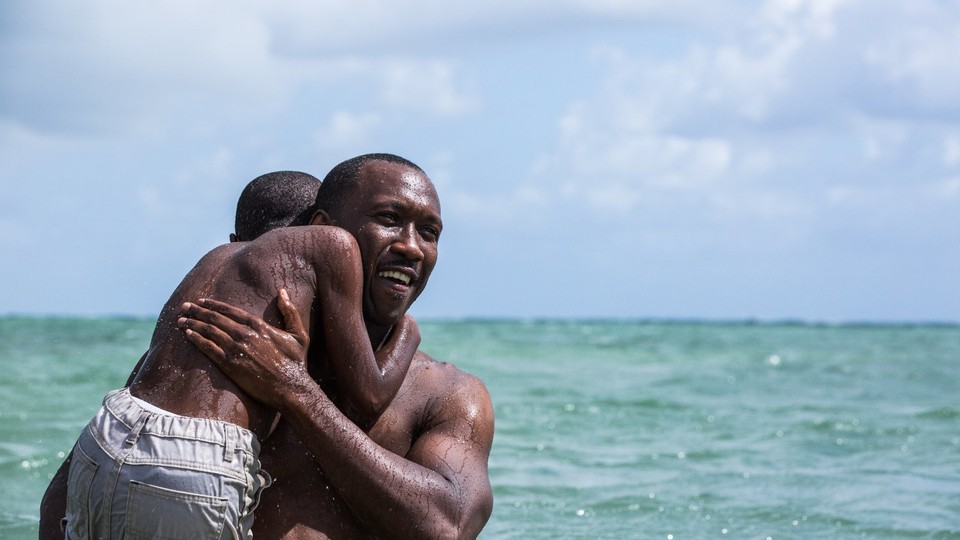 Over the next two weeks, The Atlantic will delve into some of the most interesting films of the year by examining a single, noteworthy moment. Today: Barry Jenkins's Moonlight. (The whole "And, Scene" series will appear here.)
---
In 2013, talking to me about her Tony-winning production of Metamorphoses, the director Mary Zimmerman explained why water played such a pivotal role in the staging of the show. "Water has everything to do with change—in virtually every culture it's a symbol of change," she said. "In Shakespeare … water is symbolic in terms of crossing a rubicon, and of transformation. In a lot of cultures it's where you go to meet the gods, because they come out of water."
I couldn't stop thinking about this after watching Moonlight, a film in which water is a recurring and potent symbol of rebirth, transformation, and release. Directed by Barry Jenkins, who also adapted it from a work by the playwright Tarell Alvin McCraney, the movie is the most acclaimed release of the year, theatrical in its structure but impossibly cinematic, turning Miami into a muted but luminous landscape. Water engulfs the characters and the viewers in the film's most powerful scene, in which Juan (Mahershala Ali) teaches Little (Alex Hibbert) to swim. Water precipitates teenage Chiron's (Ashton Sanders) sea change before he viciously beats his bully. And it surrounds his growing closeness with Kevin (Jharrel Jerome), in the form of the ocean.
Moonlight, which presents its primary character in three different chapters of his life, is by its nature a film about metamorphosis—the evolution of Chiron from child to man. In the first act, Little is a neglected and lonely kid who's discovered by Juan hiding from neighborhood bullies in a derelict house. He's befriended by Juan and his girlfriend Teresa (Janelle Monae), and one afternoon, Juan takes Little to the beach and teaches him how to swim. The scene is like nothing so much as a baptism: a moment of communion and spiritual connection between the two. Juan shows Little how to move through the water, and then compels him to lay back and float while he supports him, cradling his head like a priest would a baby. The camera bobs through the water alongside the two bodies, occasionally dipping beneath the water, submerging the audience in the scene.
The moment seems to be revelatory for Little, and its significance is echoed in other moments that use water throughout the film. Later, he boils water in a large saucepan to fill a bath, using dish soap as shampoo, the bubbles covering his head. In the second act, Chiron meets his friend Kevin at the beach, where the two smoke a blunt by the ocean, and the waves crash onto the shore as Chiron has his first sexual encounter. Here, the duality of water feels clear: It represents both freedom and danger. Chiron is discovering who he is, while realizing also what that means; this is rendered most clearly in the final shot of the movie, which flashes back to Little staring out at the ocean, simultaneously drawn to it and afraid of its power.
After Terrel (Patrick Decile) forces Kevin to beat Chiron, Chiron goes home and immerses his wounded face in a sink filled with ice water. Then he stares directly into the mirror, with blood pouring down his nose, as if willing himself to change states. In the very next scene, he walks into school, enters a classroom, and breaks a chair over Terrel. The scene signifies the end of the second act, as Chiron is handcuffed and thrown into a police car, but it also signifies the end of his innocence, sparking a deliberate hardness that both protects and isolates him. A similar scene occurs in the third act, when an adult Chiron, now nicknamed Black (Trevante Rhodes), splashes water on his face and stares at himself in the mirror.
Both Jenkins and McCraney are from the same area of Miami, Liberty Square, that the film is set in, and Jenkins has spoken about his awareness growing up of water always being present. Water is a theme that recurs throughout McCraney's writing, as well—particularly his Brother/Sister plays, a triptych set in southern Louisiana. Marcus, the hero of the last play Marcus; Or the Secret of Sweet, a character struggling with his sexuality much like Chiron, has recurring dreams about water, and he says at one point,
You ever wish it would all just wash away?
Never heard
A black boy say that I bet. Not out loud.
But I do. I do. I wish wish them waters would
Rise up like that water in my dreams
And take it all me too, out and away. You
Wish that sometimes? I do. I do.
For Marcus, water is a liberator but a dangerous one—a force that can free him by taking his life. It's the same understanding of water that pervades Shakespeare: storms wreck ships and kill sailors, a river drowns Ophelia. But water also forces change and renewal, throwing Viola into the path of Orsino, and drawing Chiron closer to Kevin. Throughout Moonlight, it's a presence that symbolizes Chiron's profound emotional transformation, from trust to fear to, maybe, self-acceptance.
Previously: The Lobster
Next Up: Weiner