The New Aesthetic of James Harden
The Houston Rockets guard doesn't exactly play "beautiful" basketball—but fans will come to appreciate his efficient style of play.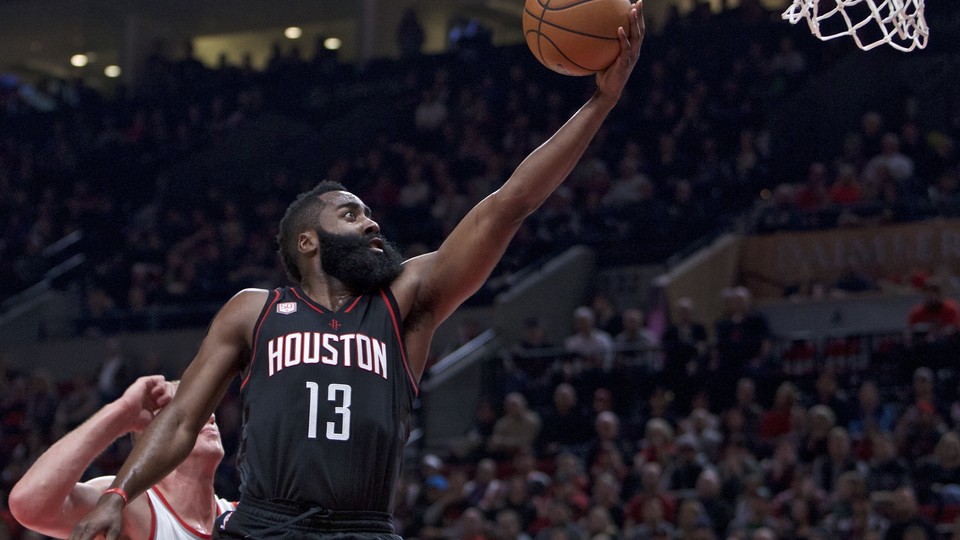 Almost a third of the way through the season, James Harden of the Houston Rockets may be the NBA's Most Valuable Player. The wily guard, known to casual fans for the winter-in-Fairbanks beard he maintains in steamy Texas, is averaging 28.1 points and 11.6 assists per game—the former number good for fourth-best among all players, the latter the best mark in the league. He has led the Rockets to a solid record, 18 wins and seven losses, even though the Houston roster lacks a single complimentary All-Star, much less a superstar troika like the ones en vogue among the NBA's ruling class. Without question, he is playing the best basketball of his career. Absent Harden, the Rockets could be one of the worst teams in the league; with him, they are one of the six or seven best.
Harden's improvement this season seems due less to personal growth than to a change in circumstances. Occasionally, over the last couple years, he feuded with the temperamental center Dwight Howard, a former leading man unenthusiastic about his sidekick role in Houston. Howard's departure this past summer to Atlanta coincided with the arrival of a new coach, Mike D'Antoni, who during the 2000s had fashioned a revolutionary, fast-paced offense in Phoenix. D'Antoni looked at the Rockets with a newcomer's fresh eyes and settled on a simple tactic: Give Harden the ball as much as he wants it.
It has proven a wise choice, and the next logical step for a franchise dedicated to streamlining the processes of basketball. Daryl Morey, Houston's general manager, is one of the NBA's most dedicated students of advanced analytics; his "Moreyball" prizes high-value shots like three-pointers, layups, and free-throws over the artful but inefficient midrange offerings that were trademarks of past stars like Michael Jordan and Kobe Bryant. Harden fits Morey's vision to a T. He drives to the rim, shoots from behind the arc or passes to players stationed there, and annually makes the most free-throws in the league. D'Antoni is entirely on board, allowing Harden unprecedented freedom to hunt for valuable opportunities, old-fashioned tenets of teamwork be damned. The blueprint is realized and Harden is optimized. As the Rockets' star takes his numerically sound approach on a season-long tour, its effectiveness is not in doubt. Its appeal to fans used to a less rigid style of basketball, on the other hand, still is—though those sentiments are starting to change, as styles across sports bend toward efficiency.
In a profile of Harden published prior to the start of last season, under a sub-head describing his style of play as "ugly," ESPN's Pablo S. Torre summed up the widespread distaste for the Rockets' superstar: "Harden suggests a strapping, 220-pound tax attorney, systematically exploiting the letter of [basketball's] laws." A mostly laudatory article published a month ago by Rolling Stone's Steve McPherson began, "James Harden can be difficult to watch." Harden may or may not end up the NBA's MVP, but he is certainly among its most polarizing players.
The gripes about Harden mostly center on his knack for drawing fouls. He has a catalog of maneuvers designed to coax a whistle from a referee, ranging from clever (extending the ball as opponents reach for it so they hit his forearms instead) to cheap (splaying his limbs at the slightest contact, so that you'd think a grenade, not a couple of fingertips, had just hit him). Once, he scored 27 points on a night when he made just two field goals; 22 of those points came at the free-throw line. His first television commercial for Adidas featured a talking head on a mocked-up sports show pontificating above the words, "Trying to Score or Get Fouled?"
The referee-baiting is really just one component of an approach that can look, at times, like nothing so much as a basketball algorithm. Most Harden plays follow the same script. He stands dribbling beyond the three-point line, another player comes and sets a screen for him, and he attacks. The list of usual outcomes to these one-man forays seems meager to someone used to watching the ball movement of the Golden State Warriors or the Swiss Army skill set of LeBron James. Harden shoots a layup or a three-pointer, gets fouled, or sends the ball to a big man for a dunk or a shooter for a triple. He lets the defenders decide what to guard against and takes advantage of what they don't. Using this same basic action ad nauseam, the Rockets score 112 points a game, the second-most in the league.
The rote nature of the strategy, though, belies the individual brilliance that makes it work. By NBA standards, Harden is not especially athletic—his body is doughy instead of sculpted, and his speed and leaping ability rate as average—but he brings to the game an uncanny awareness of space and tempo. He predicts where and when defenders will move. He slips passes through the tiniest slivers. He is a masterful dribbler, the ball moving around and between his legs like a needle through cloth, his eyes always scanning the floor. His torso and feet can look like they belong to two men moving in opposite directions; the player guarding him doesn't know which one to follow, and poof—Harden is gone, dropping the ball through the rim an instant later.
It is beautiful, in its way, even if that beauty takes some attention and patience to access. Fans are getting more and more used to that sort of work, though. If Harden's skills put him at the forefront of basketball's evolution, then his aesthetic makes him a stand-in for the stylistic changes across 21st-century sports. Everywhere, old romantic approaches fall to newer, statistically sound ones. In the NFL, running backs—once among football's most dependable and needed players—matter less as newfangled passing offenses prove more viable. In tennis, Novak Djokovic and his racket like a Gatling gun have overtaken the painterly Roger Federer. Baseball pitchers throw harder than ever, while the ones who get by with slow stuff and guile largely disappear. And Harden's gift as a basketball player is not in the breadth of his game; it is in his ability to accomplish the same thing with the same methods again and again.
But these changes have not robbed sports of their charms; they have only relocated them. There is something mind-bending in Djokovic's ability to teleport across a court prepared to take a full swing, and in Tom Brady's skill at dicing a defense with inch-perfect throws, that compensates for the loss of the former variability. In much the same way, the basketball fan who loved the game for its collaboration might find a new pleasure in the nuance of Harden's footwork, the almost musical changes of pace that let him breeze through a defense on every play, every night.
In a new Adidas spot, Harden addresses his detractors. "What if I gave you what you wanted?" he says as an alternate-universe montage rolls in which his favorite moves are banned and his young imitators are forced to strip his influence from their own games. "What if we all stopped being creative? You really want that?" The ad asks Harden's critics to reconsider, to think of him as an innovator instead of an intruder. It gives words to the challenge Harden puts to opponents and fans alike every time he takes the court: to try to keep up with the new thing, because it's here to stay.