The Lena Dunham Cycle of Internet Outrage
Here we go again: "I still haven't had an abortion," the writer/actor/advocate said recently, "but I wish I had."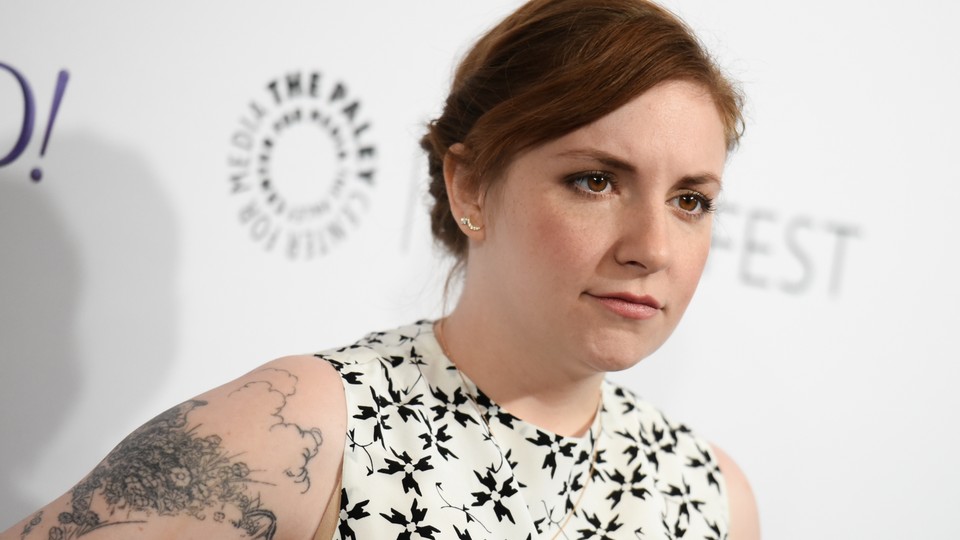 On Tuesday, news outlets from New York magazine to Fox News to Man Repeller to Pop Sugar found some celebrity news to share: Lena Dunham, during the latest episode of her podcast Women of the Hour, had made a comment about abortion that was … not in good taste. The episode, "Choice," was meant to highlight the idea that, as Dunham put it in her introduction to the episode, "it's your body, and you choose the best look for it at every stage of your life." But Dunham, introducing one of the women who would share her story in the episode, started with a confession: She was a little bit of a hypocrite, she suggested. Telling the story of a visit to a Planned Parenthood in Texas, she recalled how she had wanted to make clear to the people there that "as much as I was going out and fighting for other women's options, I myself had never had an abortion."
The tone of all this was confessional. It was, after all, a podcast. And it was, after all, Lena Dunham. The problem came when, after admitting the work she still wanted to do to de-stigmatize abortion in her own mind, Dunham concluded: "Now I can say that I still haven't had an abortion, but I wish I had."
And, with that, Dunham—a young woman who is in the enviable position of being a celebrity, and who is in the unenviable position of being a celebrity in 2016—became the stuff, once again, of controversy. In this case, by giving voice to some of the American political right's worst caricatures of the American political left. News outlets jumped on the story, using Dunham's "I wish I had" in their headlines. People on Twitter and Instagram seethed, many of them taking it upon themselves to inform Dunham, on those same platforms, that perhaps she herself should have been aborted. "Lena Dunham is having her ass handed to her right now on the internet," Man Repeller summed it up. And so, late on Tuesday, Dunham took to Instagram—specifically, to a caption for an image she posted of the word "Choice" scrawled in chalk on a blackboard—to offer an apology:
My latest podcast episode was meant to tell a multifaceted story about reproductive choice in America, to explain the many reasons women do or don't choose to have children and what bodily autonomy really means. I'm so proud of the medley of voices in the episode. I truly hope a distasteful joke on my part won't diminish the amazing work of all the women who participated. My words were spoken from a sort of "delusional girl" persona I often inhabit, a girl who careens between wisdom and ignorance (that's what my TV show is too) and it didn't translate. That's my fault. I would never, ever intentionally trivialize the emotional and physical challenges of terminating a pregnancy. My only goal is to increase awareness and decrease stigma.
Thus, another revolution in a cycle that has become extremely familiar: Lena Dunham says something that offends people; Lena Dunham apologizes; Lena Dunham carries on. Sometimes the process will feature one more element (Lena Dunham learns a valuable lesson); the basics, though, will be the same in their ebbs and flows. Dunham is, with all this, engaging in an age-old ritual: She is doing the sacred stuff of young personhood, which is to say making mistakes and correcting them, over and over again—but she is carrying them out in public.
That's why Dunham's "delusional girl" explanation rings hollow. While Dunham, the writer and actor and creator, may have a persona, in the broadest, Goffmanian sense, her particular strain of celebrity is based on her apparent impatience with the notion of "persona" itself. She's free-wheeling. She'll, you know, go there. She is someone who, for better or (occasionally) for worse, insists on presenting the "realest" possible version of herself, for all the world to see.
Which means on the one hand that, sure, a headshot of Dunham might as well accompany the term "overshare" in the dictionary. But it also means that Dunham has framed herself, repeatedly, not just as a role model for young feminists—via Girls; via Lenny Letter, her newsletter; via Not That Kind of Girl, her memoir; via a podcast titled, yes, Women of the Hour—but also as a political advocate. She appeared at the Democratic National Convention this summer, making an impassioned speech for the potential presidency of Hillary Clinton. She is outspoken in her defense of Planned Parenthood and reproductive rights. She is the emblem, personified if not fully persona-ed, of how thin the line has become between "entertainment" and "everything else."
Dunham isn't alone in that, of course. There's Beyoncé, whose art, increasingly, doubles as political exhortation. There's Solange, whose art is doing the same. There's #kanye2020. There's Amy Schumer, who also campaigned for Hillary, and who, on top of that, lobbies for gun safety, gives speeches about body positivity, and stars in politics-themed Bud ads. There are approximately 250 others. Celebrities have long held political power, via the attentional affordances of fame; now, though, they are exercising it not just as before, in the pages of People and on the stages of awards shows, but also on Twitter and Facebook and Instagram. They are famous in the holistic manner of the internet, mixing artistic creation and personal revelation and political messaging into presences that double as brands.
Their words are an important part of those brands—because celebrities are living, like the rest of us, in a world in which every comment can be made, so very easily, into sharable media. In that world, especially where celebrities are concerned, a podcast will be a conversation, until suddenly it's a broadcast. A gaffe will be a gaffe, until suddenly it's a news cycle-long matter of debate.
That's the new way of celebrity, and it's one that Dunham, to her credit if also, sometimes, to her detriment, seems to be embracing. She seems to see herself not just as a writer or actor or public figure, but also as—perhaps foremost as—a political advocate. So the real mistake she made this week, in her telling of it, was to let the acting—the stuff of the "'delusional girl' persona"—infiltrate too much into the other stuff. In her Instagrammed apology, the young celebrity best known for her TV show concluded her message with a direct address to "the women who have placed their trust in me." "You mean everything to me," Dunham told them. She added: "My life is and always will be devoted to reproductive justice and freedom."
Dunham sounded like a woman who had learned her lesson. She also sounded like a politician.