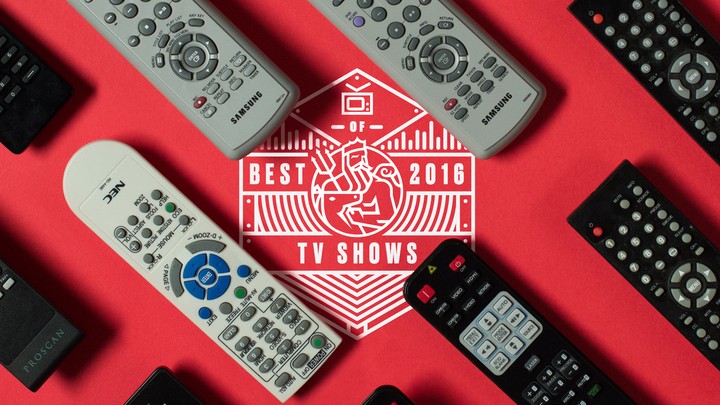 From Catastrophe and Fleabag to High Maintenance and Insecure, The Atlantic's writers and editors pick their favorite television shows of 2016. (For a deeper dive, there's also a roundup of the year's best TV episodes.)
---
Atlanta
It may be clichéd to say that a show is "like nothing else on TV," but in Atlanta's case, it's true. When Donald Glover's half-hour FX dramedy debuted in September, it immediately defined its own visual language (polished, meticulous), narrative style (loose, like a dream), and tone (seductive or somber, depending on the scene). The pilot feinted in the direction of a rags-to-riches hip-hop story before hitting viewers with a daisy chain of mesmerizing tangents. It delivered the year's best experimental show-within-a-show episode ("B.A.N."—sorry, Mr. Robot). It turned the city of Atlanta itself into a character, with its own idiosyncrasies and banalities. It went weird without cribbing from the Twin Peaks playbook—a deceptively tricky achievement—and gave pop culture the surreal gift of a Black Justin Bieber. It foregrounded the kinds of nuanced conversations and problems that almost never get airtime on prestige TV; relatedly, almost no white people appeared in front of the camera, with hilarious exceptions ("Juneteenth"). From start to finish, thanks to its vision and confidence, Atlanta had one of the best debut seasons in recent memory.

—Lenika Cruz
---
BoJack Horseman
In its very first episodes, BoJack Horseman felt nearly indistinguishable from every other series out there about a washed-up, middle-aged celebrity. But by the middle of season one, the show's shallow comedy turned out to be a false front. Under the kaleidoscopic animation and increasingly inventive animal puns lay a carbon-black cynicism about Hollywood, human beings, and love itself—a bleak outlook that only made the rare moments of beauty and hopefulness all the more blinding. Season three doubled down on many of the show's serious themes (mental illness, substance abuse, grief, loneliness) while managing to be various shades of laugh-out-loud funny (vulgar, cerebral, juvenile, dark). With the help of a peerless vocal cast, this season also delivered some of BoJack's, and 2016's, best moments: an underwater silent film, the most unapologetically pro-choice abortion episode I've ever seen, and one of the year's saddest deaths.

—Lenika Cruz
---
Catastrophe
Catastrophe has it both ways, in the best ways: It's a rom-com that systematically mocks rom-coms. While the standard-bearers of that genre have their meet-cutes, the Amazon show presents a frenzied hookup in a hotel room. Where the typical rom-com treats children as evidence of social-Darwinian success, Catastrophe presents a new mom plagued with the fear that she might not actually love her infant daughter. Again and again, from its title on down, Catastrophe has taken the easy (and often pernicious) cliches of the rom-comic world and slyly, subtly subverted them. But! Catastrophe, too, is a rom-com; it, too, firmly believes—or, at least, firmly wants to believe—in the power of love. That desire is on display during Catastrophe's second season, which jumps ahead several years after Series 1 took place to find Sharon and Rob still together, and still all warm and googly for each other—but also, now, navigating the needs of children and the demands of careers and the looming threat, on both sides, of infidelity. This time around, the "will they or won't they" that will give any rom-com its defining tension isn't a matter of "will they get together?"; instead, for Catastrophe, it's "will they stay together?" It's a loaded question that left me hoping, with an intensity that was mildly embarrassing considering the fictional nature of these characters, that the answer would be—could only be—"yes."

—Megan Garber
---
Documentary Now!
This niche Saturday Night Live spinoff produces six parodies of famous documentary films a year, so it's hardly surprising that it's never been a smash hit despite the big names attached (Seth Meyers, Bill Hader, Fred Armisen, and John Mulaney make up the writing staff). But its second season was a triumph of exacting detail and brilliant, subtle comedy. The spoof series thrived because of its obvious love for its subjects: "Juan Likes Rice and Chicken" was a heartwarming take on Jiro Dreams of Sushi; "Parker Gail's Location Is Everything" was a paean to the work of monologist Spalding Gray, and "Final Transmission" was a live concert homage to The Talking Heads' Stop Making Sense. Each half-hour special had a perfect grasp on its singular tone, and watching the show change shape week to week was one of the biggest thrills of 2016.

—David Sims
---
Fleabag
On the face of it, an irreverent and exceedingly filthy comedy about grief might sound like a catastrophic premise for a TV miniseries, but Amazon's Fleabag not only justified the premise, it also offered a model for what other shows might do within the same, tight, six-episode framework. Adapted by Phoebe Waller-Bridge into a BBC show from her one-woman stage play of the same name, Fleabag's narrator is a beguilingly profane, whip-smart Londoner reeling from the accidental death of her best friend, who seeks solace in uncomfortable sexual encounters. Waller-Bridge plays Fleabag with a faux-angelic degree of lunacy that sets her apart from other car-crash heroines of modern raunch humor, and the show's uproarious comedy is only made more affecting by the acute sadness that underpins it.

—Sophie Gilbert
---
The Girlfriend Experience
After a couple of years in which everyone and their mother seemed to be making a ten-hour Netflix series with elegant visuals but notable pacing problems, Starz's The Girlfriend Experience stood out for embracing a format few modern TV shows favor: the half-hour drama. Executive produced by Steven Soderbergh, and inspired by his 2009 movie of the same name, the 13-episode series followed Christine (Riley Keough), a law student in Chicago who gets drawn into the world of high-class sex work. Keough's enigmatic performance made Christine mesmerizing to watch: detached to an almost sociopathic extent, and attracted to her new profession in a way she can't—or won't— explain. Directed by Lodge Kerrigan and Amy Seimetz, the show's compact structure, psychological complexity, and distinctive style set it apart from anything else on a streaming service this year.

—Sophie Gilbert
---
Halt and Catch Fire
For its third season, Halt and Catch Fire moved the action to mid-'80s Silicon Valley to explore a theme that could not have been more crucial to 2016 America: The way the internet opens new lines of communication for people around the country, while simultaneously isolating us from each other. As Donna and Cameron's proto-social network company Mutiny hit the big time and their partnership began to disintegrate, Halt reached its greatest heights, mixing dark personal drama into a grander ballad of the tech world's fatal flaws. Increasingly, Halt and Catch Fire feels like the worthiest successor to Mad Men in the Peak TV era—a period show about the changing fabric of American society that can turn a board meeting into some of the tensest drama on television.

—David Sims
---
High Maintenance
In a year when it felt like much of the country had flipped its middle fingers toward urban America, High Maintenance offered the densest precincts a burly hug. The brilliant former web series that expanded to a half-hour HBO format uses the device of a New York City marijuana delivery guy to tour different lives unspooling in cross proximity: In one episode, a Muslim girl rebels against her parents while polyamorous drama unfolds in the apartment next door; in another, a shut-in finally gets to know his many fascinating neighbors. The HBO episodes did present the weed man with some gnarly only-in-a-metropolis setbacks, but even in its darkest moments, the show's consistently funny, cinematically adventurous vision insisted that a thriving city is quite the opposite of an echo chamber.

—Spencer Kornhaber
---
Insecure
Insecure looms large in part because it appreciates the power of smallness. Adapted from Issa Rae's web series, The Misadventures of Awkward Black Girl, the HBO show revels in the minute details that twist and tangle to define people's lives, from the clothes characters wear, to the food they eat, to the apartments and offices and other places where they spend their time. Issa, after fighting with her best friend, Molly, brings a peace offering to Molly's door: a bag of Cheetos and a jar of dip. An early set piece finds Issa trying on different lipsticks before going out one night, each color—red, magenta, deep blue-black—suggestive of a different kind of evening. One episode revolves around the couch in Issa and her boyfriend Lawrence's apartment; the object the show uses for that purpose, yellow and slightly lumpy and frayed in precisely the way an old and much-used couch will be, allows it to serve as a metaphor for both the security and the anxiety of long-term relationships. Insecure doesn't elevate the mundane details of life so much as it simply celebrates them, as they are, in all their glorious banality. It sweats the small stuff—and, even and especially on the small screen, that's a rare, and very big, thing.

—Megan Garber
---
The People v. O.J. Simpson: American Crime Story
The arc of history is long, but it bends towards being packaged by Hollywood into snackable narratives that erase complexity. Yet Ryan Murphy's The People v. O.J. Simpson miraculously ended up paying tribute to reality's mess. Sure, the show had a point of view, positing that long-brewing racial resentment explained a verdict that left much of the country flabbergasted— strong theory that reverberated in strange ways after November's electoral surprise. But as it unfolded a story most viewers remember well, it avoided calling out heroes and villains, giving an all-angles view that stretched from the jury box to the street corner to (even) Kim Kardashian's childhood bedroom. In doing so, it also restored a bit of credibility and grace to the medium that the Simpson trial helped lend a trashy reputation to: television itself.

—Spencer Kornhaber
We want to hear what you think about this article. Submit a letter to the editor or write to letters@theatlantic.com.