The Pirelli Calendar Shows Fashion Trying to Catch Up
In celebrating actresses shot without makeup, the artistic institution is jumping on a bandwagon rather than taking a brave stand.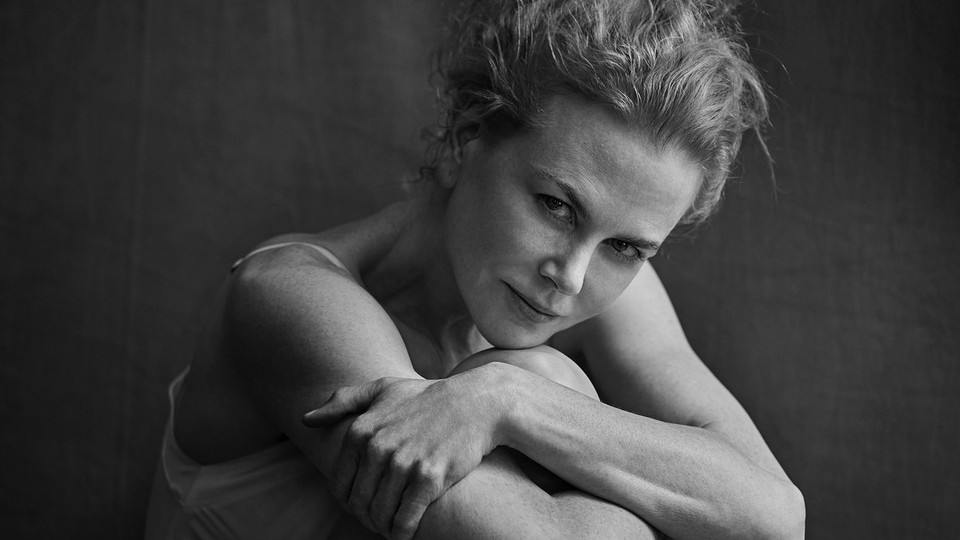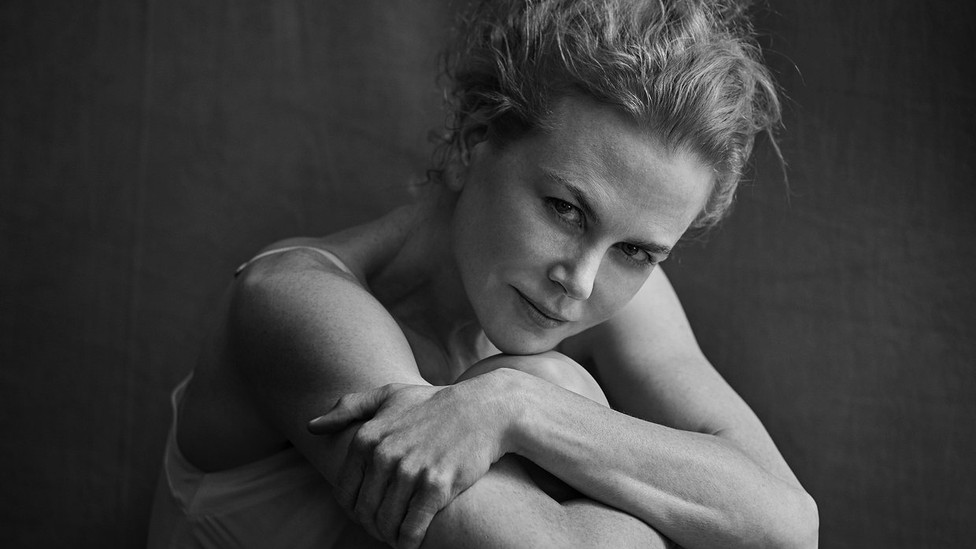 The Pirelli Calendar was created in 1962, when an enterprising advertising executive in London, Derek Forsyth, was pondering ways to boost sales for an Italian tire company. At the time, "girlie" calendars featuring women in various states of undress were popular among mechanics and car manufacturers. Forsyth's idea was to class the format up, bringing fashion models and respected photographers together to produce an artier advertisement for the Pirelli brand.
The Pirelli calendar became a hit, unexpectedly uniting the worlds of auto manufacturing and high fashion. But it also became a way for photographers to break new artistic ground, free of edicts from magazine editors or clothing companies. The calendar's goal (after selling tires, naturally), was to capture shifting cultural trends. "'The Cal,'" Pirelli explains on its site, "aspired to be a sign of changing times."
This year's calendar, shot by Peter Lindbergh, presents itself as a similarly aspirational and inspirational work. Lindbergh photographed 14 Hollywood actresses (and one Russian academic, presumably for diplomatic reasons), most of whom are over 40. He captured them wearing minimal hair and makeup, in an artistic decision he described as "a cry against the terror of perfection and youth." Lindbergh's images are striking: His unretouched models, including Helen Mirren (71) and Julianne Moore (55) radiate poise, confidence, and peace with their physical selves. But the muted fanfare they've received mostly signals how much fashion as an industry—from the Pirelli Calendar to Vogue—has fallen behind when it comes to breaking new ground for women. Rather than trailblazing new standards for beauty, the 2017 calendar is a sign that institutions that were once at the forefront of new trends and movements are now struggling to catch up.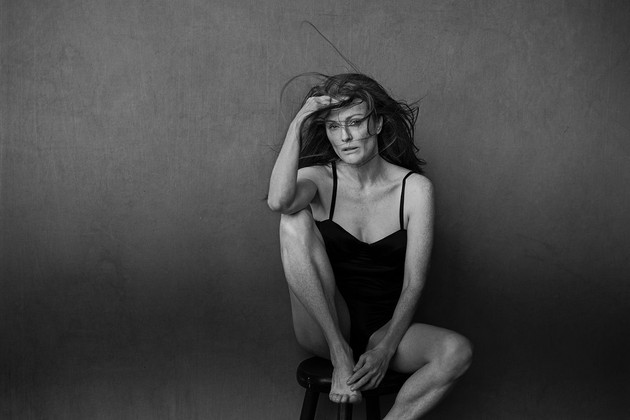 One symbol of the industry's recent conservatism is Ashley Graham. The 28-year-old plus-sized model has been in the business for more than 15 years, and has appeared on the cover of Sports Illustrated and in campaigns for Nordstrom, Macy's, Bloomingdale's, and Liz Claiborne. She's the official face of Lane Bryant lingerie. In November, she was honored with a Barbie doll in her image. This week she was announced as the January cover star of British Vogue.
That it's taken this long for fashion's most prestigious title to put a plus-sized model on its cover—for Vogue to catch up with Liz Claiborne—is a sign of how dramatically the cultural zeitgeist has changed. (American Vogue has never featured a plus-sized model on its cover, although Italian Vogue featured the models Robyn Lawley, Tara Lynn, and Candice Huffine on its cover in 2011.) It also points at how the internet is redefining standards of beauty more quickly than might ever have been imagined.
In the 1960s, it was Pirelli propagating cultural shifts that made many uncomfortable.The first calendar, shot in 1963 by Terence Donovan featuring lovely but normal-looking women posing next to Pirelli products was a flop, so much so that Pirelli opts to omit it from its official history of "The Cal." The following year, the photographer Robert Freeman ditched the tire motif altogether and simply took pictures of models in soft focus on a beach. Amid the emerging free-love movement, the calendar signaled a new openness toward sexuality in fashion. (Around the same time, the photographer Helmut Newton was producing increasingly eroticized work for French Vogue and Harper's Bazaar.)
In 1966, an image from Pirelli's calendar of a woman wearing underwear was deemed so racy at the time that the Vatican complained to the Italian brand. In 1971, Francis Giacobetti included topless women in the calendar for the first time. Although his images seem like dubious representations of female empowerment in retrospect, at the time they were emblematic of changing attitudes about sexuality. While in the first half of the 20th century, eroticism was rarely explicit in fashion, in the 1960s, it became "a playful way of flaunting new moral codes that mocked the hypocrisy of the Establishment," Rebecca Arnold writes in Fashion, Desire, and Morality. In rejecting the oppression of morality, sexualized images were "a refreshing alternative to the controlled grooming of 1950s couture."
In 1972, Sarah Moon became the first female photographer to shoot the Pirelli Calendar, and her concept was light years away from Giacobetti's headless, hypersexualized women. Once again, the Pirelli Calendar was seeking to distinguish itself by subverting expectations about sexuality, right at the vanguard of second-wave feminism. In 1987, Terence Donovan returned to shoot his second calendar for the company, choosing to use only black models. At the time, only two black women had ever appeared on the cover of British Vogue.
Since the '90s, though, the Pirelli Calendar has mostly reflected an industry still mired in restrictive, eurocentric ideas about what beautiful women look like, and who they should appeal to. Between 1990 and 2015, only two women were hired as photographers, Annie Leibovitz and Inez van Lamsweerde. Meanwhile, movements to broaden the fashion industry's standards of beauty seemed to stall. In 2014, 22 percent of the models in New York Fashion Week were women of color. As body positivity movements gained traction with campaigns like #AskHerMore and #EffYourBeautyStandards, fashion magazines and houses seemed increasingly at odds with public perceptions about beauty.
But in 2016, the calendar (once again) made a dramatic shift. Shot by Annie Leibovitz, it featured women chosen for their accomplishments rather than their physical appearance. All were fully clothed with the exception of the comedian Amy Schumer, who posed in her underwear, and the tennis star Serena Williams, seen from behind in an image that expressed her physical power. Many of the other models—Agnes Gund, Fran Lebowitz, Patti Smith—were over 60. Pirelli seemed to be recognizing increasing awareness, especially among young women, that standards propagated by the industry tend to be not just unrealistic, but sluggish to respond to their readers' changing demographics.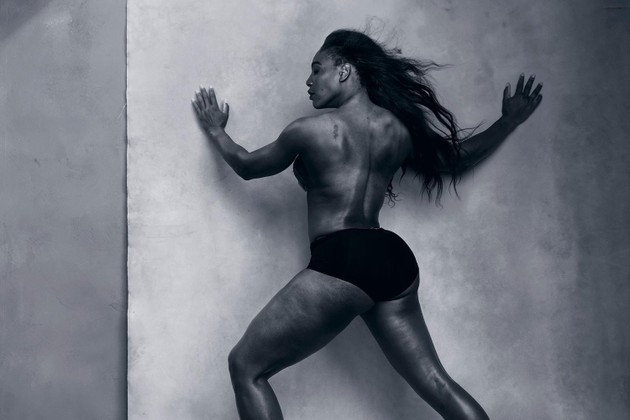 "The Pirelli pivot seems to give real substance to the theory that we are at a flexion point in the public objectification of female sexuality," Vanessa Friedman wrote in The New York Times. The question, Friedman wondered, was whether Pirelli's decision to dramatically shake up its format was "an example of calculated exploitation of a social trend, a clever attempt to profit from the spirit of the age or a more permanent commitment to change."
Whichever it was, it was undoubtedly a savvy marketing strategy. The costs of producing each Pirelli Calendar have been estimated at around $2 million, versus the $300 to $350 million in free advertising that the calendar offers the brand. The more consequential the changes to the calendar, the more publicity for Pirelli. But the 2017 calendar, in showing beautiful women without makeup, clambers aboard a train that's very much in motion. In early 2014, after the actress Kim Novak was criticized for her barefaced appearance at the Academy Awards, a number of social-media users began posting images of themselves without makeup in protest. This makeshift movement somehow turned into #nomakeupselfie, a hashtag encouraging women to post makeup-free pictures of themselves online while donating money to Cancer Research, a British charity. The campaign raised £8 million in six days.
Meanwhile, in a Lennyletter article earlier this year titled "Time to Uncover," the singer Alicia Keys announced that she was eschewing makeup after becoming frustrated with "how much women are brainwashed into feeling like we have to be skinny, or sexy, or desirable, or perfect." She concluded it by writing, "I don't want to cover up anymore. Not my face, not my mind, not my soul, not my thoughts, not my dreams, not my struggles, not my emotional growth. Nothing." After the essay was published, a number of public figures posted their own makeup-free photos, and when Keys appeared on The Today Show, her interviewers, Tamron Hall and Al Roker, removed their own makeup live on air.
In furthering Keys's message—that women should be appreciated for all aspects of their selves, not merely their physical appearances—Pirelli is hoping a movement that's long been felt on social media and among women themselves can turn into good branding, even for a company that's historically benefitted from the promotion of impossible beauty ideals. It's an institution acknowledging that many women reject long-held benchmarks for what they should be aspiring to. So while Lindbergh's images of Lupita N'yongo, Charlotte Rampling, Nicole Kidman, and Zhang Ziyi capture a sea change that's very much ongoing, they're also a sign that in recent years, fashion as an industry has played a very small part in revolutionizing the way women see themselves.