Teen Vogue's Political Coverage Isn't Surprising
The publication's recent shift toward social issues, identity, and activism is giving its readers what they want.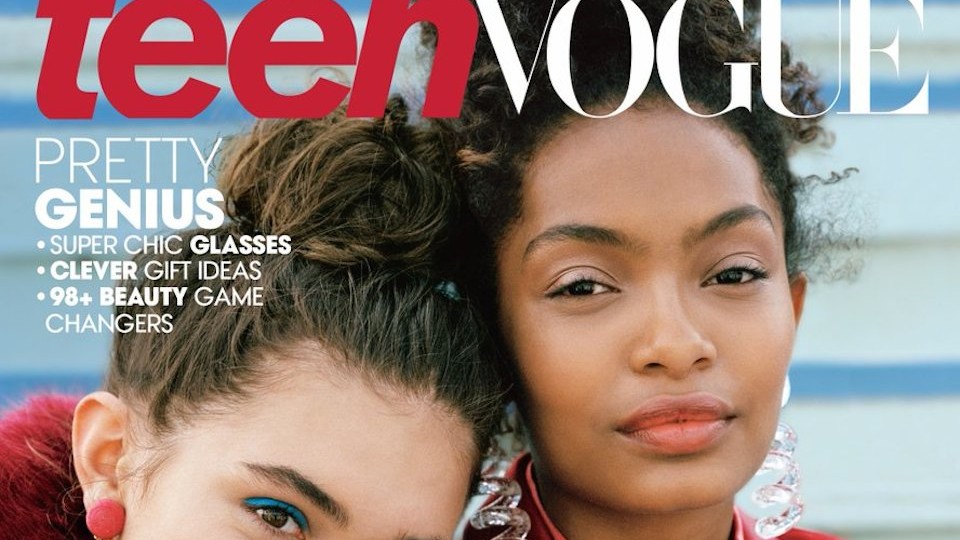 On Saturday morning, Teen Vogue published an op-ed by Lauren Duca titled "Donald Trump Is Gaslighting America." The tone and message of the piece, which compared the ways in which the president-elect talks about his record to the ways abusive spouses psychologically manipulate their partners, struck a notable chord with readers on social media, garnering almost 30,000 retweets from Teen Vogue's account, and getting shared by personalities from Patton Oswalt to Dan Rather. Many people tweeting the story did so with an incredulous tone, seeming surprised that a teen-oriented magazine was publishing incisive political coverage rather than makeup tutorials or One Direction interviews.
But the tone of Duca's piece was representative of a larger shift Teen Vogue has made over the last year. In May, 29-year-old Elaine Welteroth took over as editor from Amy Astley, who helped found the magazine in 2003. Welteroth, the digital editorial director Phillip Picardi, and the creative director Marie Suter have moved the magazine more aggressively into covering politics, feminism, identity, and activism. Together, the three have shepherded a range of timely, newsy stories, including an interview exploring what it's like to be a Muslim woman facing a Trump presidency, a list of reasons why Mike Pence's record on women's rights and LGBTQ rights should trouble readers, and a video in which two Native American teenagers from the Standing Rock Sioux tribe discuss the Dakota Access Pipeline protests.
The pivot in editorial strategy has drawn praise on social media, with some writers commenting that Teen Vogue is doing a better job of covering important stories in 2016 than legacy news publications. But the move is also an intelligent one from a business perspective. Teenagers who've grown up on the internet are as likely to be informed about social issues as their parents are, and just as eager to read and share stories that reflect their concerns about the world. While some casual observers might seem surprised that a teen fashion magazine is focused on racism and sexism rather than on "hairstyles and celebrity gossip," their assumptions dismiss how attentive young readers are to politics—an interest Teen Vogue is astutely capitalizing on.
Teen Vogue was founded in 2003 at the behest of Vogue's editor-in-chief, Anna Wintour, who tasked Astley, the magazine's beauty editor at the time, to conceive test issues of a spinoff publication for teens. The publication's early focus was fashion. "We are going to do what we do well, which is fashion, beauty, and style," Astley told The New York Times's David Carr shortly before its launch. "A lot of other teen magazines are focused on relationships, boys, sex, and embarrassing moments. That is not our equity."
At the time, Carr noted, many rival teen publications were struggling. And since Teen Vogue debuted, a number of them—Elle Girl, CosmoGirl!, Teen People, Teen—have folded. * One of the challenges is that teen audiences tend to evolve faster than the adults catering to them can catch up. "It's always been such a volatile market because your audience morphs so rapidly," John Harrington, a publishing consultant, told The Times in 2013. The genius of the current iteration of Teen Vogue is that it's caught on to its current readers' enthusiasm for topical issues in a timely enough fashion to actually engage them.
"I think in 2016 we found our footing and our voice as a publication in a strong way," Picardi, the publication's digital editorial director, told me via email. "Obviously, the election has provided unique circumstances and a real need for someone to dissect the news for young people. Since we are, in particular, a brand that speaks directly to millions of young women, we have a responsibility to do right by them and view the news through that very specific lens."
Teen Vogue's two strongest traffic days in 2016, Picardi says, were November 9, the day following the election, and Sunday, as Duca's piece about Trump picked up steam. (The publication's traffic is up 208 percent over the last 18 months; it reached 9.4 million uniques in November.) But he notes that the publication's coverage of politics is of a piece with its coverage of fashion, beauty, and entertainment. Its top five most-read pieces of the year speak to the myriad subjects Teen Vogue covers, as well as the diverse interests of teen girls:
1. Donald Trump Is Gaslighting America
2. How to Apply Glitter Nail Polish the Right Way
3. Netflix Arrivals October 2016: See the Full List
4. Mike Pence's Record on Reproductive and LGBTQ Rights Is Seriously Concerning
5. Dark Marks and Acne Scars: Your Complete Guide
In engaging with social issues, though, the magazine isn't breaking entirely new ground. On Sunday, Tavi Gevinson, the editor of Rookie, appeared to acknowledge other publications' debt to the magazine she founded at the age of 15. "Why should it be shocking that mainstream pubs reckoning w/ accountability culture & the rising currency of feminism are suddenly feminist?" she tweeted. (Gevinson was on the cover of the September issue of Teen Vogue, in a shoot styled by the longtime Vogue creative director Grace Coddington.) Later, she followed up with a lengthier statement:
Good will can and does coexist with wanting to make profit. I am saying that as the cultural currency/relevance of feminism goes up, confusing fiscal interest with moral interest and keeping our expectations of mainstream women's mags so low will make us more and more likely to confuse magazines doing what they need in order to stay relevant, with advancing the cause of feminism. Media literacy is more important now than ever, and we should never stop asking ourselves, after everything one reads, "how does it benefit this publication to post this?" this is an exciting moment in which places with lots of money and reach—in many industries: publishing, film, TV, art, etc.—have finally understood that women and teens do not, in fact, want to see stuff that makes them hate themselves. What a relief! But I would be remiss not to enjoy it all with a healthy dose of skepticism.
Rookie was launched in 2011 as a deliberate counterforce to much of the existing journalism for teenage girls. In creating Rookie, Gevinson—whose ability to connect with her peers and whimsical approach to clothing drew both praise and irritation within the fashion world—aimed to respect "a kind of intelligence in the readers that right now a lot of writing about teenage girls doesn't." Over the past five years, Rookie has published work by writers including Sady Doyle, Amy Rose Spiegel, and Jenny Zhang, in themed issues covering topics from "Action" to "Work" to "Consumption" to "Invention." But while traffic to rookiemag.com has declined recently, with Gevinson pursuing other acting and music opportunities, Teen Vogue's has been steadily climbing. This fall, Condé Nast announced its print magazine would be reduced to four issues a year, with the publication focusing more on digital readers.
Teen Vogue's recent September issue, typically the month in which fashion magazines focus on upcoming trends, was noteworthy for its politically oriented content. It featured a personal essay by the presidential candidate Hillary Clinton, a conversation between the actor Amandla Stenberg with the feminist Gloria Steinem, and an interview with the U.S. attorney general Loretta Lynch, conducted by the black-ish star Yara Shahidi. The issue also introduced "21 Under 21," the magazine's "official guide to the girls and femmes changing the world." The list of young activists, artists, and advocates featured few household names, but a notable majority of young people of color.
If the magazine is finally gaining recognition among adults for its thoughtful, nuanced coverage of topical issues, it's less surprising to teen readers who've been for months taking in (and sharing) stories about the Standing Rock Protests or Texas's campus-carry laws. In many ways, Teen Vogue is simply doing what a fashion magazine does best: observing trends, and disseminating them. But it's also giving young women valuable information about issues they care about, not to mention taking them—and their manifold interests—seriously.
"When it comes to news and politics, we look at ourselves as an ally and a platform—particularly to young women, and young people from marginalized communities," Picardi said. "I think young people, and perhaps particularly young women are so wildly underestimated by the world at large, and I want us to be a platform that challenges that idea."
---
* This article originally referred to CosmoGirl! magazine as Cosmo Teen. We regret the error.