Bob Dylan's Subversively Humble Nobel Speech
He didn't attend the ceremony, but he did make a statement about the difference between making art and analyzing it.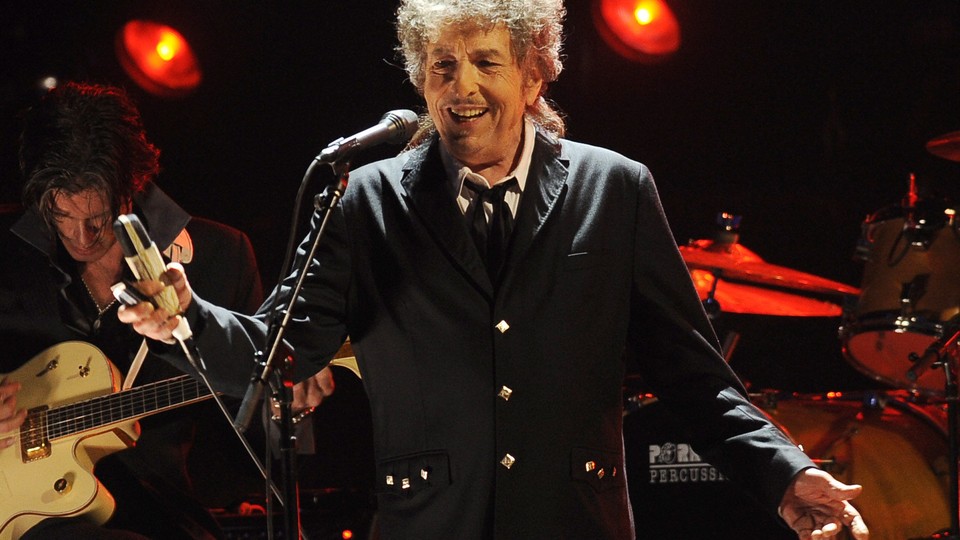 Bob Dylan's silence upon being named the winner of the Nobel Prize for Literature earlier this year was widely taken as a statement in itself. Some people saw it as a classic moment of Dylan-esque mystery and disdain for pomp; others took it as, per one Swedish Academy member, "impolite and arrogant." Of course, it could be both, as it often has been for him. There's a reason the first words of Todd Haynes's film I'm Not There, a Dylan tribute, are "There he lies, God rest his soul … and his rudeness."
But Dylan now has suggested that his delayed reaction was simply out of shock. "I was out on the road when I received this surprising news, and it took me more than a few minutes to properly process it," he wrote in his Nobel acceptance speech, delivered at the prize banquet over the weekend by America's ambassador to Sweden. The speech in general is a performance of humility, projecting an unassuming, workmanlike persona in response to being granted the literary world's highest accolade—and implying that such accolades are more a reflection on consumers of art than on artists themselves.
"Being awarded the Nobel Prize for Literature is something I never could have imagined or seen coming," he said toward the start of the speech. "From an early age, I've been familiar with and reading and absorbing the works of those who were deemed worthy of such a distinction: Kipling, Shaw, Thomas Mann, Pearl Buck, Albert Camus, Hemingway. These giants of literature whose works are taught in the schoolroom, housed in libraries around the world and spoken of in reverent tones have always made a deep impression. That I now join the names on such a list is truly beyond words."
The language there and elsewhere in the speech would not, on its face, inspire the description "literary." It's plain and almost school-age, moonily referring to "giants of literature" and a feeling "beyond words." He went on to say that he imagines William Shakespeare spent less time concerned by abstract ideas than by practicalities: "'Who're the right actors for these roles?' 'How should this be staged?' 'Do I really want to set this in Denmark?'" Dylan relates:
But, like Shakespeare, I too am often occupied with the pursuit of my creative endeavors and dealing with all aspects of life's mundane matters. "Who are the best musicians for these songs?" "Am I recording in the right studio?" "Is this song in the right key?" Some things never change, even in 400 years.

Not once have I ever had the time to ask myself, "Are my songs literature?"

So, I do thank the Swedish Academy, both for taking the time to consider that very question, and, ultimately, for providing such a wonderful answer.
It's not that he doesn't want to question whether his songs are literature, it's that he hasn't had the time. This sort of indifference to the act of interpretation has been a feature of his career, and the image of the Nobel ceremony—a tuxedoed crowd, a lavish venue, the queen of Sweden in a sparkling gown—certainly supports the notion of analysis as luxury, rather than as essential labor. It remains to be seen whether he'll deliver the lecture he's required to give in order to officially accept the Nobel and its prize money (8 million Swedish krona); all his camp has apparently said about the matter is that he might be able to give a lecture when he next swings through Stockholm on tour.
The ceremony itself did, in the end, broach the philosophical question that Dylan said he's never had a moment to consider. Academy member Horace Engdahl gave an address whose rhetoric and whose ambitions presented a polar contrast with the singer's speech. He began by asserting that literary evolution happens often "when someone seizes upon a simple, overlooked form, discounted as art in the higher sense, and makes it mutate." Dylan's feat: "From what he discovered in heirloom and scrap, in banal rhyme and quick wit, in curses and pious prayers, sweet nothings and crude jokes, he panned poetry gold."
Synthesis between accolade and art, between high critical thought and catchy folk music, then came courtesy of the rock poet and Dylan friend Patti Smith. She delivered an aching rendition of his song "A Hard Rain's A-Gonna Fall," during which she forgot the words to the second verse and had to start again—a mistake that only heightened the lyrics' mystery and power. Over the years, listeners have spun various interpretations of the song, with one common thought being that Dylan was imagining nuclear fallout. But his own explanation is not nearly so neat. "Every line in it, is actually the start of a whole song," he said in the liner notes for The Freewheelin' Bob Dylan. "But when I wrote it, I thought I wouldn't have enough time alive to write all those songs so I put all I could into this one." Then as now, he professes that his only focus is on the process itself. It's for everyone else to focus on what the results of that process mean.