The Curious Case of Nile Rodgers's Rock and Roll Hall of Fame Award
The induction class is a buffet of various kinds of uncool, made more perplexing by the disco band Chic's 11th snub.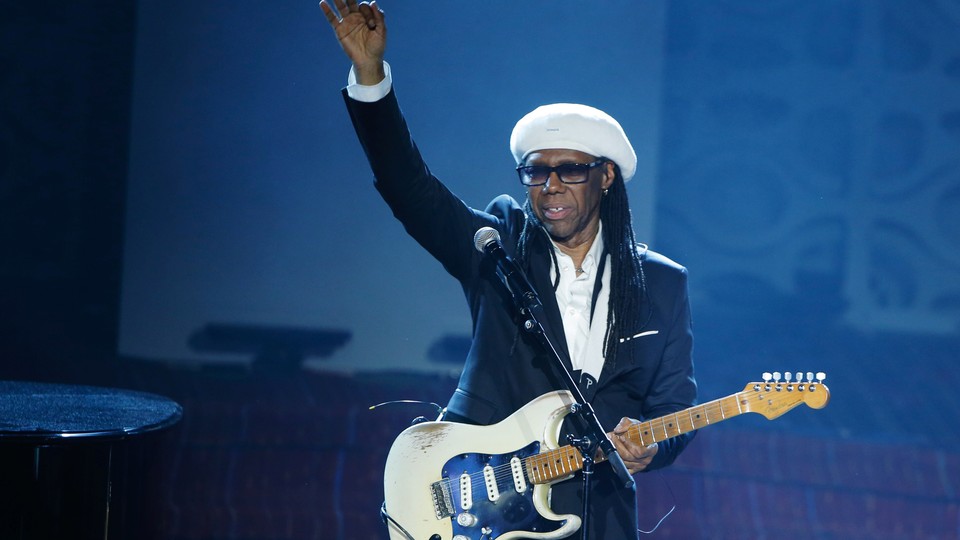 The Rock and Roll Hall of Fame perpetually starts fights about respectability and credibility, and the new class of inductees just shows how shifty and disputed those two words can be. The late rapper Tupac and the grunge band Pearl Jam are in, marking recognition for two '90s musical moments whose legacies are still in the making. The folk singer Joan Baez joins; she accepted by saying "I never considered myself to be a rock and roll artist," a sentiment many rock fans no doubt agree with. Journey, the mega-selling arena act whose coating of cheese has kept them far from critical acclaim, has made it in. So have Yes and Electric Light Orchestra, two bastions of prog-rock musical nerdiness.
The strangest announcement of the day is about the guitarist/songwriter Nile Rodgers, who will receive the Award for Musical Excellence, a recognition that's only occasionally given out and decided by "special committee" (rather than by the more than 900 musicians, historians, and industry members whose votes determine which five of each year's nominees get inducted). Rodgers played with Chic, the hugely successful disco act that has been nominated 11 times for the hall of fame but has still not been inducted. Rodgers's Musical Excellence award recognizes achievements outside of Chic, which includes important work Rodgers did with Sister Sledge, David Bowie, Daft Punk, and others. But still, there's the air of disagreement behind the accolade for Rodgers: The entire body of hall-of-fame voters evidently doesn't think Chic belongs, but the smaller group in charge of lifetime achievement awards perhaps does.
Rolling Stone has a somewhat heartbreaking interview with Rodgers today, in which he repeatedly tried to split the difference between gratitude for his award and disappointment that the rest of his band has been left out. "I want to be happy, but I'm perplexed at the same time," he said. "How do you pluck me out and say I'm worthy of the Rock and Roll Hall of Fame, but this band of mega players is not?
One of the likely suspects for why the hall keeps rejecting the creators of "Le Freak" and "Everybody Dance" is the the endurance of the "Disco Sucks" attitude: Some voters' late-'70s genre/tribal allegiances may be so strong that it keeps out a group of accomplished instrumentalists and songwriters even as the hall's definition of "rock" expands to include the likes of Madonna and NWA. This despite the fact that, as Rodgers pointed out to Rolling Stone, Chic recorded lots of music that wouldn't have played at Studio 54. The unavoidable truth is that gatekeeping institutions have arbitrary biases—as seen in the fact that it took until 2014 for Rodgers to win a Grammy, and it was for a song recorded with two French guys nostalgic for Chic's heyday:
I am very, very grateful and honestly shocked every time I win an award. When I won the first Grammy with Daft Punk [for "Get Lucky"], I said to the guys, "This is amazing. This is it." They looked at me and thought I had a whole closet full of Grammys. As we were sitting in the audience they kept saying, "You didn't get a Grammy for 'Let's Dance?' You didn't get a Grammy for 'Like a Virgin?' They started naming all these songs. "You had to get a Grammy for 'We Are Family!'" I'm actually very accustomed to not winning stuff. So it's fine with me when I don't win stuff. It's actually shocking when I do.
Another band to be shut out from Grammys for the entirety of a very successful career is Journey, who the Rock and Roll Hall of Fame will now recognize. It might be a stretch to say that such an induction means that with time, everything uncool will become cool—perhaps better to say that many things uncool will eventually be recognized by the Rock and Roll Hall of Fame.