Our Favorite 31 Songs of 2016
From Frank Ocean to Beyoncé to John Scofield, some of the best tunes from a year of great music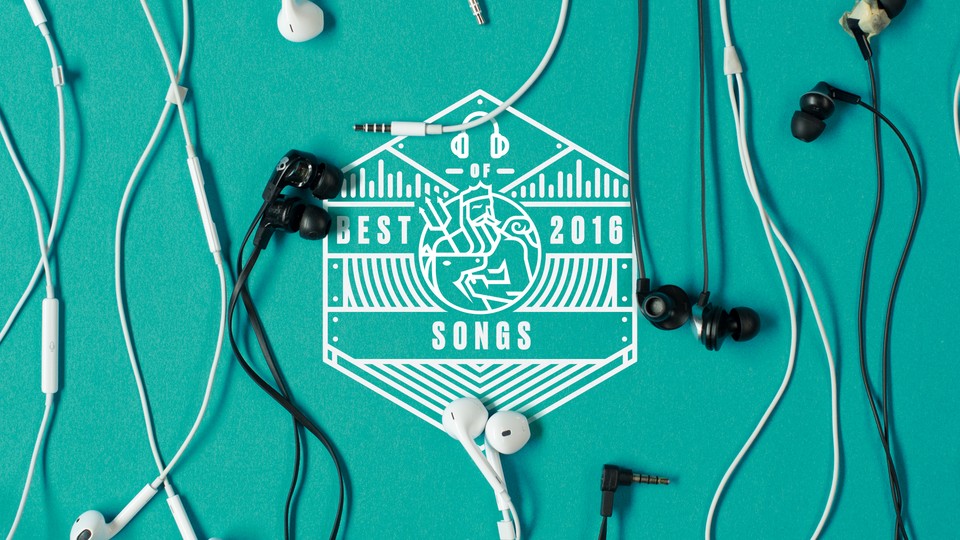 This isn't a definitive list of the year's best tracks. It's an alphabetically ordered selection of songs our staff writers and editors found themselves putting on repeat in 2016. You can listen along with our Spotify playlist.
---
"Adore You," NAO
The last half of For All We Know, in many ways, examines relationships unravelling. In the single "Girlfriend," the British R&B singer NAO wonders if she can discard enough baggage to be a partner. In "Bad Blood," her nostalgia is tinted with the pain of a former paramour's obliviousness. On "In the Morning," she's too civil to rebuff someone who adores her. In each instance, NAO has blame to place, on a lover, a friend, or herself. But "Adore You" is the turning point that precedes all of those tracks, where love is at once suspended and terminal. The '80s synths and soft background vocals are disarming even as NAO sings about being intoxicated, addicted, and then consumed.
---
"Ain't It Funny," Danny Brown
Though "Really Doe" and "When It Rain" have gotten the most attention of the songs on Danny Brown's brilliant Atrocity Exhibition, "Ain't It Funny" remains my stubborn favorite. Maybe it's the dissonant mess of horns and alien-like synths that have no right being as catchy as they are. Maybe it's Brown's hectic, unhinged flow, or the way the unbearable darkness of the album seems to come to a head. Here, Brown is still his charismatic, funny, and party-loving self—but he leaves you with the demented image of him cackling in the face of Satan and ingesting far too many substances while swaying at the edge of a cliff. You get snippets of just how dire things are: "Nose bleeds red carpets / But it just blend in." "Broke serving fiends / Got rich became a addict." "Might need rehab / But to me that shit pussy." As afraid as you are for him, hearing him slip further and further out of control, you can't stop listening—but you're not laughing, either.
---
"Am I Wrong (feat. Schoolboy Q)," Anderson .Paak
From its curtain-raising drum break, "Am I Wrong" puts you right on the beach in L.A., circa summertime '75. It's a song full of flourishes, with Anderson .Paak's distinctive, raspy voice half-crooning, half-talking over an airtight bass groove, decorative percussion (performed by Paak himself), a billowing horn section, and a cameo by Schoolboy Q. The track feels as close to old-school disco and funk as it does to hip-hop, an amorphous, anything-but-gray area that Paak thrives in. He's channeling Marvin Gaye and D'Angelo here but bringing all of the unique and restless energy that's made him such a popular commodity in music these days, working with the likes of Dr. Dre and A Tribe Called Quest. "Am I Wrong" is a glowing, vibrant party-starter.
---
"Angel Down (Work Tape)," Lady Gaga
Try to forget the half-heartedly hammy production that made Joanne so much less fun than it could have been. Try to ignore that Gaga used the supposedly socially conscious lyrics of "Angel Down" as a cudgel against a writer who'd criticized her. Just appreciate this demo track written with RedOne, the collaborator on her best hits. Note the delicate, elliptical, and strangely memorable melody. Hear her muster all her theater-geek gusto as the ballad progresses. And be reminded that even in her least satisfying phases, Gaga remains one of the most interesting pop stars going.
---
"Augustine," Blood Orange
On his latest effort as Blood Orange, Devonté Hynes looks back to his father's native Sierra Leone while keeping a firm focus on the present reality of black bodies in the U.S. and in his native U.K. On "Augustine," a dance-floor ballad with a romping '80s drum-machine loop that stays constant throughout, Hynes sings about the immigrant experience, exile, and the yearning for human comfort in foreign circumstances. He repurposes Saint Augustine, whose Confessions remain a doctrine for Christian love, for our age: "Tell me, did you lose your love? / Cry and burst my deafness / While Trayvon falls asleep." "Augustine" is a track filled with political references if you choose to find them, but in its essence, it's a ringing and heartfelt call for compassion in a dark moment.
---
"Away With You," Mary Halvorson
It doesn't really seem fair for one musician to cover the kind of range Mary Halvorson does. In 2015, Halvorson—whom The New York Times calls "the most critically acclaimed jazz guitarist to emerge" in the last decade—released an explosive collection of covers on solo guitar. This fall, she's produced a stunning collection of originals for octet. Members include several fellow disciples of the great avant-gardist Anthony Braxton. The album's title track is a series of melodies that veer off in unexpected directions and toe-tapping rhythms that defy a casual listener's abilities to easily count a time-signature. It's an episodic collection of enticing, off-kilter grooves—a four-chord riff that teeters between soothing and queasy-making, an almost big-band horn section, a duo for Halvorson's guitar and Susan Alcorn's otherworldly, luminous pedal steel.
---
"Broccoli," D.R.A.M.
In an interview with Billboard over the summer, D.R.A.M. noted that people tried to count him out after his first hit "Cha Cha" gave way to an even bigger hit in Drake's "Hotline Bling" last year. But after the Virginia singer-rapper teamed up with Lil Yachty on "Broccoli" this spring, it was obvious that he hadn't doubted himself the way others had. "I was 5 or 6 years old when I had told myself ok you're special / But I treat you like my equal never lesser / I was 26 years old when we had dropped this one amazing record / Had the world stepping / That's what I call epic," he raps over a sunshiny piano chord. The song's foundation might not feel vital, but the glee in D.R.A.M.'s delivery is magnetic. It's easy to write "Broccoli" off as a stoner anthem ("broccoli" being slang for marijuana), but it's one that is infectiously cheerful at a time when, for many, that energy is needed the most.
---
"Call Yourself Renee," Okkervil River
Will Sheff hit reset on his long-running literary rock band this year with an album that ditched scrappiness for grace in long, slow, lushly orchestral songs. The most moving of them is "Call Yourself Renee," where Sheff describes some characters who seem to have run away from an old life only to find that spiritual emptiness ran with them: "I don't know why so-and-so's taking much time to breathe something new into my life," one of them wonders, devastatingly.
---
"Calvander," Mount Moriah
This track takes its name from an unincorporated community near Chapel Hill, North Carolina; miss the sign Heather McEntire mentions in the first line and you'll miss the whole thing. "Calvander" is the lead track from the country-rock band's third album, How to Dance, whose lyrics offer a virtual atlas of cities, towns, squares, streams, and highways. The record is informed by deep depression McEntire experienced recently. When she sings, "Down on my knees by the Bogue Bank tide, prayed to something for some kind, any kind of light," one senses she might not have received it yet, but she's headed down the right road.
---
"Cranes in the Sky," Solange
One of the best albums of 2016, Solange's A Seat at the Table insists, from start to finish, on the beauty, anger, endurance, and sovereignty of black people in America. "Mad," "Don't Touch My Hair," and "F.U.B.U." are the kinds of songs certain listeners would consider abrasive, or even uncivil, in their simple message: Respect me; respect us. The first standout on the album, "Cranes in the Sky" isn't as politically explicit, lyrically. But it's written from the same place of disillusionment, one inextricable from Solange's experience as a black woman. Over swishy percussion, cascading synths, and a burbling bass, Solange outlines her melancholy with a list of everything that failed to fix her pain. "I tried to work it away, but that just made me even sadder ... I tried to sleep it away, I sexed it away, I read it away." I tried, I tried, she repeats. The word "away" keeps catching in her mouth—roughly 40 times—and each time it does, the fantasy of escape feels at once closer and more remote.
---
"Decks Dark," Radiohead
Around 1:30 a.m. on election night, Thom Yorke tweeted out some lyrics from his band's single "Burn the Witch," which was neither the first nor last time that Radiohead's vast catalogue of freak-outs about authoritarians and doomsday was invoked against Donald Trump. But if you indeed were perturbed by the election's results, the jangly, tense "Burn the Witch" was no therapy. Better to turn to its Moon Shaped Pool companion "Decks Dark," whose gentle sway depicts the arrival of every dreaded thing—death, depression, the apocalypse—not as a calamity but as a simple change of weather. "You've gotta be kidding me," Yorke mutters as if to a cloudburst interrupting a picnic.
---
"The Great Unwind," William Tyler
Modern Country, the guitarist William Tyler's wryly titled 2016 release, is full of gems, and on a different day I might choose a different one for this list. A talented instrumental guitarist in the lineage of John Fahey, Tyler expands from solo performances or sparse accompaniment to a full band on this record, which is heavily informed by traveling the backroads of the American South (while listening to krautrock). "The Great Unwind" is a journey itself: A faintly Celtic riff begins over a martial beat, nearly fit for Ken Burns employment, until a delirious, fuzzed-out electric guitar sweeps over it. That in turn morphs into a collage of faraway distortion and bird song, only to restart again with glistening pedal steel and a new riff, something like Ry Cooder doing a deconstructed country cover of "Sultans of Swing." This isn't modern country or any other genre except its own.
---
"Higher," Rihanna
In the time leading up the album's release, many hoped that Anti would be the record that cemented Rihanna's pop dominance. Though the album didn't necessarily live up to the extraordinary hype, it had its hits with "Work," "Needed Me," and "Sex With Me." Those popular tracks played into Rihanna's most well-recognized persona—one of unwavering self-assurance and sexual autonomy. But to me, in the album's most interesting track, Rihanna reveals an almost antithetical self. "Higher," at just over two minutes long, is the equivalent of a liquor-fueled voicemail to a distant lover begging him to come over. The song is stripped down, and simply features her sharply wailing over melancholy violins. It's nice to know that the woman with the confidence to declare that her sex is amazing, and that bitches better have her money, can also be undone. "I wanna go back to the old way / But I'm drunk instead with a full ashtray / With a little bit too much to say," reflects a messy love fit for a really messy year.
---
"I Can't Give Everything Away," David Bowie
David Bowie's final song on his final album suggested that for however much wonderful material the world received from his career, there was still more he could give. It was in the withholding, in the mystery-making, that much of his power lay: "Seeing more and feeling less / Saying no but meaning yes / This is all I ever meant," he offers here what might be an epitaph. But his appeal also lay in the virtues otherwise displayed in the song: an adventuresome palette of sounds, an ear for entrancing melodies, and lyrics that hit the heart even if they're not fully understood by the head.
---
"I Need a Forest Fire (feat. Bon Iver)," James Blake
James Blake made a triumphant and typically understated return with The Colour in Anything this year, his first full-length since 2013's Overgrown. While the whole album is worth an end-to-end listen, you can hear Blake's gorgeous voice and control at its very best as it plays off the mercurial falsetto of Justin Vernon's cryptic refrain in "I Need a Forest Fire." It's a beautifully complex song that never overplays its intricacies, as Blake and Vernon's harmonies combine over a stuttering vocal sample, whistling keys, and a dampened kick drum. The result is a hypnotic wash of building melodies. Blake has spent the years between albums producing for Beyoncé and Frank Ocean, but on "Forest Fire," he seems thrilled to return to the meditative world of his own music.
---
"Jacked Up," Weezer
On Weezer's white album, Rivers Cuomo quit his recent habit of smug semi-ironic arena rock and got back to using his melodic gifts from a place of vulnerability. "Jacked Up" is the kind of abject airing of heartsickness that made 1996's Pinkerton a classic, but there's nothing dated about the dilemma he's describing. He knows what he wants but he knows full well that taking it will have consequences—an appropriately grown-up reason to sound this emo, no?
---
"The Ministry of Defence," PJ Harvey
PJ Harvey's very good and somewhat misunderstood The Hope Six Demolition Project was inspired by the venerated rocker touring global sites of poverty, war, and genocide and making music out of her own incomprehension. Many of the tracks are dry and distant, but on the dirge-like "The Ministry of Defence" she airs full-out horror, rendering a city ruins like a Hieronymus Bosch painting. "This is how the world will end," she cries, and perhaps "this" refers to the indifference she seeks to disrupt.
---
"Never Be Like You," Flume
The standout track on the second studio album from 25-year-old Harley Edward Streten, a.k.a. Flume, starts with a celestial upswing of twinkles and bells that ushers in Kai's angelic vocals. Then the track transforms under a thudding, sludgy beat, as Kai pleads with a lover she's cheated on to take her back. It's a strange mix of ethereal and grimy, ambient and aggressive, but it's undeniably satisfying to listen to, soaring as it does from profane to sacred ("Forgive me, I'm a fucking fool ... Absolve me of my sins won't you?") and right back again.
---
"No," Nicolas Jaar
"Ya dijimos no pero el sí está en todo," sings Nicolas Jaar, the enigmatic Chilean American producer, over a thumping reggaeton-meets-cumbia rhythm in which low drums and deep bass coalesce. The line, translated roughly as "We already said no but the yes is in everything," refers to the 1988 referendum where saying "no" meant saying "yes," an affirmation of democracy that ousted the brutal Chilean dictator Augusto Pinochet. Jaar, who sings entirely in Spanish here, reflects these contradictions of language and meaning in a similarly playful production. Chords on up beats play off the driving bassline, with flourishes of wooden percussion thrown into the mix, building to an apparent climax that's ultimately a scratchy sample of a harp piece by Sergio Cuevas. With mathematical precision, Jaar creates a hypnotic and spacious song that uses silence and sound to keep moving itself forward.
---
"Not Gonna Kill You," Angel Olsen
Here's a glorious song for when you need a shot of courage. Angel Olsen and her band stomp and flail on a journey that recalls Stevie Nicks, Led Zeppelin, and Jefferson Airplane while Olsen describes the terrifying rush of opening yourself up to another person. "It's not gonna break you, it's just gonna shake you / shake you aliiiiive," she wails as the music evokes the zero-gravity feeling before a roller coaster takes its big plunge.
---
"Prima Donna (feat. A$AP Rocky)," Vince Staples
Vince Staples's music dwells in a dark, hallucinatory world where minimal, lo-fi beats are punctuated by gunshot snare sounds and glitchy keys. On Prima Donna, the title track off his new EP, low bass notes pound ominously alongside loose hi-hats, creating a barren landscape for the precocious L.A. rapper to run riot across with his signature, breathless flow. Here, Staples comments on the fragile fantasy of fame, echoing his own rapid rise since his breakout last year with Summertime '06. While he's suddenly surrounded by women and money and accolades, Staples knows too well how fleeting success is: The surprisingly melodic, vocoder chorus finds Staples bleary-eyed, asking, "Is it real?" with A$AP Rocky reminding him it isn't, "Once you get addicted to it." The song is an enthralling flash through the mind of one of hip-hop's most skillful wordsmiths.
---
"Same Drugs," Chance the Rapper
Chance the Rapper's 2016 album Coloring Book, as my colleague Spencer Kornhaber wrote earlier this year, uses millennial nostalgia as a key to draw "from the past when dealing with very real challenges of the present." "Same Drugs," not actually a song about drugs, alludes to Peter Pan, Wendy, growing up, and the bittersweet pain of growing apart, over exquisite layers of piano chords, strings, gospel riffs, and the vocals of Chance and Eryn Allen Kane. "Don't forget the happy thoughts," Chance concludes, compelling his fans to remember what it feels like to fly.
---
"Solo," Frank Ocean
Few artists can spin entire universes with the detail and texture that Frank Ocean can. On "Solo," he doesn't waste a breath doing this, his voice tumbling through with the first warm note of an organ, filling up the space with a haze of sex and loneliness all at once. Ocean's voice is at its intoxicating best here, shapeshifting from one melody line and to another with an ease that masks the complex chord changes going on underneath it. Absent of any percussion, the song feels self-propulsive, as Frank leaps registers between verse and chorus before a gorgeous outro in which his voice twists and turns like a trail of smoke. "Solo," filled with transient lovers, epic imagery, and drug-induced nights in the city, lives in the achingly intimate moment after it all vanishes, when you're left alone and feeling, well, so low.
---
"Sorry," Beyoncé
Beyoncé, inarguably one of the best singers in the universe, showcases a whole new breadth of vocal power in "Sorry." Her voice is percussive rather than melodic, layering staccato rhythms over minimal backing, all while communicating the tightly controlled drama and wretched pain of an Ibsen play. "Sorry" will always be remembered for crushing the pop-cultural cachet of Beckys everywhere, but musically it's one of the most intriguing songs on Lemonade. Who else could make a response to feckless lovers and dreams gone sour so ballsy and so contagious?
---
"Take Me to the Alley," Gregory Brown
In April, when my former colleagues at NPR Music offered us a first taste of Gregory Porter's Take Me to the Alley, the album and its title song felt like anachronisms. In the throes of an election for which the word "divisive" felt like a euphemism, in floated this soulful paean to humility and compassion, buoyed by a lilting piano line and a baritone that seemed like an embrace. Somehow, far from the gilded houses, straight on through this alley, there's a garden and a reprieve. It may indeed be a fable or an anachronism, but every time I listen, I think of it more as a gift from out of time.
—Matt Thompson
---
"Tilted (Paradis Remix)," Christine and the Queens
In April, Christine and the Queens (a.k.a. Hêloïse Letissier) released an EP of remixes of "Tilted," her ode to joyful noncomformity. The Paradis remix takes the odd beats and warbled weirdness of "Tilted" and turns it into something smoother, with more complex harmonies and blissed-out tones. It's a little spacey, a little mellow, but with the wackiness of Christine's most triumphant lyric: "I'm doing my face / with magic marker / I'm in my right place / Don't be a downer."
---
"Ultralight Beam," Kanye West
Why, exactly, do Kanye's lovingly arranged gospel choirs ask for serenity and strength at the start of The Life of Pablo? For the duration of the tentative climb to bliss that is "Ultralight Beam," you aren't sure what's ailing him—Chance the Rapper and Kelly Price ably take the verses. But as the chaotic Pablo album then unfolds, you begin to understand why he began in such a calming manner. And as this chaotic year unfolded, the early plea for grace became even more poignant.
---
"Untitled 02 | 06.23.2014," Kendrick Lamar
Kendrick Lamar is righteous and rich, and he knows there's tension between those two things. So as he deftly shouts out each member of his record-label crew, mocks Drake's performed machismo, and brags about having Barack Obama's ear, he also mourns black poverty and death over the kind of beat you might hear in a nightmare. "Get God on the phone," Lamar commands; presumably, he wants to deliver the Almighty both heady praise and very dark complaints.
---
"Welcome to Earth (Pollywog)" Sturgill Simpson
Sturgill Simpson greets his newborn son here, but really he's introducing his own adult self to everything about human existence that he previously hadn't known how to access. With an arrangement of Brian Wilson-like grandeur—tinkling piano, multi-tracked vocals, the Dap Kings on horns, and a sudden glorious tempo change mid-song—he marvels at grandfatherly advice and worn adages that suddenly make sense to him. The childless can't know the feeling he describes, but with this song they at least can better anticipate it.
---
"Your Best American Girl," Mitski
At once a tender ballad and a blistering anthem, "Your Best American Girl" is a track that demands to be listened to over and over again. It begins as a quiet, wistful Post-It note to an "All-American boy" blissfully unburdened by the body he lives in, unlike the narrator herself. "I'm not the moon, I'm not even a star," Mitski sings, less sadly than matter-of-factly. But then, as the guitars build and then explode into a wall of noise, the self-deprecation morphs into a declaration of reluctant self-love. "Your mother wouldn't approve of how my mother raised me," Mitski sings in the first chorus. "But I do, I think I do." (In a bit of goosebump-inducing perfection, later in the song, the "I think I do" becomes an "I finally do.") Like all of Mitski's best work, "Your Best American Girl" is characteristically self-aware, vulnerable, haunting, and beautiful—a song with a perspective that made me feel something music rarely does: gratitude.
---
"You're Still the One," John Scofield
Yes, this is a jazz cover of Shania Twain's 1998 pop-country megahit; no, it's not a joke; yes, it is very, very good. Scofield, a leading jazz guitarist who cut his teeth with Miles Davis in the 1980s, has been equally at home in the straightahead and jam-band worlds recently, but on Country for Old Men (Get it? He'll reach senior citizenship on Boxing Day) he tries twang, and succeeds. The whole thing is a rollicking delight, with songs by the likes of Merle Haggard, George Jones, Dolly Parton, and the Carter Family rendered in his signature, almost vox humana guitar sound, but this less obvious choice is my unexpected favorite. Sco swings through the lilting melody and even drops a nonchalant, unobtrusive, and witty quote of Thelonious Monk's "Friday the 13th" into his solo.