The Lead Contenders for This Year's Oscars
Will Academy Award voters go for escapist fare like La La Land? Or more weighty and relevant films like Moonlight?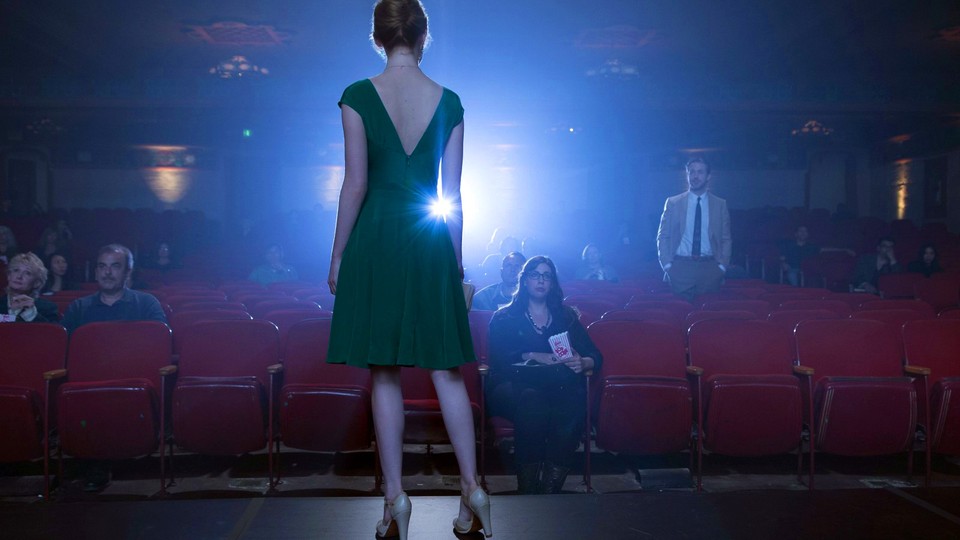 This year's Oscars will air at a particularly tense moment for both the country at large and the Academy of Motion Picture Arts and Science. The Trump presidency will be well into its first 100 days after a year defined by toxic politics and a revived culture war, while Academy voters will take care to avoid the controversy of recent years over the glaring lack of diversity in its nominees. The ceremony, which will be hosted by Jimmy Kimmel, could go one of two ways: It could try to lean into the political maelstrom, or it could embrace more traditional fare, celebrating cinema that distracts from the world around us.
The emerging pool of favorites features some contradictory choices. The throwback musical La La Land would be a vote for escapism, though to that film's credit, it is partly a fable about the dangers of nostalgia. Awarding the indie hit Moonlight, a rave-reviewed coming-of-age drama about complicated intersections of identity and race, would be a push for more searing relevance. The other contender, Kenneth Lonergan's weighty tragedy Manchester by the Sea, is the kind of small-scale picture the Oscars have loved since their inception—a movie driven by great performances rather than visual snap. These are the early favorites in a year lacking for major commercial hits; for the Academy, cultural impact is less and less defined by box-office success.
Moonlight, for example, has collected only $9.9 million since its October release—a phenomenal amount for a film of its size, and word-of-mouth is only continuing to grow as it builds awards buzz. Barry Jenkins's artful film isn't the easiest to grapple with—the tale of a gay black man growing up in Miami, it's a specific and brilliant work that comments more broadly on the dangers of making assumptions and the difficulty of self-acceptance. Though Moonlight may fall shy of sweeping the Oscars, after collecting the Los Angeles Film Critics Association award for Best Picture, its status as a frontrunner seems assured. Its best hopes for a trophy lie with its screenplay and the supporting actor Mahershala Ali.
Manchester by the Sea has also done well with critic awards so far, and its lead actor Casey Affleck remains in pole position for that award. But he has been dogged by resurfacing allegations of his on-set harassment of women when making his 2010 mockumentary I'm Still Here (the lawsuits in question were later settled privately). After the Birth of a Nation writer/director/star Nate Parker's awards chances were undone by his own horrifying past, a pass for Affleck might seem like hypocrisy. Still, he is not the creative voice behind Manchester by the Sea, as Parker was to his film.
The other big challenger for Lead Actor appears to be Denzel Washington, who directed and starred in an adaptation of August Wilson's Pulitzer Prize-winning play Fences, reprising his own Tony-winning performance. Washington's work in the film is so powerful that it belies his restrained, if stagey direction; the only thing working against him is that he has two Oscars already. Meanwhile, his Fences co-star Viola Davis, campaigning as a supporting actress with a quasi-leading role, already has that award locked up according to most prognosticators, with Manchester's Michelle Williams (in a much smaller, but similarly incendiary performance) her closest challenger.
None of these films has been a big box-office winner, and a look at 2016's big grossers underlines why this year's Oscars will be mostly lacking for blockbuster hits. Almost all of the top 20 films this year were sequels, franchise entries, or children's animated films, with one exception: Clint Eastwood's Sully, a quiet paean to competence anchored by a reliably steady Tom Hanks performance. Both the film and Hanks will likely get nominations simply because it's harder and harder for a movie targeted at grown-ups to stand out with audiences. Arrival, Denis Villeneuve's masterful sci-fi fable that has proven a surprise hit, should muscle its way into the Best Picture race for the same reason, despite the Academy's usual resistance to genre pictures. The same goes for Hell or High Water, a muscular crime film from the summer that showed surprising staying power with viewers.
Swoony musicals with gauzy visuals tend to be exempt from the genre rule—based on look and subject matter alone, La La Land has seemed an obvious choice for Oscar voters since it was announced. The director Damien Chazelle's previous film Whiplash collected three Oscars in 2015, and his follow-up has far more broad appeal, assaying the wishes and dreams of a wannabe actress (Emma Stone) and jazz musician (Ryan Gosling) navigating a dreamworld Los Angeles and falling in love in the process. Critics have been kind to the film—it was named the New York Film Critics Circle's Best Picture award in a slight upset over Moonlight. If audiences follow suit, then La La Land will surely look appealing to voters; at this point, financial failure might be the only thing in its way.
The simple fact is, the Oscars reward films about creativity and the Hollywood process—even when they're out of sync with the world around them. In early 2011, in the middle of the Great Recession and the wake of the Tea Party revolution, voters picked The Artist, a trapped-in-amber silent film that celebrated cinema's earliest epoch. The next year, Ben Affleck's thriller Argo, an Iranian hostage drama that doubled as a celebration of movie mythmaking, defeated more prestige works like Lincoln and Zero Dark Thirty. Two years ago, Birdman, a dizzying look at the creative process inside the mind of a faded movie star, leapfrogged Selma, Boyhood, and American Sniper.
Much like Birdman or Argo, there is a lick of cynicism to La La Land, which is as much about the sacrifices people make on their way to the top as it is a celebration of Old Hollywood at its finest. But after two years of controversy led the Academy president Cheryl Boone Isaacs to radically rework the Academy's membership process in an effort to attract a diverse body of voters, a slew of trophies for La La Land might not really signal meaningful progress. This year's institutional changes might be enough to radically push the Oscar race away from the conventional choices; as it stands now, another year of escapism will be on deck come February.