And, Scene: Mountains May Depart
The Atlantic looks back at key cinematic moments in 2016, this time a sweeping drama from one of today's most acclaimed Chinese filmmakers.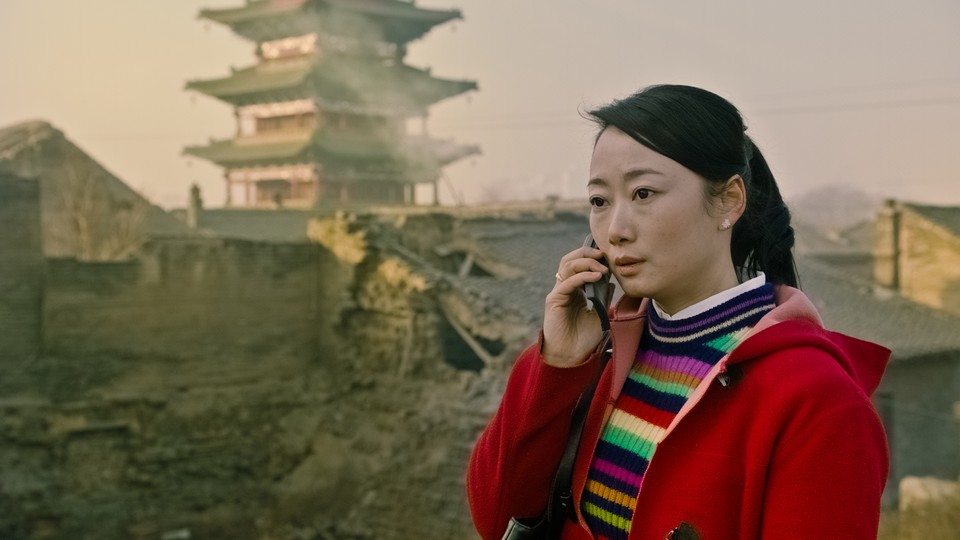 Over the next two weeks, The Atlantic will delve into some of the most interesting films of the year by examining a single, noteworthy moment and unpacking what it says about 2016. Today: Jia Zhangke's Mountains May Depart. (The whole "And, Scene" series will appear here.)
---
The director of the 2015 drama Mountains May Depart, Jia Zhangke, has clashed with the Chinese government over the content of his films throughout his career. That's in part because Jia belongs to the so-called "sixth generation" of Chinese cinema—a more anti-establishment and confrontational approach to filmmaking that emerged in the late 1990s. So it's not surprising that the director begins his latest film (released in the U.S. in February) in 1999, a year weighted with symbolic and actual importance for a resurgent China preparing to dominate the global stage.
With Mountains May Depart, Jia is telling a story about his country that feels at once hopeful and bleak. This duality is perfectly reflected in the film's opening and closing scenes, two very different dance sequences set to the same song. As the opening credits roll, the camera pushes in on the protagonist Shen Tao (Zhao Tao) and her friends as they dance to the Pet Shop Boys' "Go West." It's a vision of optimism and youth, simultaneously choreographed and spontaneous; the group is dancing in formation, but with a seemingly joyous lack of practice. Even watching the clip entirely free of context, it's hard not to be delighted by Shen's abandon (she's the woman in denim who eventually leads the conga line).
A satiric anthem for the capitalist western world, "Go West" has lyrics that might feel a bit on the nose for a film about China's past, present, and future. (Set in Jia's home province of Shaanxi, an industrial part of central China, Mountains May Depart takes place over three time periods: 1999, 2014, and 2025.) "There where the air is free / We'll be what we want to be," Neil Tennant sings. "Now if we make a stand / We'll find our promised land."
The movie begins on a jubilant note and ends on a bittersweet one. Its characters are in search of some "promised land," be it financial success or romantic fulfillment, but as time passes, that goal appears to be stuck forever on the horizon. In the film's opening, Shen is dancing to "Go West" with her friends, excited for a future that seems limitless. In the final scene, she's dancing alone to the same song while estranged from her son, husband, and hometown—but not without appreciation for the places her life has taken her.
"The choice of that song comes from my memories of being young, people of my generation being young in 1999," Jia said in an interview with The A.V. Club. "Whenever it hit midnight, the DJ would play this song and we would start dancing. So when I try to evoke memories of my past, and what I felt like in my body and my mind during that time, it's interconnected with this song. So it's not only a personal history that I'm trying to evoke, but a collective history for that generation."
Mountains May Depart sometimes stumbles in its effort to convey the past of a generation, partly because it also takes on the difficult task of predicting its future. But the film's ambition is staggering, and the distance it travels between its bookended dance sequences is admirably vast. As the film begins, Shen is a woman caught between two love interests—a poor mine worker and a stuck-up young capitalist—and in telling her story, Jia charts the complicated path the Chinese government has struck in its efforts to modernize and unite its people. Crucial to Mountains May Depart is language and the erasure of local dialects. By 2025, Jia perceives a future in which citizens will need to keep Google Translate open at all times just to talk to each other.
The opening sequence of Mountains May Depart is striking not only in the celebration it depicts, but also in its curious presentation: Jia shoots the entire 1999 story in a 4:3 ratio, the square video frame of '90s television. It's the same projection that Jia made his first movies in, and it gives the film a saturated, nostalgic feel, less muddied by the sight of smog or construction (the country's air pollution, seemingly non-existent in the 1999 sections, seeps in as the film goes on). The later sequences are shot with wider-screen lenses, looking more like a modern blockbuster with every jump forward in time even as Shen's life begins to feel more limited and frustrating.
Mountains May Depart is a fascinating window into a country that, even today, is still grappling with the legacy of its industrial revolutions and its role in a larger geo-politics. It's a country that still seems poised to dominate the 21st century, but one where millions of its people, and even its cities, are being forgotten or ignored—a nation where specific cultures are being swallowed up in the name of progress. In Mountains May Depart's simplest, broadest moments, like the "Go West" scenes, Jia underlines the appeal and the dangers of the future, while cementing his status as a brilliant storyteller for a whole generation.
Previously: Hail, Caesar!
Next Up: Everybody Wants Some!!