Kanye West and Donald Trump's Celebrity Kinship
The rapper disagrees with the president-elect on issues, but he loves his style.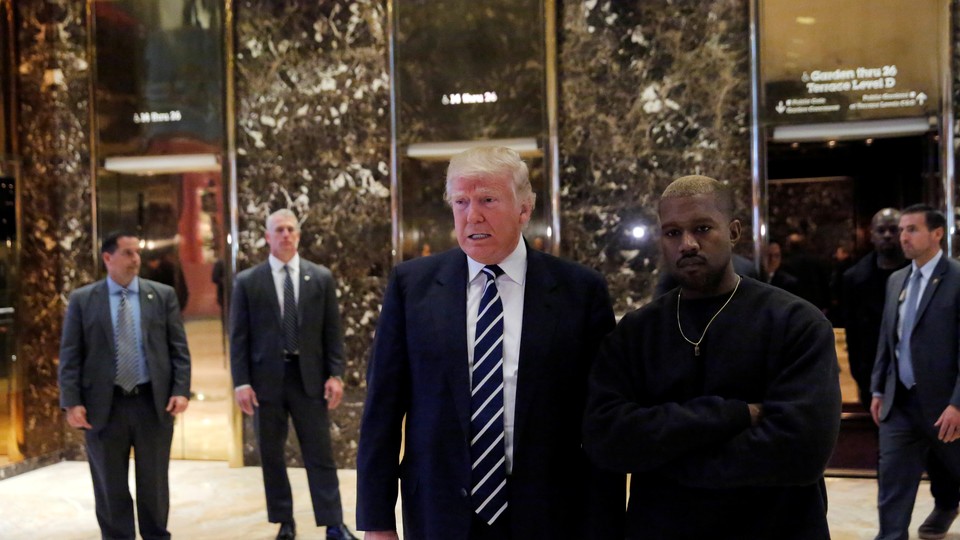 Kanye West now holds the rare celebrity distinction of grabbing the attention of three consecutive presidents. George W. Bush said that West created the worst moment of his presidency when the rapper accused him of not caring about black people. Barack Obama called West a jackass because West had done some things that were pretty jackass-y.
And now Donald Trump has deemed West a good man and a friend, hugging him when West visited the Trump Tower this morning. West later said on Twitter that the two had discussed "multicultural issues," such as "bullying, supporting teachers, modernizing curriculums, and violence in Chicago" and that "it is important to have a direct line of communication with our future President if we truly want change." He added, ominously, "#2024." The media frenzy around his visit, for now, has taken attention away from other Trump doings.
For a lot of West fans, it's another crisis in a year of them. The rapper once railed against American capitalists exploiting black people and ignoring their well-being. Now he's palling around with a man who—to name just one of the many sources of cognitive dissonance today—may boost the private prison system West has denounced. The caveats: For a while now, enjoying West's music has often required separating art from artist; with this being his first major public appearance since being hospitalized for psychiatric observation in November, West's motives may be more tangled than ever; West has said he would have voted for Trump had he voted, but he donated to Hillary Clinton's campaign; and visiting the president-elect can be a chance to lobby him on topics you disagree about, as Al Gore presumably did when he met with Trump recently.
But even with all of that stipulated, there's a feeling of inevitability around this morning's photos of West and Trump in a golden lobby. Trump is, on some level, very much West's kind of guy. The reason why that is goes beyond the superficial reading that Trump is an ostentatious rich man and West is a leader in the hip-hop world where ostentatious rich maleness is especially coveted (prior to trashing Jay Z during the campaign, Trump had a decades-long relationship with rap). Rather, Trump's rhetoric and actions suggest a worldview in line with West's, one in which talent is supposed to work like a magic talisman, removing all obstacles to exerting control.
The typical gist of the long speeches that West gives at concerts, or of the occasional interviews he gives, is that (1) Kanye is very good at whatever he does, and therefore (2) the world should let Kanye do whatever he wants. Hermes should have him as creative director. Mark Zuckerberg oughta collaborate with—and fund—him. Educators should let him design their curricula. And America should, whether in 2020 or 2024, elect him president. When he hears a spoken or implied "no"—as he has from, say, Nike—the speaker becomes a target of his ire. So naturally, the institution from which he hears the most naysaying, the media, is Kanye enemy No. 1.
Trump seems to approach the world in much the same way. His "I alone can fix it" pitch is near exactly the one that West goes around making. He is accused of authoritarian tendencies in part because he casually proposes policies that would fall outside of the Constitution's constraints. And he rails against the media constantly. Trump's allure, to hear West explain it, as he did on-stage last month, is not in the views he holds but rather in the way that he has unlocked power—his "nonpolitical methods to speaking" that are "very futuristic." West believes Trump to have circumvented the traditional gatekeepers keeping a check on his ability to execute his vision—and really, who can argue?
In the same speech where he said he'd have voted for Trump—shortly after which he canceled the rest of his tour and checked into the hospital—he expressed hope that political celebrities of all parties could come together. "There's things that Benjamin Carson believes in that I believe in," he said. "I think that Benjamin Carson should still be a consultant. I think that Hillary Clinton should still be a consultant. I think that Bill Clinton should still be a consultant. Like Obama said, I think Obama should still be a consultant." It wasn't the first time he expressed a vision of a world governed by neither principles nor professionals, only famous people. Maybe that's one of the things he and Trump talked about.