Is O.J.: Made in America a TV Show or a Movie?
The documentary, now tipped to win an Oscar, is an example of the increasingly blurred line between the two mediums.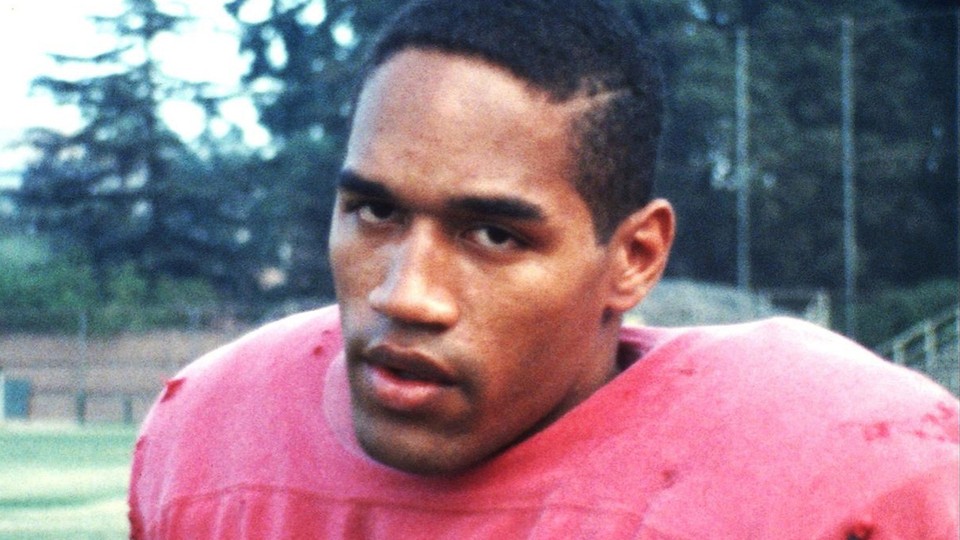 Ezra Edelman's epic documentary O.J.: Made in America premiered at the Sundance Film Festival this year before screening at the Tribeca Film Festival and then playing in theaters in New York and Los Angeles in May. One of the most critically praised works of the year, it made the Oscar documentary shortlist and is hotly tipped to win an Academy Award come 2017. Echoing the general acclaim, Made in America is cropping up on many end-of-year film lists, including at the New York Times.
Yet, there are many critics who insist that it shouldn't be called a movie, for understandable reasons. Made in America was created for ESPN's long-running 30 for 30 TV series, an anthology of sports documentaries, and its eight-hour running time is certainly more easily ingested in five parts, as it was broadcast on television in June. It may well collect some Emmys to go with its potential Oscar, prompting some heated discussion online.
So, which is it: a television show, or a movie? The most accurate answer, of course, is that it's both—and Made in America is the latest evidence for an increasingly blurred line between the two mediums. (In the American Film Institute's "Best of 2016" selections, it was, tellingly, given a "special award" rather than being included on the film or TV lists.) Which leads to other pressing questions: In a media landscape in which most films can be quickly enjoyed on the small screen at home, what even defines a cinematic experience, and should Oscar voters care about these distinctions?
The vast majority of people who watched Made in America saw it on TV or streamed it online (it was available on ESPN.com to cable subscribers after its broadcast). Its box-office results were so negligible that it didn't even register on movie charts, while its TV ratings were very healthy for a documentary, debuting at 3.4 million viewers on a slow Saturday night for ABC. But that alone isn't enough to categorize Edelman's work as television: Making a limited run in theaters and then quickly debuting on-demand for at-home viewers is the distribution model for most independent films at this point. Some of Netflix's original films, like Beasts of No Nation, are given brief theatrical runs just to qualify them for the Academy Awards, but the only audience the network cares about is at home.
Still, it might seem unfair that Made in America can count as movie, because its length allows it to dive expansively into the fascinating details of O.J. Simpson's life. Unlike the other acclaimed documentaries that made the Oscar shortlist, like I Am Not Your Negro or Weiner, it doesn't have to worry about compressing its running time to keep the audience's attention. And, despite Made in America's often gruesome subject matter, its five parts are undeniably watchable, and easily consumed in a single day.
In the end, why penalize the film for being so long when it actually justifies its length? Made in America is dazzling in how it zooms out beyond the murder trial that defined its subject. It takes in Simpson's starry history as a young athlete and his bizarre behavior after being acquitted, grounding his life story in the country's halting progress on civil rights and the shifting cultural perceptions of black men through the decades. Made in America does feel like a special achievement, unique enough to deserve discussion alongside the year's best movies and television.
Concerns about crumbling divisions between the two mediums aren't unreasonable. Could a miniseries like The Night Of, made with cinematic crackle and grace, count as a movie? After all, acclaimed works like True Detective's first season tell a complete story, broken up into episodic chunks. But they also adhere more firmly to a storytelling style that's been laid out over decades and perfected in television. Made in America is a somewhat special case, as many documentaries are, blending an episodic structure with the more epic scope of filmmaking.
It's easy to understand the notion that Made in America is making an "end run," as it were, by using that brief theatrical release to qualify for the Oscars. The rules for Academy eligibility can be obscure and are often taken on a case-by-case basis. The Oscars have shut out great films that deserved nominations in the past, like Mike Hodges' neo-noir Croupier, disqualified in 1999 because it had aired on Dutch TV. After winning the Palme D'Or, Michael Moore's memorable piece of agit-prop, Fahrenheit 9/11, was ineligible for an Oscar in 2004, because Moore made it available on pay-per-view ahead of that year's presidential elections.
It's easy to detect a hint of snobbery in the idea that Made in America is "merely" television, as if that designation somehow makes it more inferior. The writer Mark Harris noted the "implicit disdain" of some film critics for the TV medium permeating the debate, saying on Twitter, "It's exposed some odd, dated, condescending nonsense about what people who write about (or make) movies think calling something TV means." As "prestige" television has surged in relevance, these critical divisions have begun to melt away, but some resentment still lingers. Or, as the New York Times's James Poniewozik suggested, perhaps it's simply defensiveness over the recent rise of television, which has paralleled a slow decline in cinema ticket sales.
Whatever the reason, there's no point in resisting Made in America's well-deserved ascendency, whatever the wider implications for the entertainment industry. People are watching TV shows in cinemas now, and great films on their televisions. The medium is, in many ways, becoming less important than the art, and in the case of Made in America, the art is transcendent.