Helen Marten's Intricate Sculptures Win the Turner Prize
The 31-year-old artist's installations create order from the detritus of modern life.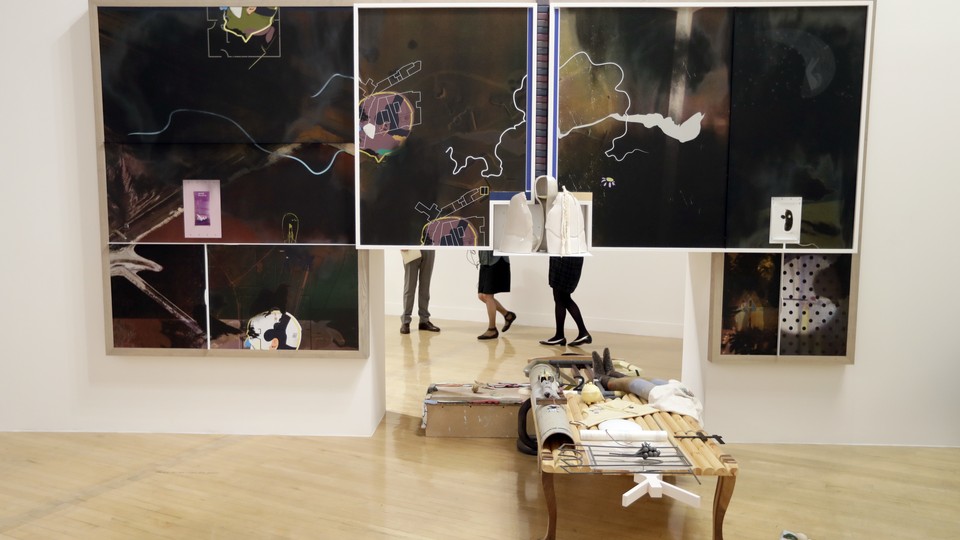 Of the four artists shortlisted for this year's Turner Prize, it's Helen Marten whose work feels the most representative of the current moment. Her sculptures create swooping, almost rhythmic structures out of seemingly disconnected objects—suitcases, cotton buds, eggshells, coffee cups—that encapsulate the ephemera of modern life. At first glance it seems haphazard, but Marten's intention is to create order from disorder: to piece together disconnected fragments into a more intelligible narrative.
It's this archeological approach to documenting an often-bewildering reality that presumably enthralled the judges of this year's Turner Prize, bestowed each year by Britain's Tate Gallery upon a modern artist under the age of 50. The director of Tate Britain, Alex Farquharson, compared Marten to a poet, praising "the complexity of the work, its amazing formal qualities, its disparate materials and techniques, and also how it relates to the world." Her sculptures, he said, reflect the rapid, sometimes manic, condition of the world, "especially under the influence of the internet."
It's been a banner year for the 31-year-old sculptor from Macclesfield, England, who also won the Hepworth Prize for Sculpture in November. With that award, as with the Turner Prize, Marten pledged to share the prize money with the other finalists. "I feel frankly a little embarrassed about it all," she told The Guardian last month. Those nominated artists include Anthea Hamilton, whose whimsical, room-sized "doorway" crafted from a pair of vast, golden buttocks commanded much of the attention bestowed upon the Turner this year. The other two finalists were Michael Dean, who crafted an installation out of £20,436 in pennies, in a nod to the official poverty line for a family of four in Britain, and Josephine Pryde, whose train-themed work "A fun ride to nowhere" was interpreted by some critics as a symbol of Britain's stalled progress following its Brexit vote this summer.
The Turner Prize, Britain's most prestigious award for contemporary visual art, was founded in 1984, and gained a reputation in the 1990s and 2000s for exhibiting conceptual, flashy, and often-divisive works such as Damien Hirst's "Mother and Child, Divided," which featured cow carcasses preserved in formaldehyde, and Fiona Banner's "Arsewoman in Wonderland," a vivid written description of a pornographic scene.* Its past winners include some of Britain's most esteemed contemporary artists, including Howard Hodgkin, Antony Gormley, Rachel Whiteread, Anish Kapoor, and Steve McQueen, who went on to direct the 2013 Academy Award-winning movie 12 Years a Slave.
This year, it was Marten whose work resonated the most. In the midst of a global debate about the dangers to democracy posed by a barrage of false information, her sculptures seem to recreate the swirling confusion and messy abundance of contemporary life, while hinting that order is yet to be found, lingering just beneath the surface.
---
*This article originally stated that Damien Hirst's "Mother and Child, Divided" featured shark carcasses. We regret the error.