The Hamilton Mixtape, a Love Letter to a Love Story
Turning the hit musical into a pop album highlights the romance of Lin-Manuel Miranda's songs.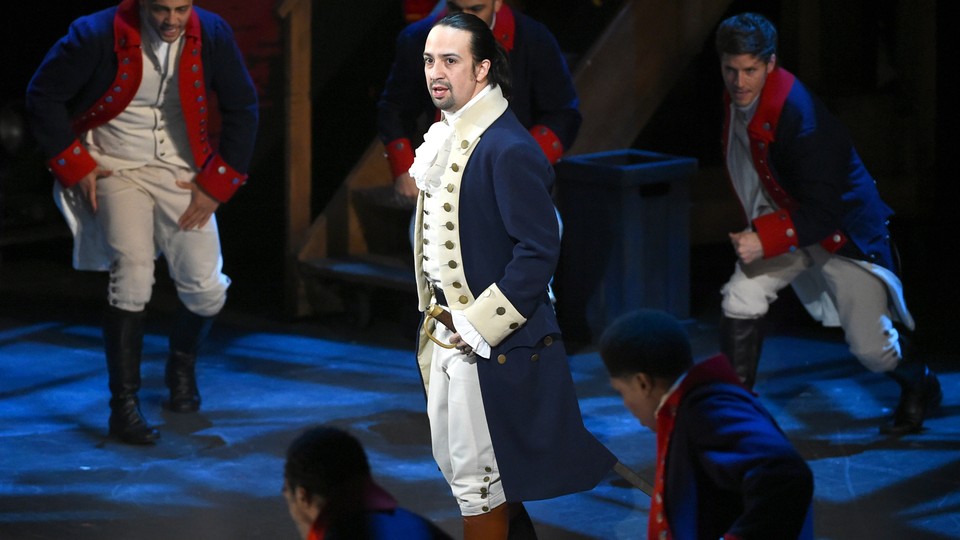 Hamilton is likely destined to carry the word "influential" around with it for a long time—after all, it's already influencing the 45th president. The Hamilton Mixtape, an official new album largely composed of Hamilton's showtunes reinterpreted by pop and rap stars, underscores the remarkable scope of that influence. Contemporary American idols like Kelly Clarkson, Nas, Jimmy Fallon, Usher, John Legend, and Common have each now recorded loving tributes to Lin-Manuel Miranda's loving tribute to the original American idols.
But The Hamilton Mixtape—an exuberant, taste-scrambling medley that swings between grinworthy and cringeworthy—also underlines how much of Hamilton's novelty came from Miranda himself being influenced by pop culture. He cribbed from the flows of Nas, Busta Rhymes, and Queen Latifah; now they show up for him like proud parents. Most fascinating is the case of the standout ballad "Helpless," which Miranda apparently modeled after Ja Rule/Ashanti hits of the early aughts. The Mixtape sees those two delivering an irresistible, lackadaisical take on the song, an inversion that reveals Miranda's knack for reference: All along, the number about Alexander Hamilton's young courtship subtly reminded certain listeners of their own young courtships—or at least of MTV images of carnival flirting.
The great revelation of The Hamilton Mixtape, in fact, is in how much it makes the musical sound like a love story. It's of course a cliché by now to say that Hamilton injected messy humanity into the Founding Fathers myth, a cliché that the rapper Black Thought reprises cleverly in the Mixtape's intro, "No John Trumbull." Still, a lot of the commentary about the Hamilton phenomenon has focused on historical accuracy, bootstraps narrative, diverse casting, or political resonance. Turning Hamilton into a pop album, unsurprisingly, recenters the visceral qualities that made the thing successful in the first place: the ooey-gooey melodies and the lovey-dovey relationships. Rather than serving up the play's gloriously overstuffed exposition anthems—"Alexander Hamilton," "Aaron Burr, Sir," "Yorktown (The World Turned Upside Down)," "Non-Stop"—the mixtape is anchored by tunes about husbands and wives, parents and kids, and deep personal yearning for improvement.
While few tracks match the cast album in emotional impact, many do shift emphases in refreshing ways, confirming these songs' potential to live outside of a narrative. Usher's "Wait for It" is breathier, hammier, smoother, and more radio-ready than the original. The father/daughter address "Dear Theodosia" shows up twice, first with Regina Spektor and Ben Folds tweeing it up (meh) and later with Chance the Rapper's cracked falsetto turning it into a wrenching lullaby (prepare yourself). The internet has already used up its crying gifs for Kelly Clarkson's bombastic version of the mournful "It's Quiet Uptown." Even bigger—though worse—is "Satisfied," which despite distinctive performances by Sia and Queen Latifah has become the lurching Frankenstein monster its deft stage version was so miraculous for never becoming.
In the cast recording, the big romance-related twist of Hamilton's life—America's first political sex scandal—feels a bit like an extra puzzle piece thrown into the box. Here, though, it gets deeper treatment, providing a fuller glimpse into what the episode illuminated about Hamilton's character and times. Jill Scott turns "Say No to This" to "Say Yes to This," purring and cooing with panache as she imagines the mistress's perspective. The rapper Dessa delivers "Congratulations," a blistering diss track from Hamilton's sister-in-law that was cut in the jump from Off-Broadway to Broadway. And Andra Day inflates the betrayal ballad "Burn" with a very current kind of nu-soul angst; you can imagine it fitting in on a dystopian YA movie's soundtrack.
Even the songs that seem more political come with heavy doses of the personal. "My Shot" is retrofitted into rap-rock with all-new verses from a clutch of emcees, the first of whom, Black Thought, makes explicit how Hamilton's childhood obstacles recall the black-youth experience today. "Immigrants (We Get the Job Done)" remixes the most iconic bit of the play's dialogue into a pan-global crew anthem that gets across how immigration isn't an abstract concept but one involving vibrant individuals, cuisines, cultures, and talents. For "Write My Way Out," another new track, Miranda raps a verse about how childhood misfit anxiety has motivated his entire life. All of these songs suggest that the deeper, embedded romance of Hamilton and maybe even hip-hop in general is between people and their own sense of potential.
Sprinkled throughout the album are also demos for tracks than never made it onstage. The most intriguing of these is "Cabinet Battle 3," in which Hamilton and George Washington's advisers tartly debate a proposal to end slavery. The fact that Miranda wrote it and has now released it helps address criticism that Hamilton doesn't reckon with the deepest failings of the Founding Fathers (though the fact that the outcome of the battle was to simply punt emancipation to another generation probably explains why the scene didn't make the cut). In another song sketch, Miranda describes the horrifying struggle of Valley Forge; some of the details did end up in the musical, but over a far more rambunctious arrangement than Miranda originally had planned.
The wisdom of omitting those virtuous-bummer moments can now be debated, but obviously it make sense from a show-biz perspective: uplift sells. Yet The Hamilton Mixtape also shows how Hamilton's feel-good giddiness isn't just a mood, it's a theme: For all of the story's tragic dimensions, Miranda's creation is about love connecting people, connecting cultures, and connecting eras.