Hairspray's Revealing Portrayal of Racism in America
The 1988 John Waters film, newly adapted into an NBC live musical, presents a view of racial discrimination that's by turns naïve and enlightening.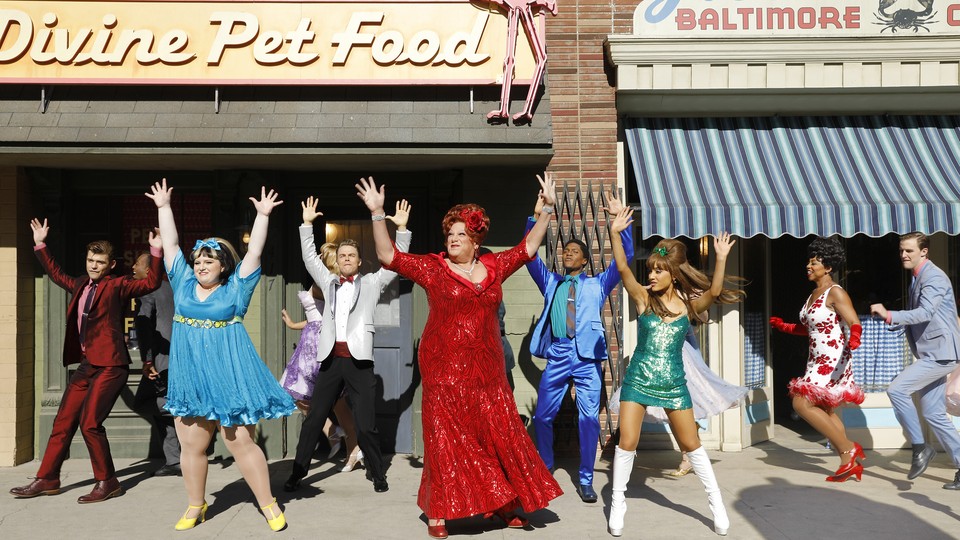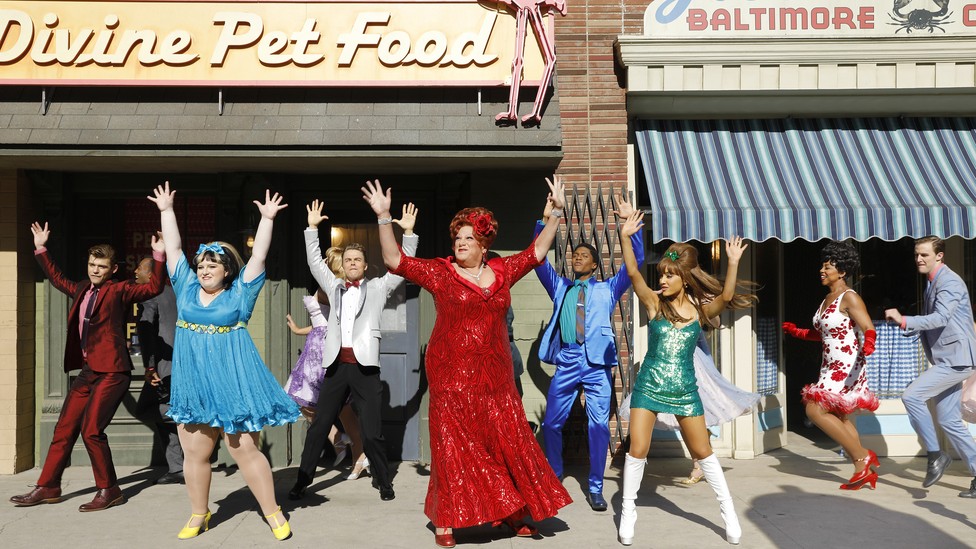 In December 1963, producers at Baltimore's WJZ-TV cancelled the Buddy Deane Show rather than integrate the popular teen dance program. This move would have been a footnote in the annals of television if not for the director and Baltimore native John Waters, whose 1988 film Hairspray offered up an alternate history, with its fictional Corny Collins Show and rose-tinted, let's-all-dance-together ending. Hairspray, which started as a camp film with a modest $2.7 million budget, grew into a popular and commercially successful Broadway musical and movie. On Wednesday, NBC is broadcasting Hairspray Live! as its newest live-television musical adaptation.
Hairspray is firmly rooted in 1960s America, but it offers both sophisticated and (tellingly) simplistic ways of understanding racism today. On the one hand, the story's feel-good conclusion implies that colorblindness is the silver bullet that ends racial discrimination, that good intentions and individual acts of bravery are enough to bring about harmony. On the other, Hairspray Live! has the chance to resurface a forgotten history of how discrimination in pop culture intimately shaped the lives of young people 50 years ago.
From 1957 to 1963, only white teens were allowed to attend the weekday broadcasts of the Buddy Deane Show, with the exception of one Monday each month when black teenagers filled the studio (the so-called "Black Monday"). In 1963, the Civic Interest Group, an student integrationist group founded at Morgan State University, challenged this policy by obtaining tickets for black and white teens to attend the show on a day reserved for black teenagers. After a surprise interracial broadcast, WJZ-TV received bomb and arson threats, hate mail, and complaints from white parents. Facing controversy over the possibility of more integrated broadcasts, the station canceled the program.
A devoted fan of the Buddy Deane Show, Waters drew on this history to write and direct the original film version of Hairspray. Unlike the tensions that followed the real integration of the Buddy Deane Show, Waters's Hairspray ends with the protesters triumphing. The television news reporter covering the Corny Collins Show in the film sums up the climactic scene: "You're seeing history being made today. Black and white together on local TV. The Corny Collins Show is now integrated!" Waters himself commented on the film's revisionist history, "I gave it a happy ending that it didn't have."
Hairspray's happy ending gave the story an arc that appealed to Broadway and Hollywood producers. NBC's Hairspray Live! maintains the basic of Waters's story, but like the Broadway version and musical film, it features more than a dozen songs that help to convey the hopeful narrative. "You Can't Stop the Beat," for example, is an upbeat dance number that resolves the issue of segregation on the Corny Collins Show. "What's great about the choreography in ["You Can't Stop the Beat"] is that, subtly, the black dancers and the white dancers have the same choreography," the executive producer Neil Meron said in the DVD commentary for the 2007 film. "All the choreography in the movie prior to this was segregated by race, and now it's all together, which is a very, very subtle reference to the theme of this movie."
This sentiment carries through to the song's lyrics. Motormouth Maybelle, a fictional black deejay and civil-rights activist played in the NBC version by Jennifer Hudson, sings: "You can't stop today as it comes speeding down the track / Child, yesterday is history and it's never coming back / 'Cause tomorrow is a brand new day and it don't know white from black." In the film's narrative, this utopian vision of a colorblind future solves the problem of segregation and racial injustice.
The Hairspray Live! producers hope this story of interracial unity will be appealing to television audiences in 2016. "People already were excited about it, but after the election they were saying, 'Boy, do we need this now,'" Meron said while promoting the new television musical.  With the nation in a "divisive place," he argued, viewers are looking for entertainment "that can be really healing." The New York Times critic Michiko Kakutani saw a similar dynamic at play when Hairspray, the musical, debuting shortly after 9/11, won over fans: "Hollywood and Broadway producers have decided [what] Americans want is nostalgia—the logic being that people in times of trouble will gravitate toward comfort entertainment that reminds them of simpler, happier times [such as] … the candy-colored Broadway musical Hairspray.'"
Hairspray's history of race in America suggests that racism is an issue of attitudes rather than of policies. In its version of 1960s Baltimore, teenagers sing and dance their way past race. The story also locates racial prejudice in a single character, Velma Von Tussle (played in the live musical by Kristin Chenoweth), which enables the other white characters to remain largely innocent bystanders to the discrimination faced by the program's black teenagers. It suggests a way of understanding race that allows viewers to disavow bigotry—framed in the story as the belief that white and black Americans should live in separate spheres—without acknowledging, confronting, or seeking to overturn the actual structures of discrimination. This sort of nearsighted, if not disingenuous, framing persists today, whether in affluent parents in New York City insisting their opposition to school rezoning proposals is not about race, or in arguments suggesting that the best way to address racism is to stop accusing people of being "racists."
Still, as an historian of the television era that Hairspray so lovingly recreates, I believe the story also presents a more nuanced vision of how popular culture helped to educate white and black teenagers about racial hierarchies. Seeing Hairspray as more than simply a post-racial American fantasy requires taking the story's teen dance show setting seriously. In his "Letter from a Birmingham Jail," Martin Luther King, Jr. spoke to what it meant for young black people to be excluded from entertainment spaces like the Buddy Deane Show. In a long list of reasons why "we find it difficult to wait" for freedom, King writes:
When you suddenly find your tongue twisted and your speech stammering as you seek to explain to your six year old daughter why she can't go to the public amusement park that has just been advertised on television, and see tears welling up in her eyes when she is told that Funtown is closed to colored children, and see ominous clouds of inferiority beginning to form in her little mental sky … then you will understand why we find it difficult to wait.
King's mention of "Funtown" is preceded by references to lynch mobs, police brutality, and the "airtight cage of poverty," and followed by references to hotel segregation and racial slurs. The "Funtown" reference is powerful because it captures one of the ways that Jim Crow segregation and white supremacy played out for children and teenagers. For many young people, being blocked from swimming pools, skating rinks, or dance shows like the Buddy Deane Show would be one of their first exposures to what King calls the feeling of "forever fighting a degenerating sense of 'nobodiness.'"
The Buddy Deane Show was a highly visible regional program that asserted a racially segregated public culture. And it was not unique: Dick Reid's Record Hop in Charleston, West Virginia; Ginny Pace's Saturday Hop in Houston, Texas; John Dixon's Dixon on Disc in Mobile, Alabama; Bill Sanders's show in Chattanooga, Tennessee; Dewey Phillips's Pop Shop in Memphis, Tennessee; and Chuck Allen's Teen Tempo in Jackson, Mississippi, were all segregated dance shows. In Little Rock, white teens went from protesting integration at Central High School to dancing in the afternoon on Steve's Show. Nationally, American Bandstand blocked black teens from entering the studio during its years in Philadelphia, despite host Dick Clark's claims to the contrary. Every weekday afternoon, in each of these broadcast markets, these shows presented images of exclusively white dancers and rendered black youth as second-class teenagers. This discrimination was explicitly or tacitly supported by an array of advertisers, television stations, music producers, city authorities, and federal communications officials.
By representing this reality—in bubble-gum, technicolor clarity—Hairspray does something that pure documentation, at times, can't: It makes a difficult part of a nation's history accessible (and entertaining) to millions of viewers. Hairspray encourages its audience to take the fight to integrate a teenage TV show seriously, but it does so through songs, dances, and costumes that celebrate and satirize the '60s. The film's executive producer Craig Zadan argued that what makes Hairspray work is, "you never feel like we're on a soap box, or we're preaching to you, or we're saying this is a lesson you need to learn ... and yet, hopefully, you come away from it with something serious to talk about afterwards." There is no guarantee that viewers will take up these discussions, but Hairspray offers plenty of material for those who choose to do so.
Perhaps the last thing 2016 needs is a star-studded, light-hearted musical endorsement of colorblindness—though, viewed holistically, Hairspray is more than that. Its fairly neat, commercialized, and revisionist portrayal of 1960s Baltimore sharply contrasts with the current messy, national discussion of identity politics—a disjunction that could prompt new audiences to reevaluate their assumptions about how racism operates. But Hairspray also resonates for at least one of the same reasons it did in the '80s: It shows how seemingly innocent moments in popular culture were also sites of struggle over who was worthy of being a counted as a somebody in America.