Hairspray Live! Was Big, Bland, and Beautiful
NBC's third televised musical event offered goofy charm, a nebulous message of inclusivity, and a handful of spectacular moments.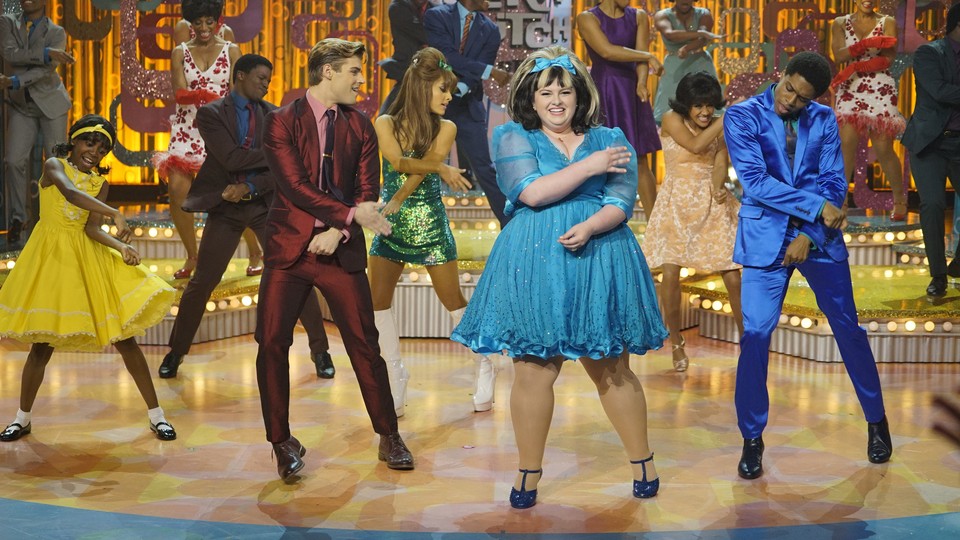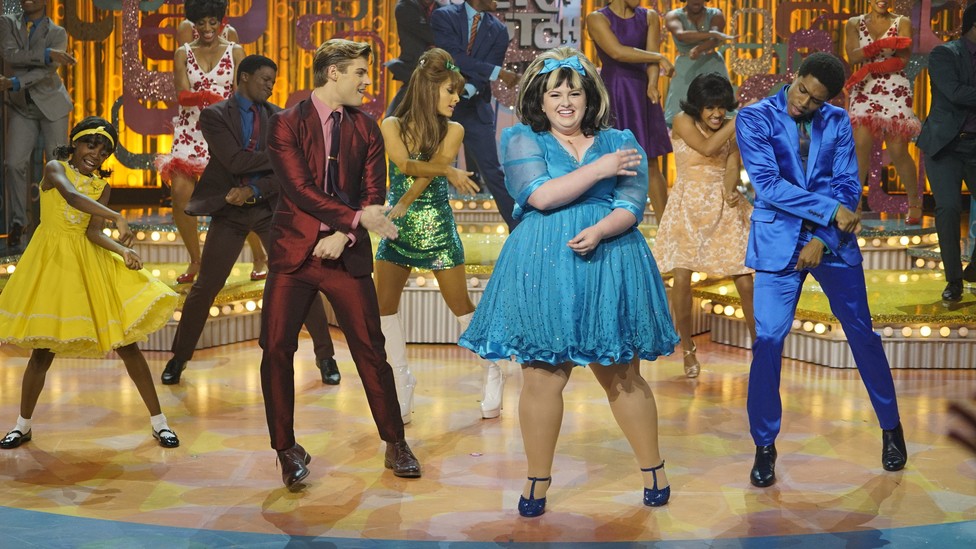 If Hamilton is the musical America needs, Hairspray is the musical it's (barely) earned: a mostly well-intentioned, awkward, goofy, and sometimes glorious celebration of nebulous inclusivity told primarily from the perspective of white people. That's not to say its message can't resonate, especially approaching the end of a year that's been widely compared to a flaming receptacle filled with garbage. NBC's Hairspray Live!, which aired Wednesday night and marked the network's fourth year of staging a fiendishly ambitious live musical event, offered a sense of exuberance and self-acceptance that felt welcome, aided by spectacular performances from Jennifer Hudson as Motormouth Maybelle and the Hamilton alum Ephraim Sykes as her son, Seaweed.
Hairspray the musical was born in 2002, adapted by Marc Shaiman from the 1988 John Waters movie about an overweight teenager (Ricki Lake) in '60s Baltimore who pursues her dual dreams of dancing on a TV show and ending segregation. The show's inaugural Broadway production became a surprise hit, winning eight Tony Awards and spawning a movie version in 2007 that took more than $200 million at the box office. In 2016, the musical feels both of its time and out of it: Its broad message of unity and tolerance seems newly relevant, but its blandly optimistic treatment of racism comes across as anachronistic. To contemporary audiences, some of the script's quips ("This is America, darling, where everyone deserves a separate but equal chance to fail") might provoke more winces than smiles.
Hairspray Live!'s answer to any tonal issues was to amp up the exuberance, smothering any potential naysayers with a barrage of high kicks, high bouffants, and high Cs. Surprisingly, it worked. The newcomer Maddie Baillio, pulled from open auditions to play the show's heroine Tracy Turnblad, opened the show with an unfailingly cheery "Good Morning Baltimore," grinning and sashaying her way to school past the neighborhood flasher, some stray vermin, and a fleet of dancing teens. Sound issues couldn't lessen Baillio's committed joy, nor could a segue into Derek Hough's pitch-perfect intro as the eponymous presenter of The Corny Collins Show.
From the beginning, Hairspray Live! preached a message of nonconformity while doggedly following precedent. In the opening Baltimore street set, the production nodded to the glorious weirdness of John Waters, adorning a storefront called Divine's Pet Food with neon pink flamingoes. The show also cast Harvey Fierstein as Edna Turnblad, Tracy's mother, the role the drag queen Divine played in 1988. Fierstein, who played Edna on Broadway and wrote the script for Hairspray Live!, played Edna as enchanting and a tad grotesque, with a voice that fell somewhere between a purr and a growl. He was well-met by Martin Short as Wilbur Turnblad, offering a cheerful, toned-down foil to Fierstein's extravagantly physical performance.
TV musical tradition dictates that a popular musician has to be featured, putting their talents in unflattering perspective next to a cast of Broadway professionals who can sing, dance, and act. This time it was Ariana Grande—following in the footsteps of Carrie Underwood, Ne-Yo, and Carly Rae Jepsen—playing Penny Pingleton, Tracy's best friend, a dim bulb whose defining moment is falling in love with Seaweed (Sykes). Although Grande has a background in live theater, the role wasn't the best showcase for her skills. Many of her one-liners disappeared into the ether, and her singing was mostly limited to a standout number shared with Hudson at the end of the show, "Come So Far (Got So Far to Go)."
As the production shimmied its way through a series of shiny happy songs (Corny's "Ladies' Choice," Tracy's puppy-eyed "I Can Hear the Bells"), it had enthusiasm in spades but mostly lacked soul. Seaweed's "Run and Tell That," though, performed in the high-school gym as an ode to pride and a takedown of marginalization, woke the show up. Sykes's dancing was sensuous rather than sprightly, and his stage presence amped up the energy. It led into Hudson's "Big, Blonde, and Beautiful," an extraordinary display of vocal power and charisma that put the show's previously earnest messages of unity to shame.
Hairspray Live! cribbed broadly from the model Fox set with Grease: Live back in January, which reanimated the televised musical event by filming it on a vast soundstage in front of crowds of amped-up fans. Hairspray even took Grease's director, Alex Rudzinski, pairing the live-TV veteran with Kenny Leon, the Tony-winning director of A Raisin in the Sun and NBC's acclaimed 2015 show The Wiz Live!. The result was a musical that, minus a few production flubs, allowed the cast to feed off audience zeal while using the televised format to its advantage, allowing extra intimacy and realism in some of the more moving spoken scenes. The only obvious fail involved inexplicable ad-break cuts to Darren Criss, the evening's "host," who spouted inanities to pad out scene transitions while serving as a hype man for the already over-hyped audience.
With Hairspray Live!, NBC seems largely to have figured out the format for its new holiday tradition. If The Sound of Music Live! was unconscionably awkward, and Peter Pan Live! felt bad by design, the soundstage/live audience hybrid approach gave Hairspray a sense of theatricality and dazzle that patched over some of its weaker moments. And although the show's tackling of racial prejudice felt clumsy at times, its strongest performers were more than capable of compensating. Hudson, her hair almost as big as her voice, resplendent in a gold lamé jumpsuit, made "I Know Where I've Been" truly awe-inspiring. "There's a dream in the future," she sang, "there's a struggle, that we have yet to win." That remains true, and no one's saying TV musicals are the answer. But in staying relentlessly upbeat and allowing its stars to shine, Hairspray Live! offered a reminder that onstage, love always triumphs in one way or another.