The Culture Wars in the Grammy Album Nominations
A primer on Beyoncé vs. Adele vs. Drake vs. Bieber vs. Sturgill Simpson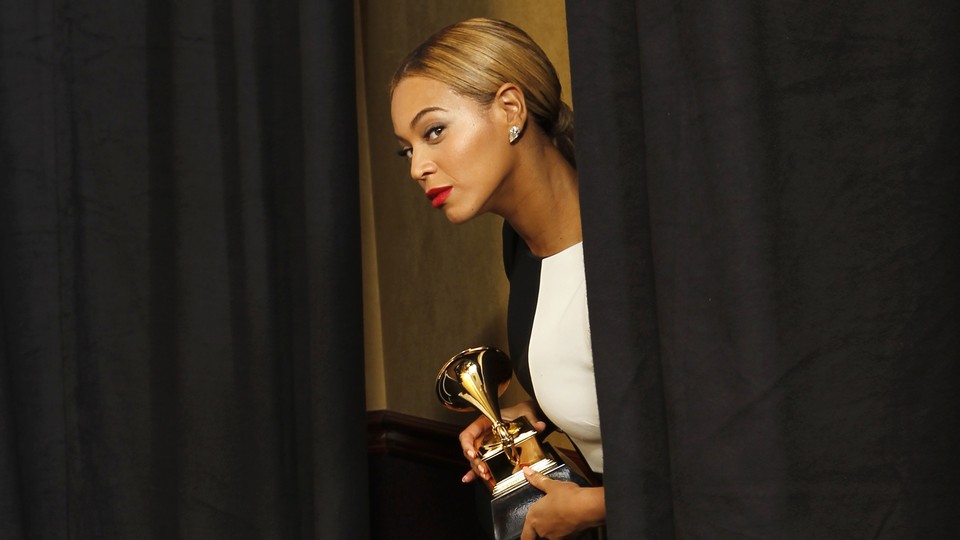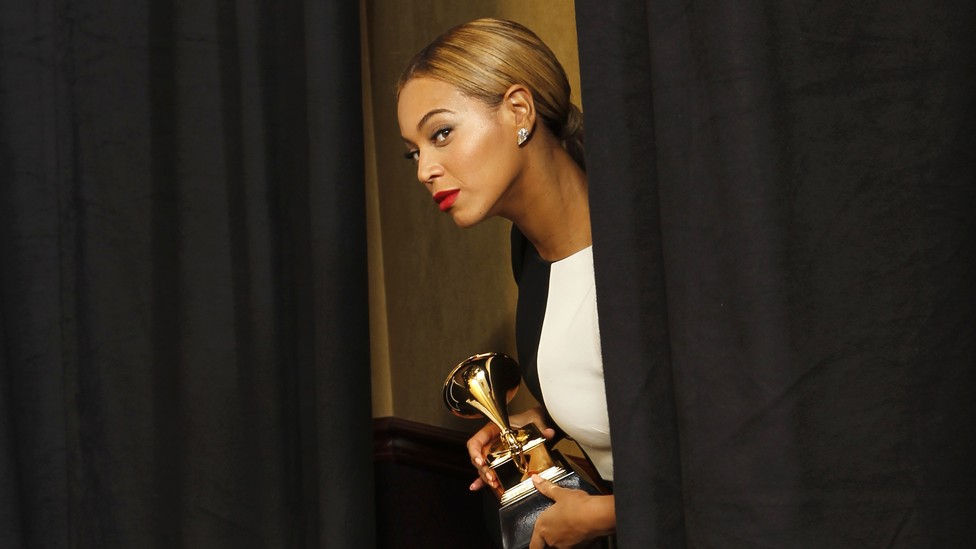 The Grammy nominations will not, alas, fix America's divisions. Music is more tribalistic, more identity-entangled, than any other popular art form, and so the notion of everyone agreeing on the "best" song or album perpetually seems like a bland fantasy. It's more interesting to think of the Grammys as a clash between values and allegiances—a familiar sort of clash these days.
The most zeitgeist-trolling category is Album of the Year because it draws from all genres and carries with it some trickier criteria than "is this song good?" This time, the contenders are Adele's 25, Beyoncé's Lemonade, Drake's Views, Justin Bieber's Purpose, and Sturgill Simpson's A Sailor's Guide to Earth. Of these, the topline face-off is between Adele and Beyoncé, mega-famous pop divas who in the past year came to sharpen the distinctions between themselves—and between the different kinds of ambitions that can shape culture.
Adele has doubled down on her broadly appealing traditionalism. She was already the closest thing contemporary music has to a unifier, making songs for kids and grandparents, pop obsessives and pop skeptics. Then her single "Hello" acted as a Hollywood blockbuster sequel to her previous smashes, and her stately, safe 25 was released in a manner—physical and download only, no streaming—that signaled its throwback appeal. At the Grammys, this all would seem a route to success, especially given that her previous album, 21, won across all of the general categories in 2012. That 25 in many ways feels like a redux of that album, and that it also made the industry heaps of money, suggests such a sweep could happen again.
Beyoncé by contrast has lately been on a politically charged experimental kick, premiering her eclectic album-slash-art-movie Lemonade on HBO and riling up what's left of the American monoculture via racially conscious performances at the Super Bowl. She was once such a consensus artist that SNL satirized the stigma against criticizing her, but now she's controversial—and even more beloved, among critics and her huge contingent of fans, for it.
This may only heighten the segregated dynamics that have historically affected her (and many other black artists) on Grammy night. She is the most nominated woman in the award show's history, but of her 20 wins, only one was ever in a general-field (rather than, say, pop or R&B) category. Yet her genre-hopping is paying awards dividends in other ways: Her track "Don't Hurt Yourself" has put her on the list of nominees for Best Rock Performance. As strange as it is to say about one of the most famous singers in the world, a win for Lemonade would signal a more daring and politically conscious sensibility than the Academy is usually associated with. It would also keep Kanye West off the stage.
As for a Drake win? It could also signal an embrace of an ascendant eclecticism: The globally inflected sound of his album Views dominated conversations in the rap world this year yet also served up a pop crossover moment with the quantitative song-of-the-summer winner "One Dance." But he's facing a strong headwinds in the Grammys historical bias against hip-hop in the general categories. It doesn't help that he's also divisive as a celebrity: Even among many casual fans, it's socially acceptable to call Drake annoying.
There are two curveball nominations, one perhaps a popularity bid and the other a credibility bid. The popular one is Bieber's Purpose. He's a household name but has lacked the adult respectability that typically makes for Grammys success; tellingly, he's received only three nominations before now. But his transition to a more grown-up, cutting-edge sound resulted in his first Grammy win last year and four nominations this year. "Love Yourself," a cleverly written acoustic ballad, would seem to have a real chance in the Song of the Year category where it's nominated. But he's still seen by many as a teen-pop artist with a bad attitude, and it's hard to imagine why a mainstream-minded listener would vote for his album over Adele's or Beyoncé's.
Sturgill Simpson's A Sailor's Guide to the Earth, meanwhile, serves as the reliable (if unexpected) alternative to all of the above. The relatively obscure 38-year-old likely owes his nomination to the fact that his excellent album fills the typical white-guy-with-a-guitar slot while also representing two constituencies: country music and critically acclaimed rock.
But Simpson, an adventuresome songwriter with a booming outlaw-country voice, is often talked about as a purveyor of country music for people who think they're too cool for country music. As such, his nomination doesn't really signal to mainstream Nashville listeners that their tastes are reflected in the Grammys general categories (though the Best New Artist nominations feature two new country contenders, Kelsea Ballerini and Maren Morris). His nod is also not much of consolation prize for rock fans sad to see David Bowie's Blackstar or Radiohead's A Moon Shaped Pool snubbed in the general categories. Still, Simpson's got a constituency that may hold a certain amount of sway at the Grammys: When the nominations were announced this morning on CBS, Charlie Rose said he was a huge fan.