The Re-Flowering: Charles Lloyd's Second Golden Age
The jazz saxophonist went from 1960s pop stardom to years of self-imposed exile, but he's now producing some of the best music of his career.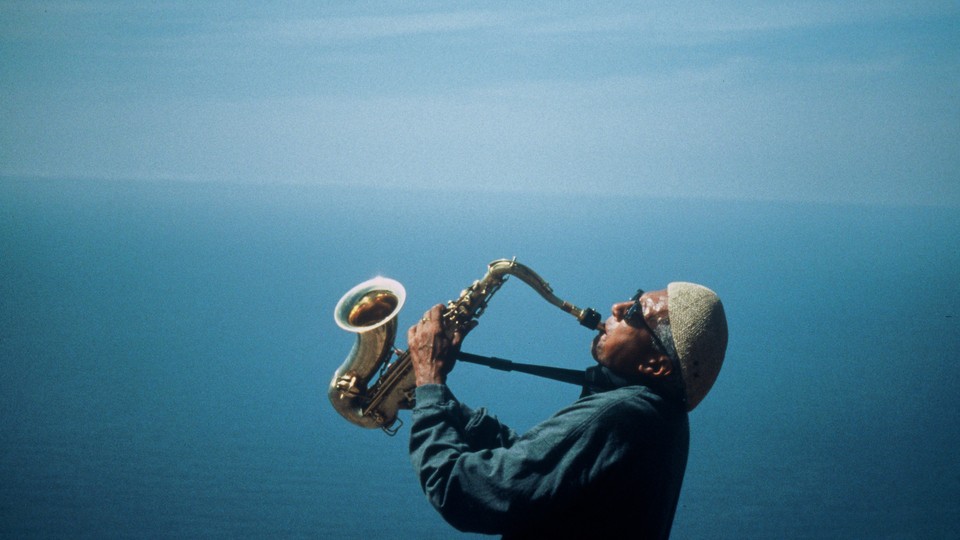 When Charles Lloyd was 22, he quit a stable job teaching school in Los Angeles, dropped out of graduate school, and came to New York to try to make it as a working musician. Lloyd sometimes went to see the tenor saxophonist Coleman Hawkins playing at the Village Vanguard, which was then, as now, the center of the jazz world. After a set, Lloyd could make his way through the dimly lit halls of the club, past the men's room, to the dressing room, where Hawkins would be sitting and sipping scotch. The younger musician viewed the older man as a guru, a deity.
But Hawkins was an ailing god. Though he was barely in his mid-fifties then, Hawk's salad days—his glorious tenure with Fletcher Henderson, his epochal recording of "Body and Soul"—were past him. Within a few years, he would be dead at 64, a casualty of too many scotches. Hawkins sounded beautiful but looked rough.
"I said to myself, this is a young man's music," Lloyd recalled. "I said, I hope that I won't have a saxophone in my mouth when I get that age."
When Lloyd told me this story this spring, he did so fully aware of the irony of that earlier statement. Once a young man in a hurry in the jazz world, Lloyd now finds himself an old man with a saxophone still in his mouth. At 78, he has a patience and openness and discipline rare in a human being of any age; he is also, at the moment, in the midst of a quiet late-career renaissance. Earlier this year, he released I Long to See You, a collaboration with younger musicians that is one of 2016's best jazz releases. (Lloyd is touring in support of that record this week and in the spring.) That follows on his equally, but very differently, outstanding 2015 record Wild Man Dance. The first is a restrained, outwardly mellow collection, while the second is a searching, swinging plaintive expedition. Together, they suggest that this music—jazz, avant-garde, whatever you call it—is very much an old man's game, too.
This is one of many incongruities in Lloyd's life. There was a time when Lloyd was a fiery, sharply dressed young man, hobnobbing with celebrities and sharing stages with the Grateful Dead and the Byrds and indulging in some of the same drugs they did. He sold huge quantities of records but divided critics, some of whom viewed him as a bit flashy. These days, his audience is a fraction of what it was, though it is still, by jazz standards, considerable. But Lloyd has become a critical favorite in the intervening decades. He also seems to have become more content, considered, deliberate.
It wasn't a straightforward journey. Lloyd is happy to tell it, even if his retelling can be as elusive and knotty as the story itself. Some of what he says is perfectly clear, linear storytelling of the finest type, with oft-told anecdotes burnished to a shine. But these vignettes are interspersed with sayings and parables ("truth is one, sages call it by various names," he told me twice), their meanings sometimes obscured. The effect is both soothing and a little disorienting. This is, as it happens, not a bad description of the effect of Lloyd's music, either. A Lloyd group can stretch into free-jazz territory, but his melodies are often as hummable as a pop song.
Lloyd was born and raised in Memphis, which imparted to him a musical omnivorousness and a sense of spirituality. As a boy, he sometimes stayed with his grandparents on a farm in Mississippi, where he heard down-home Delta Blues pickers. In Memphis, his mother owned a large house where she would put up traveling musicians who couldn't stay in the city's segregated hotels, giving young Charles a chance to meet musicians like Duke Ellington and Lionel Hampton.
Lloyd took up the saxophone at 9, and became comfortable playing in a range of styles and genres. The great jazz trumpeter Booker Little was a close childhood friend. Around town, Lloyd backed up bluesmen like Howlin' Wolf and B.B. King. Pianist Phineas Newborn took him under his wing. Phineas's brother Calvin, a guitarist, was giving lessons to an aspiring young singer named Elvis Presley, who would hang out at the Newborn house. Lloyd played in bands that would gig across the river in West Memphis, Arkansas. On Sundays, a country band called the Snearly Ranch Boys played a matinee before the jazz started, and Lloyd became friends with the band's pedal-steel player, Al Vescovo, who later became an ace session man in California.
"The thing about musicians is that growing up in the South, cross-pollination was such that musicians didn't feel those lines of demarcation," Lloyd said. "That's always been something for me, I've always heard the deep spiritual quality in the music, because I was always a spiritual seeker since I was a little kid, and so it just followed my natural course."
That course took Lloyd west to the University of Southern California for studies, and then eventually to New York, where he reconnected with his friend Booker Little. He'd been called to New York to take a spot in drummer Chico Hamilton's band, where he replaced the legendary Eric Dolphy. With Hamilton, he met the Hungarian guitarist Gabor Szabo, who became a close collaborator. In 1964, he jumped to the band led by alto saxophonist Cannonball Adderley. The following year, he went out on his own as a leader, and recorded his classic record Of Course, Of Course. (One of the musicians on that session was the guitarist Robbie Robertson, who at the time was also backing Bob Dylan as a member of the Hawks.)
But Lloyd hit his stride when he formed a quartet with pianist Keith Jarrett, drummer Jack DeJohnette, and bassist Cecil McBee. John Coltrane was an obvious touchstone for the group, though Lloyd's sound was not so raw or effusive; the pairing of Jarrett and DeJohnette created one of jazz's all-time great rhythm duos. (They would reunite first as sidemen with Miles Davis a couple years later; now, they play in a long-running trio with the bassist Gary Peacock.) In 1967, the group traveled to the Soviet Union for a rare performance. "The chances are the Russians will be a little shook up," The New York Times reported. "The Charles Lloyd Quartet roughly qualifies as an avant-garde group. There are other groups that play wilder and more concentrated jazz … but few are as free in their associations."
Regardless of what the Soviets thought, young American fans were delighted. Forest Flower became a best-selling record in 1967, and Lloyd started appearing at rock venues like the Fillmore West on bills with bands like Jimi Hendrix and Cream. Viewed from today, Lloyd's popular success is a little bit puzzling, not because the quality of the music is not high, but precisely because it is so high: How did music this challenging reach such a wide audience?
"There was absolutely no compromise," recalled guitarist Bill Frisell, who as a teenager saw Lloyd play a concert in Denver, backed by Jarrett, drummer Paul Motian, and bassist Ron McClure. "They weren't like trying to—they were just playing music, you know. They were going full force what they believed in."
Critical reception was more mixed. In Harper's, Eric Larrabee praised Lloyd as belonging to the "first rank of jazz musicians now playing," and lamented that his status was higher in Europe—likening him to Herman Melville as an American artist with more honor across the Atlantic than in his own country. But the New York Times critic Martin Williams wasn't so complimentary. "With wildly bushy hair, military jacket, and garishly striped bell bottoms, he looks like a kind of show-biz hippie," Williams wrote. "He usually sounds like a kind of show-biz John Coltrane."
Just as suddenly as Lloyd had risen to the heights of stardom, he disappeared, choosing to go into the wilderness, a period he now refers to as his "exile," though it was a decision he made for his own good. "I got off the bus in '69," he said. "I just realized, the so-called fame or whatever came upon me as a young man—I wasn't prepared for it. I began to medicate myself, because too much was coming at me in my mid-twenties there."
Leaving New York, he first he went to Malibu, where he hung out with the Beach Boys (who appear on his ill-received 1971 release Warm Waters), Bob Dylan, and Peter Fonda. He eventually decamped farther, to Big Sur, living in near-seclusion. He hung out with Cat Stevens. He practiced Bach cello suites alone on saxophone. He swam in the ocean and hiked at night. ("I learned to get my Native American night vision back," he said.) Lloyd never stopped playing music, but he seldom played publicly.
Two things helped to bring him back. The first was the arrival in Big Sur in the early 1980s of Michel Petrucciani, a brilliant young French pianist born with a rare genetic defect that made his bones brittle and kept him very short. Lloyd, impressed, went on tour to help launch Petrucciani, but then returned to the wilderness. Then in 1986, Lloyd nearly died from an intestinal ailment and in the aftermath decided to return to music full time. He made a series of well-regarded records for ECM Records before the venerable Blue Note label signed him, leading to Wild Man Dance and now I Long to See You. His return has brought him critical acclaim and greater recognition. In 2015, Lloyd was named a National Endowment for the Arts Jazz Master, a sort of Nobel Prize for jazz musicians.
The fulcrum of I Long to See You is Lloyd's collaboration with Frisell, who was inspired by seeing Lloyd decades ago. Frisell is a particular kindred spirit; like Lloyd, he is almost jarringly sincere. Both have been drawn to recording folk songs. Both men have a penchant for making music that is so superficially beautiful that it can disguise just how complex, thorny, and challenging it is.
"The first time we played he said, 'I'm looking forward to singing together with you.' That's totally what it is, what it feels like. I can't sing, my guitar is my voice, and it really feels like you're just, hugging each other, something, singing," Frisell said. "He's definitely one of the greatest singers alive today, for sure." (Interestingly, Lloyd noted something very similar: "I wanted to be a singer when I was 3 or 4. I didn't have the voice for it. And then when I was about my 9, my mother finally broke down and got me a saxophone and then I could sing through it.")
Frisell pointed out that Lloyd is content to sometimes barely improvise, sticking to a song's main motif: "He's really playing the melodies... not just getting through it so he can get to some other stuff." But that shouldn't be taken as reductive or simplistic. "This record, it's deceptive," Lloyd said. "It sounds like we're playing some spirituals and some little songs like 'La Llorona.' But what we're really doing is using all the benefits of what has been rich in our lives and what has the been the cumulative benefits living this experience to bring something forth that takes the individuality and transposes it in universality."
I Long to See You includes several traditional tunes and revisits a couple of classic Lloyd compositions. There's a cover of "Masters of War," the Dylan tune that both Frisell and Lloyd have often played over the years, and guest spots by Norah Jones and Willie Nelson—the sort of big-name cameos that might seem gimmicky if not for Lloyd's long history of collaboration and disregard for demarcation.
The instrumentation on the album is noteworthy, too: It's the rare jazz recording to feature pedal steel. The band, dubbed the Marvels, is a mashup of Reuben Rogers and Eric Harland, two of the three members of the rhythm section in Lloyd's current powerhouse quartet, with Frisell and Greg Leisz, a steel guitarist who has played with Frisell for nearly two decades, but is best known as a first-call session man for artists from Beck to Joni Mitchell to Bruce Springsteen. Pedal steel is not otherwise often found in jazz settings ("We invited Greg to come over and sit in because I didn't know what it would be like," Lloyd said), and the sound on the record is unorthodox, hearkening back to Lloyd's friendship with Al Vescovo in Memphis.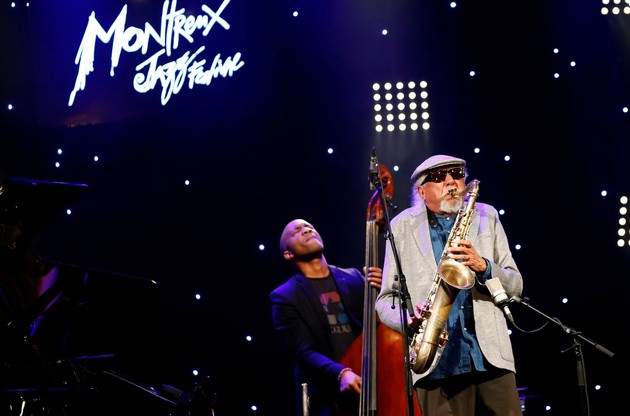 Lloyd's late career resurgence coincides with the rise of Kamasi Washington, another highly touted young tenor saxophonist whose appeal extends beyond traditional jazz audiences. Just as Lloyd played rock venues in the 1960s, Washington appears at festivals like Coachella. Appropriately enough, Lloyd mentioned Washington unprompted when I asked him what he's listening to today. (Other names included Lucinda Williams, the alt-country songwriter who Lloyd notes hails from the same part of the country as him, and Greek singer Maria Farantouri, with whom he has played.) Then he mentioned another, perhaps surprising choice—a musician with whom Washington sometimes appears.
"You know what really moved me? I don't know if you saw that Grammys thing, but Kendrick Lamar—those guys are coming over into our territory! Kamasi was out there with Snoop and those people. I was out there with Dylan and Jimi Hendrix and like that. Each young man does it in his lifetime," Lloyd said. "That blew my mind!" he went on. "He was out there with a message to wake up and to realize the oneness of all this. And yet he had a jazz context."
This musical omnivorousness, and eagerness for new experiences, is one of the traits that has persisted throughout Lloyd's career, from his youth in Memphis through his exile in New York, although it's rarer in musicians his age. Lloyd remains spry and vital, but he has seen many of his close friends and colleagues pass on, and views his own advancing years with equanimity.
"A lot of us come through here, we sing our song, nobody knows us, and we're gone. I have to be prepared for that," he says. But that preparation hasn't bred complacency. "It's like the creator has a carrot dance with me on a stick, and the closer I get he says, 'Not yet, Charles.'" Apparently the creator is holding out for years of more exploration from Charles Lloyd, too.