Barry Is an Obama Biopic for an Uneasy Moment
Vikram Gandhi's film portrays the outgoing president's confused, uncertain college years in New York with surprising insight.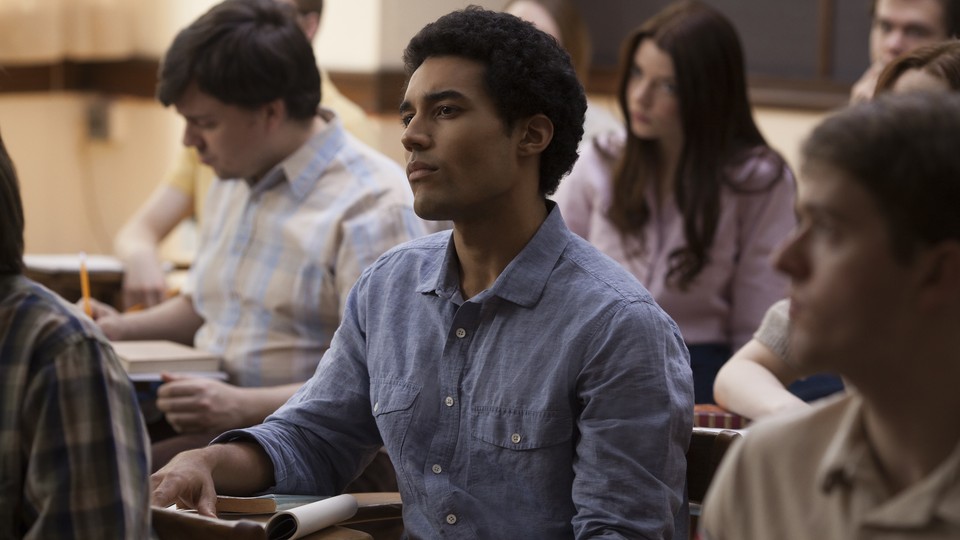 The first of this year's two "Young Barack Obama" biopics, the summery, sweet Southside With You, was a paean to the outgoing U.S. president's optimism and charm, a date movie about him wooing his future wife (and, by extension, the viewing audience). The second entry in this unexpected mini-genre is Barry, debuting Friday on Netflix, and it's a far moodier project about a much less self-assured protagonist. If Southside With You was ideal pre-Election Day viewing for the president's fans, a gentle celebration of Obama's transformative legacy, Barry is a more suitably uneasy film for an uneasy time.
The titular hero of Vikram Gandhi's film still goes by "Barry," one of the many ways the 20-year-old Obama endeavored to fit in as a younger man. A junior who has just transferred to Columbia University, Barry (Devon Terrell) is roiled by his confused sense of racial identity. Adam Mansbach's script tweaks many real-life incidents from Obama's memoir Dreams From My Father to fit into a transformation narrative, so the film portrays a sort of curious nexus point that pushes Barry toward his more assured adulthood. Like Southside With You, the film is sometimes too cute for its own good, but it tries to avoid making too many obvious winks to the camera about Obama's future, instead rooting itself in his uncertainty.
It is 1981, after all, an uncertain time for the still fiscally unstable New York City. Barry, after a childhood in Hawaii and Indonesia and two years at college in Los Angeles, has arrived at Columbia an unsettled, slightly timid, but obviously brilliant student. A debate in a philosophy class ends with a white student sighing and rolling his eyes when Barry invokes the legacy of slavery, accusing him of cheap identity politics. When Barry tries to join a pickup basketball game in Harlem, the other African American players eye him warily. Gandhi punches his point home early and often—here is a man caught uneasily between two worlds, not yet gifted with his vaunted communication skills or a sense of what he wants to do with his life.
"Politics is bullshit!" he tells his new girlfriend Charlotte (Anya Taylor-Joy), a fictional character clearly based on a real-life romance from his Columbia days. "You don't really believe that, do you?" she asks incredulously. "I mean, come on, the president's an actor," he scoffs about the country's new leader Ronald Reagan. "So how does change happen, then?" she retorts. "Or do you not believe in change, either?"
It's moments like this, when it feels like Barry's script is excitedly nudging the audience in the ribs, that the film loses its luster. The idea of an Obama biopic coming out while the president is still in office already feels silly; drawing attention to these ironic moments is nothing short of obnoxious, upsetting an otherwise muted tone. Thankfully, Barry does not delight in watching its hero behave in various un-presidential ways—his smoking, bad language, and occasional drug use feel as unremarkable as they should for a 1981-set drama about a 20-year-old man trying to find his way in the world.
Much as with Southside With You, Barry is buoyed by its tremendous lead performer. Terrell somehow manages to meld a (subtle) Obama impression with an actually textured piece of acting, successfully straddling the line between person and myth. The ensemble around him is similarly grounded—Taylor-Joy (who made her name in The Witch earlier this year) is a delightful romantic foil, a difficult task given that viewers know the future of Obama's love life. Jason Mitchell (Straight Outta Compton) is terrific as a charismatic friend who acts as Barry's guide to Harlem. Ashley Judd drops by for an extended sequence as Barry's free-spirited, fearsomely intellectual mother Ann Dunham, sparking the best moments of the movie.
Barry is grappling not just with his own sense of identity but with the absence of his father, a man he met only once as a child. He's still far from the understanding that led him to write Dreams From My Father, where he reckoned with the life of the Kenyan academic who gave him his name but left Obama's mother when he was only two years old. Barry is far angrier about the incomplete legacy Barack Obama Sr. left him with, and grumpily takes it out on his mother. In Barry's most fascinating scene, the two go to see Black Orpheus, a 1959 French film that his mother admired and that Obama wrote about watching with her.
Ann's obvious fascination with the "childlike" African characters in the film both interests and depresses Barry, granting new (and perhaps unfair) insight into what drove her relationship with his father. It's an intriguing look at Barry's sense of isolation even from his own family, and the complex racial dynamics of his upbringing that he'd never stop analyzing. Judd makes Ann a formidable, likable personality without hiding her obvious blind spots; she can opine on upending gender binaries to Charlotte and then give a corny "right on, brother!" to a street musician singing "This Land Is Your Land."
It's those moments, and the quiet honesty Gandhi finds in them, that make Barry interesting viewing no matter what your level of interest in the president. Considering that Obama's future is so well known, it's amazing how adeptly the film dramatizes the uncertainty of 1981, not only for its protagonist, but also for America, of which Barry, in all his confusion, is strangely representative. If Southside With You was a celebration of Obama's magnetism, Barry is an origin story for his insightfulness, and for his unique perspective as a citizen of a country that both welcomes and repels its outsiders, now as much as ever.