Will the Alabama Crimson Tide Keep Rolling?
In Saturday's game, the college-football powerhouse will either reinforce their brilliance, or suffer a historic upset. Whatever happens, it'll be an incredible watch.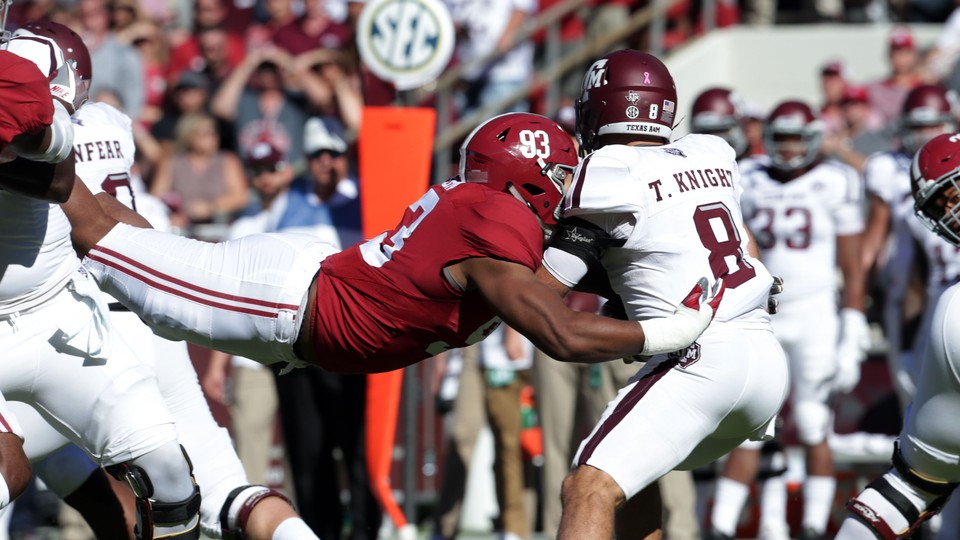 Minutes into an early-October game against Texas A&M, the University of Alabama defensive end Jonathan Allen danced around his blocker and set his sights on the quarterback Trevor Knight. A running back stepped up to try to slow Allen. It was a common enough sequence, but what came next was a rarer sight. The back crouched to deliver a blow, and Allen—a 6'3", 291-pound native Alabaman—simply leaped, went horizontal, and in one motion cleared the block and brought Knight to the ground. It was like watching an armored truck sprout wings and lift off the road. By the time the play reached YouTube, someone had set it to the Superman score.
On December 31, Alabama will play the University of Washington Huskies in the semifinal of the College Football Playoff. The Crimson Tide, college football's lone remaining undefeated team and a 14-point betting favorite, has held the top spot in the Associated Press poll every week of the season. Allen's airborne sack is just a pebble in the mountain of highlights the team has produced this year, but it's also an apt summary. The Tide is bigger, faster, stronger, and better than every opponent at nearly every position. Other teams can do everything correctly and nevertheless be overwhelmed. Go to the right spot, and the Tide will still roll over you.
The story of college football over the last decade has been variations on the theme of Alabama triumph. Last year's championship victory over Clemson University gave the head coach Nick Saban four titles in his nine years in Tuscaloosa. Under Saban, Alabama uses a conservative but highly effective approach predicated on running the ball and playing stout defense. That style, coupled with the results it's brought about, has not always endeared the team to casual football fans, many of whom participate in an early-winter ritual of rooting for a postseason Alabama loss. Those fans will almost certainly be disappointed this New Year's Eve, but they'll just as surely be watching, because the Crimson Tide has given college football something every sport can use: a dominant force and entrenched favorite, a presence that makes each season historic, in one way or another.
Where other programs might reach the upper echelons by way of a generational talent—see, for example, the prodigious quarterback Deshaun Watson, who took Clemson to the title game last season and has the team in the Playoff again this year—Alabama simply keeps to its template. This year's team looks like last year's, last year's looked like the one that came before it, and so on. The Tide's defensive line is a fearsome, mauling presence; its offensive line is impenetrable; its cornerbacks make receivers disappear; its running backs move like rolling boulders. This season, the sturdy and strong-armed freshman quarterback Jalen Hurts has introduced a new element to the usual run-first Alabama attack, but the slight breach of one tradition has fit nicely into another: The Tide has accrued yards, and wins, as easily as ever.
Saban has termed this year-to-year strategy, wherein repetition breeds excellence, "The Process." A short, pinched man who paces the sideline and whose smoothed hair turns into a sort of indignant halo when he yanks off his headset in a rage, Saban speaks of consistency the way clergymen speak of saints. "It's about committing yourself to being the best you can be on that particular day," is one in a ream of similar quotes. "Improvement is a steady march and you have to be committed to it."
Coupled with Saban's gift for recruiting—Alabama's five-star freshmen usually spend a year or two sitting behind its five-star juniors and seniors—The Process leads to teams that both astonish with the caliber of their play and make for perfectly-scripted upset targets. The most memorable college football games of recent vintage all feature the Tide. In last year's championship, the Alabama system withstood a furious effort from Watson; watching the game was like seeing a building shudder but remain standing through an earthquake. The year before, in the national semifinal, a fourth-seeded Ohio State team beat first-ranked Alabama behind third-string quarterback Cardale Jones. It was this game, not the actual title-winner against Oregon a week later, that secured Jones's folk-heroic status. Perhaps most famously, the 2013 Iron Bowl—the annual rivalry game between Alabama and the cross-state Auburn Tigers—ended when Auburn cornerback Chris Davis returned a missed Alabama field goal 100 yards for a game-winning touchdown. The shock and strangeness of the play made it extraordinary, but the fact that it came against dynastic Alabama—number one at that moment, too—made it unforgettable.
This is the two-fold gift that some teams can give their sports. A juggernaut of a certain caliber not only thrills its own fans but raises the stakes of entire seasons. When LeBron James joined the Miami Heat in 2010, the whole NBA took on a new urgency. When the New York Yankees rattled off four World Series victories in five years at the tail end of the 1990s, they won the disdain, and viewership, of a generation of fans that hadn't been around to hate them two decades prior. During the heyday of Tiger Woods, golf reached a larger audience than ever with a narrative previously unimaginable. From time to time, teams and players come along who are good enough to make every game a story.
Such is the case with Alabama. If Saturday's game goes as expected, it will be a football master class. Hurts will veer out of the way of Washington rushers and loose 25-yard darts, and the Tide defense will handcuff an overmatched Huskies offense. Saban will stand with his arms crossed and his brow furrowed—a posture that, for him, passes as a celebration. But if Saturday's game ends up differently, it will be a miracle. The Washington quarterback Jake Browning, a deep-ball artist whose hopeful heaves contrast nicely with Alabama's rigidity, would join Ohio State's Jones as a college football tall tale, and the coach Chris Petersen, as optimistic as Saban is strict, would earn himself heroic status and, likely, a hefty raise.
Despite the grumbling that will ensue if the Crimson Tide wins, it is for unaffiliated fans a no-lose proposition. The likely outcome is a demonstration of pure athletic excellence, an astonishing run continued; the unlikely one would be one of the year's best sports stories. January 9's title game, should the Tide reach it, would have similar resonance. When a team as good as Alabama takes the field, there is no room for the underwhelming—only degrees of the incredible.