Where Are All the Thanksgiving Pop-Culture Classics?
The American holiday has long been overshadowed by Christmas when it comes to widely beloved films, TV specials, and songs.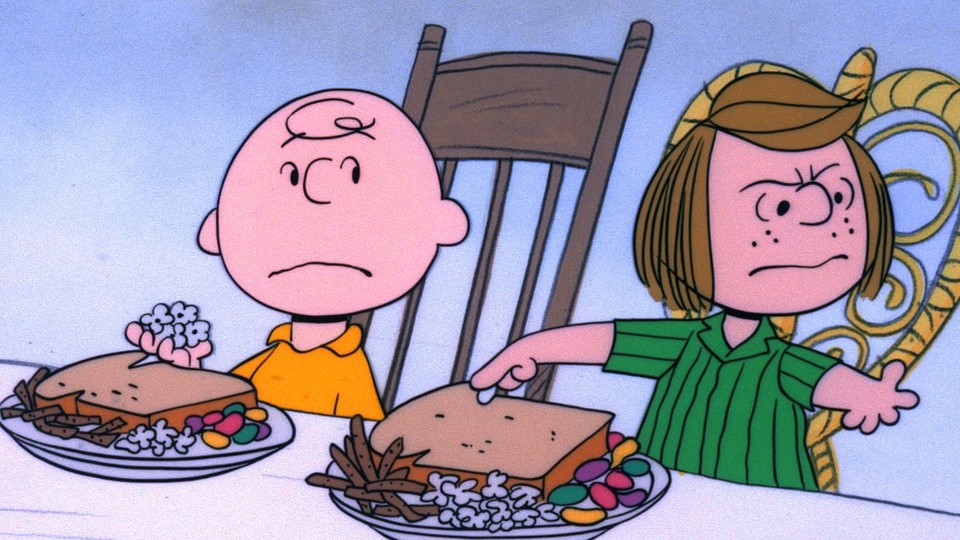 Back in 2012, 30 Rock made the case that Hollywood will drum up an ensemble film about any holiday. In one episode, a lovelorn Emma Stone declares in a trailer for the fake romantic comedy Martin Luther King Day, "In the words of Martin Luther King, I just gotta go for it." The show was parodying a crop of movies from the late director Garry Marshall that attempted to imbue smaller American holidays with unearned sentimentality: New Year's Eve in 2010 and Valentine's Day in 2011 (this year brought … Mother's Day). The excesses of the holiday-movie industrial complex are especially apparent when you consider how few classic films have been made about Thanksgiving. In fact, there isn't much of a Thanksgiving pop-culture canon at all.
Think about it: What are the widely adored Thanksgiving equivalents of Miracle on 34th Street, It's a Wonderful Life, "Jingle Bells," How the Grinch Stole Christmas, or Rudolph the Red-Nosed Reindeer? Even Halloween has a bigger pop-culture footprint, with Hocus Pocus, "The Monster Mash," Halloween, The Craft, and Halloweentown. (The Nightmare Before Christmas neatly bridges the two.) And yet Thanksgiving's primary offerings include Planes, Trains and Automobiles, Pieces of April, A Charlie Brown Thanksgiving, and Arlo Guthrie's folk song "Alice's Restaurant"—all classics in their own right, but still a bizarrely light roster for America's second-favorite holiday. Like Christmas, Thanksgiving is a day of indulgence, of relaxation, of communal comforts, of cold-weather cheer. So why the disparity?
Robert Thompson, a professor of pop-culture studies at Syracuse University, acknowledges that Thanksgiving has been edged out when it comes to distinct works of entertainment. That's partly a matter of unfortunate timing. Thanksgiving doesn't have a fixed date, and it has a fairly small window of opportunity, being sandwiched between two major days of celebration. It doesn't help that both Christmas and Halloween tend to spill out of their respective months into November. Stores still have jack-o'-lanterns and discounted trick-or-treat candy on shelves after October, and Christmas decorations and music are everywhere before December 1.
But Thanksgiving is still very much a day of cultural rituals. Perhaps the best distillation of Thanksgiving diversion came just more than 30 years ago in 1985: During pregame coverage for the New York Jets game against the Detroit Lions, the sportscaster Ahmad Rashad proposed on the air to the Cosby Show actress Phylicia Ayers-Allen, who was at the Macy's Thanksgiving Day Parade. That moment, witnessed live by roughly 40 million people, united the three elements that still form the backbone of Thanksgiving recreation today: sitcoms, football, and the Macy's Thanksgiving Day Parade. All of which unfold, of course, on television.
"Thanksgiving now in America is almost completely television-centric," Thompson told me, noting that the holiday is profoundly domestic. It's about food and traveling, but most of all it's about home, a fact borne out in Thanksgiving films like Home for the Holidays and What's Cooking (neither of which is a household name). And, this being America, a domestic holiday can't unfold without TV. In terms of Thanksgiving Day programming, most people tune in to one of three things: the Macy's Thanksgiving Day Parade, a football game, or dog-related specials (NBC's National Dog Show, Fox's "Cause for Paws"). It's worth nothing that although these are annual traditions, the specifics of the events change from year to year—unlike, say, Elf, or Home Alone, or Love Actually, films that offer the same delights every Christmas.
When it comes to narrative storytelling, sitcoms do the best job of capturing the essence of Thanksgiving. "Television comedy and Thanksgiving are a match made in heaven," Thompson said. "It's an interior holiday, and TV comedy is an interior art form." There are countless roundups and rankings of the best Thanksgiving TV episodes, many of which come from a single show: Friends. In the popular imagination (and, often, in reality), Thanksgiving is a time associated with family dysfunction, miscommunication, personal squabbles—all elements that happen to make for really good episodic comedy. But because many shows go on winter hiatus in December, it's common to see Christmas-themed episodes or TV specials air as soon as Thanksgiving is over, if not slightly before. It's yet another example of Christmas infringing on the limited cultural—and thus emotional—space that belongs to Turkey Day.
But on a deeper level, Thanksgiving and Christmas have different kinds of mythological resonance, which might help explain why there are so many movies about the latter. Christmas has way more themed characters and story types at its disposal. For instance, Thompson said, Christmas tales are often "redemption stories," "miracle stories," or stories about the importance of believing—all reliable formulas for timeless, feel-good films. To add even more options, these stories can be either secular or religious. Plus, Christmas has an abundance of iconic, named characters: There's Santa Claus, Mrs. Claus, the Krampus, Rudolph the Red-Nosed Reindeer, the Grinch, Frosty the Snowman, Ebenezer Scrooge, and Jack Frost. Meanwhile, Thanksgiving's only real (and fraught) American mythology is the pilgrims and Native Americans, Thompson said. Its most noticeable figure is the turkey—and the poor bird doesn't even have a specific name or backstory.
Without many movies or characters or songs, it can be harder to get kids as excited about Thanksgiving as about Christmas, Thompson noted, which means those kids turn into adults with less nostalgic attachment to the day. While Thompson doesn't see Thanksgiving ever quite catching up with Christmas or Halloween on the pop-culture front, he said he believes that directors and writers and musicians have plenty of reason to try anyway. From a storytelling standpoint, Thanksgiving is "fertile territory that hasn't been over-plowed," he explained. It helps that the holiday's broader themes—family, harvest, togetherness, homecoming—are timeless in their own way.
Of course, all this isn't to say that Thanksgiving is somehow a more meager festivity. In between the crazy, hyper-commercialized corridors of Halloween and Christmas, Thanksgiving is wonderful partly because of its looser, lower-key nature. Think of it this way: If every single Thanksgiving-centered film or song somehow vanished, the spirit of the holiday would survive unscathed. Especially if there's tons of food and good company. And maybe a television playing somewhere in the background.