The Anxiety of a Starboy
The singer's first post-breakout album is even slicker and more '80s-indebted than his last—though also strangely conflicted.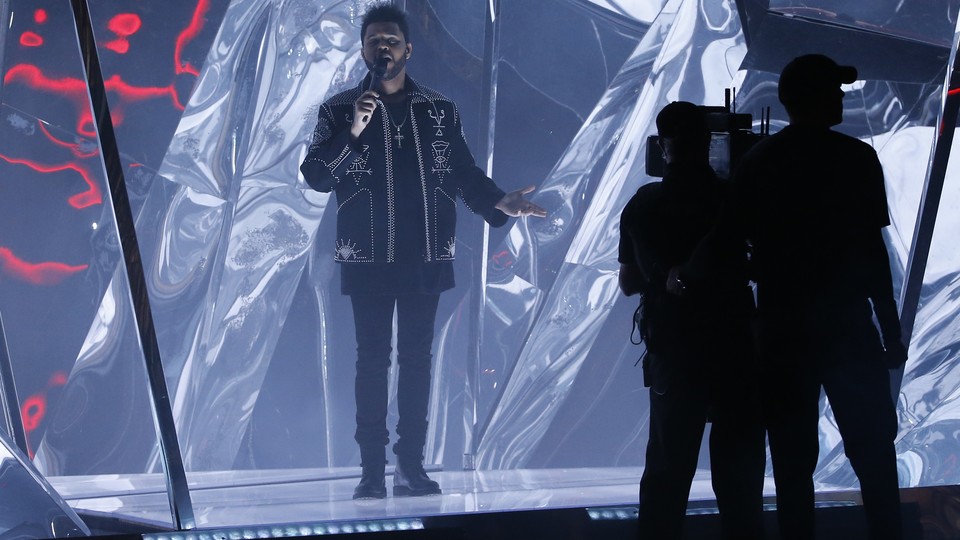 What a perfect name the Weeknd's new album has: Starboy. Abel Tesfaye, the 26-year-old Torontonian whose Michael Jackson-like croon and Marquis de Sade-like lyrics have become ubiquitous on the radio in the past few years, says the term is inspired by David Bowie's "Starman" and refers to "a braggadocious kind of character who we have inside all of us." But on its own, "starboy" sounds like a sneer meant for certain male celebrities, guys whose macho pretensions are—fairly or not—undercut by fame. You can imagine hecklers calling Drake "starboy" as he grunts on stage about how wrong all those memes about his wimpiness are. You can imagine hearing a "starboy" comment from the glowering method actor Christian Bale, who once described his profession as "sissy."
And now Tesfaye is grappling with starboydom. His career began in 2011 with a string of indie releases that took R&B's sex obsession to a dark and lewd extreme; the mannered, almost angelic quality of his voice made his narratives about disposable women and expensive drugs seem all the more sinister. The music's appeal as noir was powerful, but it was niche. Yet last year's Beauty Behind the Madness enlisted superproducer Max Martin in an all-out effort to turn Tesfaye into the biggest singer in the world; the resulting blend of catchiness and depravity worked better than most people predicted. As drive-time listeners shouted along to Tesfaye's line "When I'm fucked up, that's the real me," the production—muffled screams, damp-cave echoes—signaled it wasn't simply a carefree partying slogan.
A year later, though, he's back with a newly squeegeed sound that pays crisp homage to Off the Wall disco and yacht rock. As fun-time pop, the songs frequently deliver. But as art and as marketing, problems have started to seep in: Does anyone believe a guy describing his sociopathic sexual habits when he's doing so over smooth, lavish bubblegum? Sometimes, it sounds like Tesfaye's overcompensating for his new direction, throwing out horrible lines like "David Carradine, I'ma die when I cum" to prove he's still got edge. The more effective moments have him flirting with self-deprecation. On "Reminder," he sounds embarrassed to have won a Teen Choice Award for a song about "a face numbing off a bag a blow" (you probably know the one). For the title track, as a Daft Punk beat patters behind Tesfaye's overtly campy puns about cars and coke, he chides the world for having turned him into a "motherfucking starboy."
The tradeoff Tesfaye has made is in the name of musical freedom, allowing him and his producers to sound as perky as they want while they borrow tropes from the late '70s and the '80s. For "False Alarm" Tesfaye dons an amusing Oi! punk costume; on "A Lonely Night" he goes Bee Gees, crooning his syllables so quickly that they blur. The excellently bittersweet "Secrets" explicitly references to a clutch of New Wave classics, and "Rockin" repackages some of the flavor of Jackson's "Rock With You" for a modern raver's palette. Even the more traditional-seeming Weeknd songs about being a cad feel polished: "Party Monster" is like a trap-rap take on the Stranger Things soundtrack, with a chorus that turns a boilerplate Tesfaye line—"woke up with a girl, I don't even know her name"—into a "Ring Around the Rosie"-style chant.
The shine of these songs only slightly distracts from the maddening character who's always been at the heart of the Weeknd, a character who unapologetically embodies many of pop culture's pathologies, especially around gender. Outside of his own promiscuity and luxury tastes and general dead-insidedness, his favorite lyrical topic is the promiscuity and luxury tastes and general dead-insidedness of certain women—women who, unlike him, are on the wrong side of the line between wicked and wicked-cool. Tesfaye does sometimes seem aware of the double standard, and he might argue he's not dissing the girl-about-town archetype but rather paying tribute: game recognizing game. A few songs late in the album complicate his persona—"tell 'em this boy wasn't meant for lovin'" he once sang—by yearning for monogamy from someone too cool to commit. "You made me fall again, my friend," he sighs over door-knocking percussion and moony synths on "Love to Lay." "How can I forget when you said love was just pretend?"
The you, intriguingly, is embodied by a specific person throughout the album: Lana Del Rey, the singer who has seemed to serve as Tesfaye's female foil when it comes to ravishing pop music about super-regressive relationships. In an interlude, she is identified as a "stargirl," who can only, it's implied, find happiness with a starboy like Tesfaye. But the comparison between them is more interesting for its contrasts. Her career has seen her wander further and further away from radio-readiness as she commits ever-more-fully to the queasy persona she's constructed. His has seen him aim for bigger and bigger audiences while straining to maintain his antiheroic shtick. The difficulty of that task colors Starboy, adding hints of anxiety to songs meant to telegraph confidence. Which, again, fits the album's name.