The World Doesn't Want Hollywood Comedies
Because they do poorly overseas, hits like Bad Moms are becoming a rarity as the industry prioritizes big-budget action films.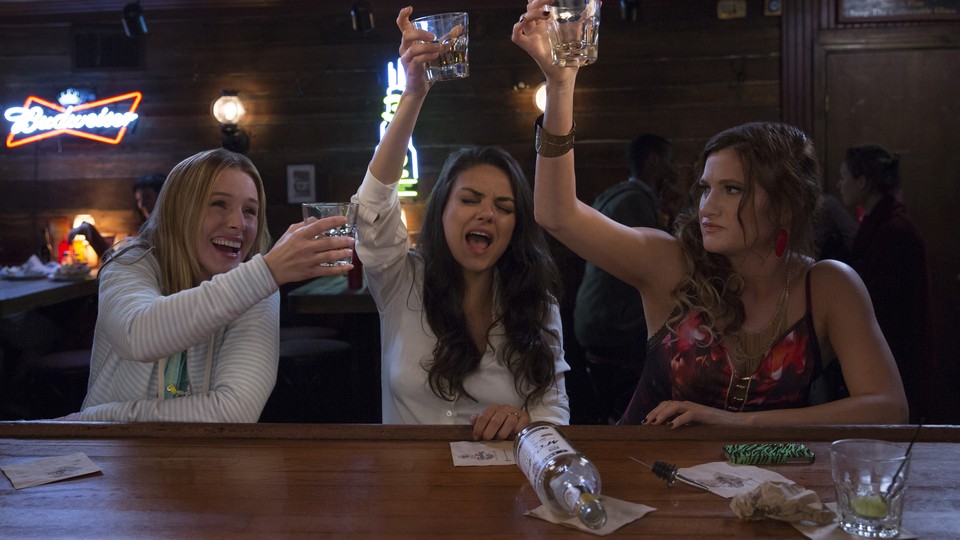 Look at 2016's biggest box-office successes and you'll see plenty of familiar genres: superhero movies, horror hits, animated family films, big-budget action dramas. Increasingly missing from that list, and consequently from Hollywood's release strategies? Comedies. Ten years ago, the blockbuster comedy was a key to any studio's profit margin, given their relative cheapness to produce and propensity to linger in theaters on good word of mouth. Now, as worldwide box office becomes more crucial to the studio's bottom line, comedies are vanishing from the schedule—because, in the words of one distributor, they don't "travel well."
Unfolding this week in California is the American Film Market, a crucial industry event where producers, agents, financiers, and developers meet to sell the international distribution rights to their movies. According to The Hollywood Reporter, years of poor ticket sales have soured the rest of the world on American comedies—unless they're centered around a huge star or filled with (expensive) action sequences. Much has been made of the trend away from mid-budgeted adult dramas in Hollywood, as studios focus their money and time on franchises with broader appeal. But if international markets continue to drive decision-making, comedies may continue to disappear from cinemas, and the less-profitable genre will be left to indie filmmakers and the ever-expanding world of television.
Will Ferrell, maybe the biggest American comedy star of the last decade, is a perfect example of Hollywood's new financial reality. Since breaking out with 2003's Elf, he's starred in nine comedies that made over $100 million domestically, and several more that earned healthy, if smaller, profits. His 2006 NASCAR comedy Talladega Nights was a huge surprise hit that played well to audiences in red states and blue states alike, earning $148 million as it tweaked America's obsession with stock car drivers while lovingly depicting their world. But Talladega Nights only made $14 million overseas, or 9 percent of the film's total gross worldwide.
That's an extreme example, but a telling one, too. In 2016, it's typical for a film to make more than 60 percent of its takings outside of America, as evidenced by some of this year's biggest hits (Zootopia, Captain America: Civil War, The Jungle Book, and Batman v Superman: Dawn of Justice). Look at comedy's biggest hits, and you'll see the opposite trend. Ferrell's last movie, Daddy's Home, made a healthy $150 million in America, but only $90 million worldwide, or 37 percent of its total. Trainwreck, one of the breakout comedy hits of 2015, took $110 million in America and only $30 million more overseas. That means that when a comedy fails, it can't rely on overseas dollars to clean up the mess like so many big-budget action movies do.
Warcraft, perceived as a colossal bomb, made a staggering $433 million total, only 10 percent of it in the United States. Pacific Rim, seen as a financial misfire, is getting a sequel on the back of its performance in China alone. Wonder why they're making another Pirates of the Caribbean film when the franchise seems to have lost its luster? Because the fourth edition, On Stranger Tides, made 77 percent of its takings outside of America. The biggest comedy hit of 2016 is Central Intelligence, starring Kevin Hart and The Rock, which blended its big laughs with plenty of gun-toting violence, much like the Melissa McCarthy vehicle Spy. But even that mix of stars and action underperformed overseas.
The main reason comedies are flopping at the American Film Market is their lack of star power. Sacha Baron Cohen, who broke out as a star in Talladega Nights and had a huge hit 10 years ago with Borat, has floundered as a comedy star—his latest effort, The Brothers Grimsby, made only $25 million worldwide, and his new vehicle is being produced independently as a result. Look back at 2006's box-office hits and you'll see many stars who can no longer open a film on reputation alone. Adam Sandler (his 2006 hit was Click) is now making smaller-budget straight-to-streaming action comedies for Netflix, each getting worse reviews than the last. Vince Vaughn (2006's The Break-Up) is more of a supporting player in dramas these days, his last hit being the forgotten 2009 comedy Couples Retreat. Matthew McConaughey (who had Failure to Launch that year), a rom-com star in the aughts, hasn't returned to the genre since Ghosts of Girlfriends Past tanked in 2009.
There are still some homegrown comedy hits, but on the whole, they're not being made by big studios. Bad Moms, one of the surprises of 2016, was produced by STX, a smaller-sized operation that is trying to fill the holes it perceives in the American market for mid-budget comedies and dramas. Tyler Perry, one of the biggest brands left in comedy, saw his Boo! A Madea Halloween do better than expected this October. Melissa McCarthy kept up her streak of hits with The Boss, which more than doubled its budget—but it still only made $63 million domestically, and a paltry $15 million overseas. Much of the industry's strategy is cyclical, and it's possible that comedies could bounce back after the release of a surprise hit (it just takes one, like The Hangover) that affirms the value of a word-of-mouth success. But only a true global smash can move the stock-market needle for a studio—and increasingly, that's the only thing Hollywood cares about.