Donald Trump, Circus Peanut
The artist Lauren Garfinkel has come up with a zesty solution to campaign fatigue: depicting the players of 2016 in foodstuffs.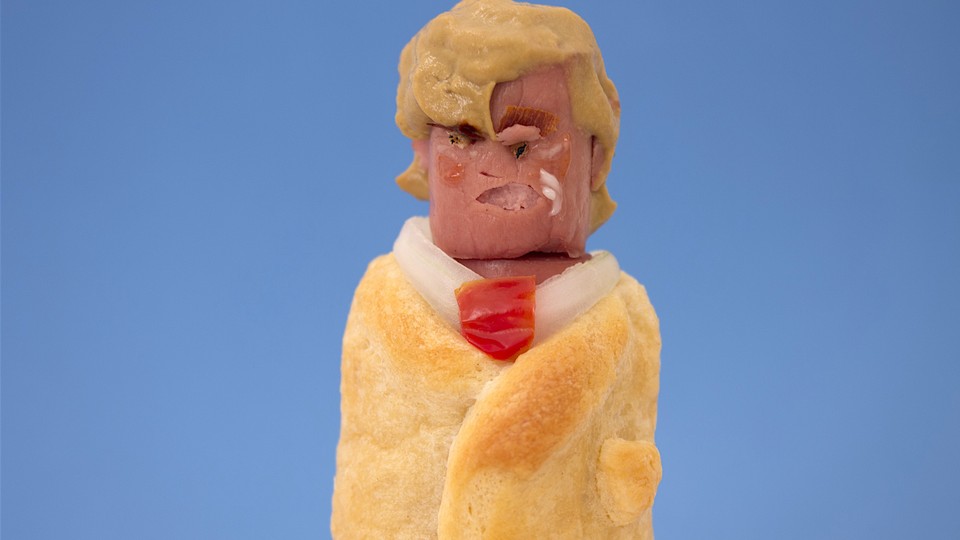 "I laugh because I must not cry," Abraham Lincoln said. "That is all, that is all."
The artist Lauren Garfinkel knows that all too well, which is why, as the 2016 campaign has stretched far beyond the calendar year that was supposed to contain it, she has found a way to embrace mirth: via Circus Peanuts. And salmon. And baby carrots. Garfinkel has been steadily producing a series of food-based sculptures—usually portraits of the campaign's primary figures—and documenting them on her Instagram feed, @ediblegovernment (and on the website of the same name). Her creations are Lincoln's observation, essentially, only with a dollop of hair-hummus.
Garfinkel doesn't have a culinary background; she trained at the Rhode Island School of Design, and by day works in fashion and textile design. Edible Government offers, for her, a kind of qualified catharsis: It's civic engagement and escapism at the same time. Its works are generally quite partisan—Garfinkel first got the idea to experiment with food, she told me, in the aftermath of George W. Bush's "heckuva job, Brownie"—and often feature punny titles. (One version of Trump, fabricated by elements of Chinese take-out foods, is titled "Take Out Trump." And Garfinkel has also created works titled "Disenfranchfries," "Putinesa," and "History Reheats Itself.")
Food being what it is, Garfinkel has to work fairly quickly to complete each project; each one takes, she told me, multiple hours to produce, but is usually finished within a single day. And there's very little food whispering involved in the process: She usually starts with the idea she wants to convey in each piece, and then finds the food item or items that will help her to realize it. (Some pieces require more thought than others: For Trump-as-sashimi—on display, as are many of her other ones, at Lucky Peach—Garfinkel says, "the fish itself, for that hair, it just kind of had the texture on it. That's what I call a gimme.")
Garfinkel's projects operate in the tradition of Sandwich Monsters and Harley's Food Art: works that are absurdist and delightful and edible. But they're all that, while also making a point. She approaches each work, Garfinkel told me, "just thinking about how we are all connected to our individual choices that have this great impact, and we have to have ownership of our choices." It's the Michael Pollan idea, basically—food as politics, and vice versa—taken to its logical (and literal) conclusion.
And so, with that, the 2016 campaign—as food:
1. Donald Trump, composed of sashimi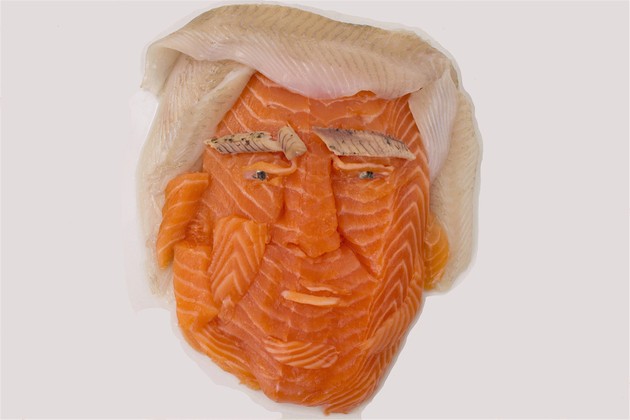 2. Hillary Clinton, composed of fruits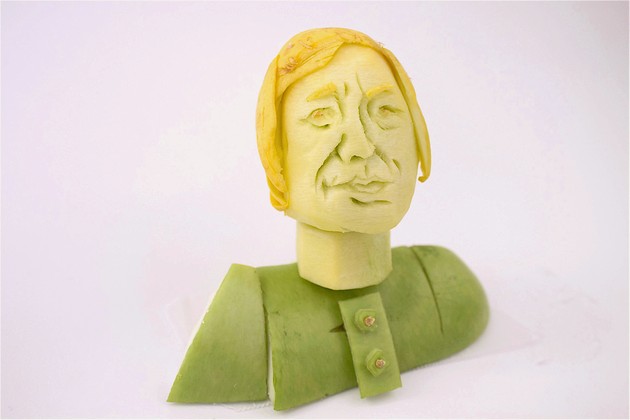 3. Trump and Vladimir Putin, composed of blini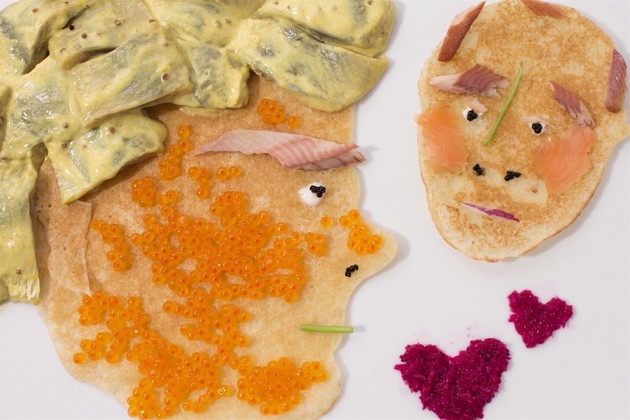 4. Bernie Sanders, composed of gum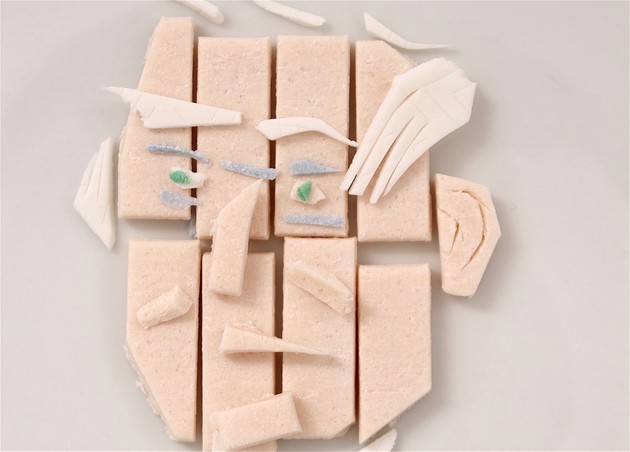 5. Trump, composed of a Circus Peanut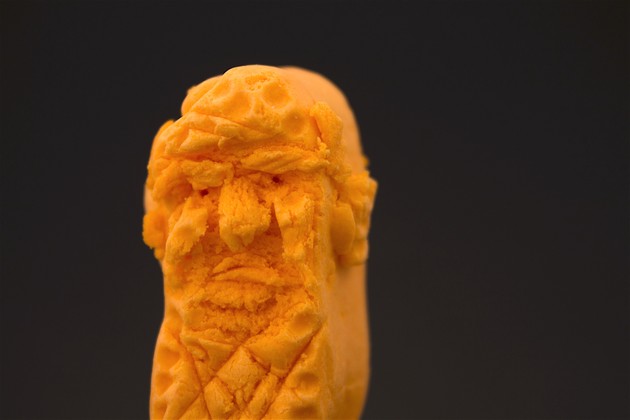 6. Trump, composed of fondant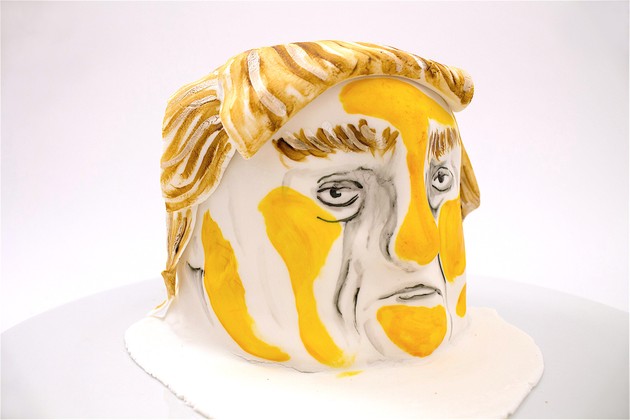 7. Ted Cruz, composed of turkey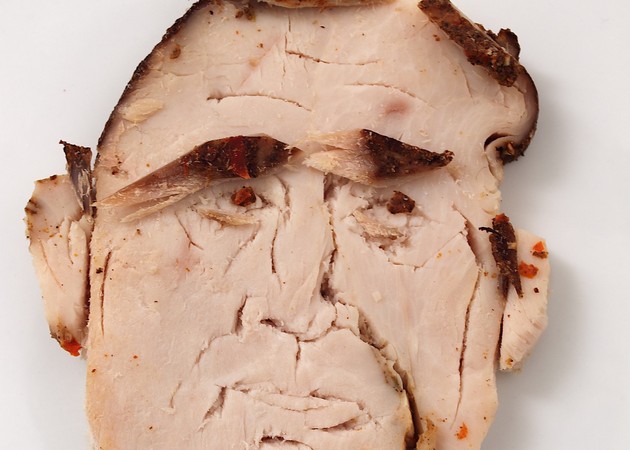 8.  Marco Rubio, composed of canned goods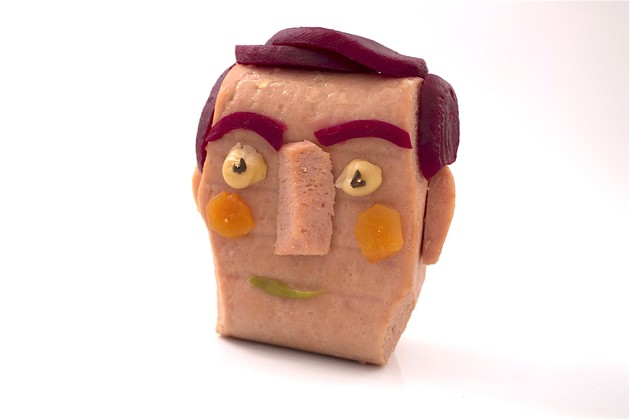 9. Jeb Bush, composed of baked potato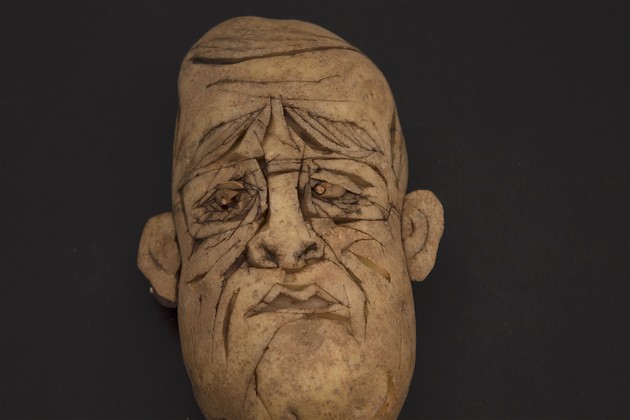 10. Trump, composed of baby carrot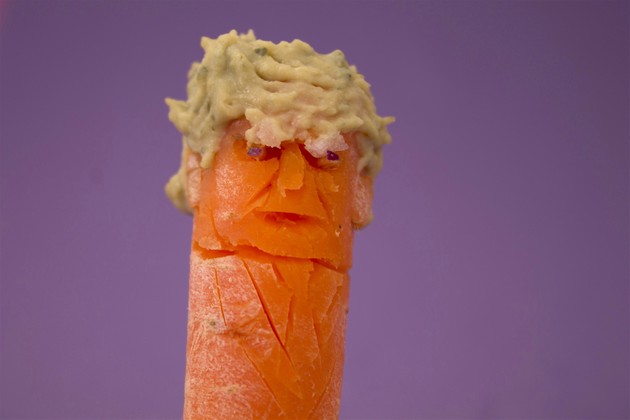 11. Clinton, composed of mushrooms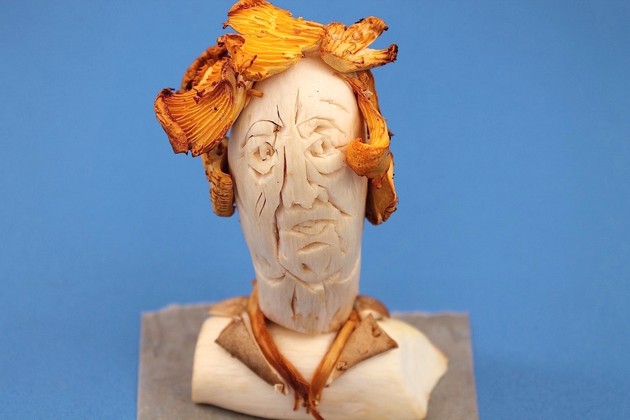 12. Trump, composed of mushrooms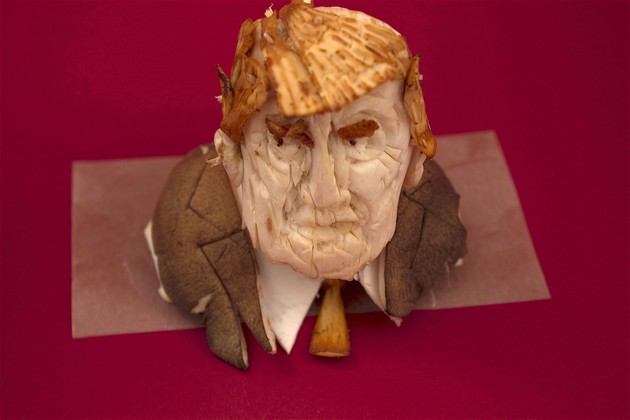 13. Sanders, composed of mushrooms
14. Trump, as a pig-in-a-blanket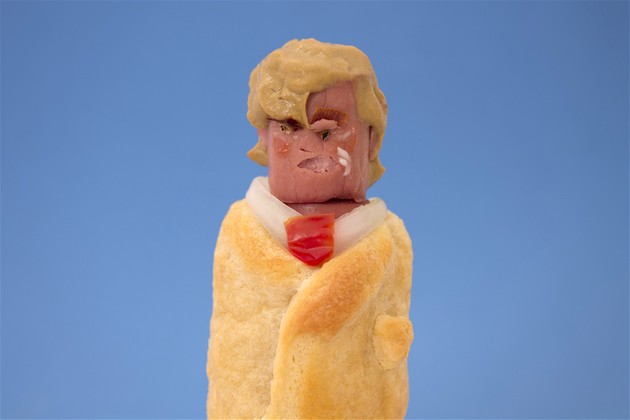 15. Trump, composed of candy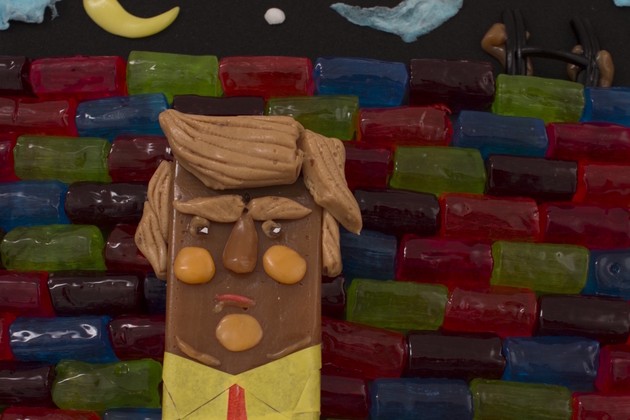 16. Newt Gingrich, composed of squid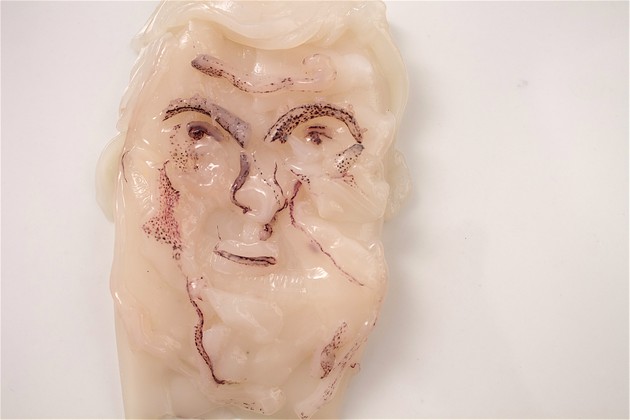 17. Chris Christie, composed of squid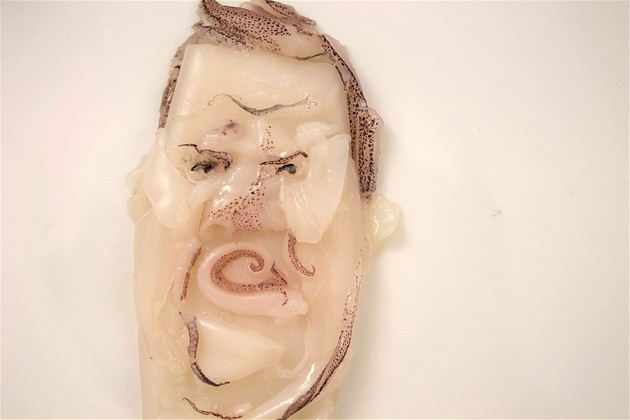 18. Mitch McConnell, composed of squid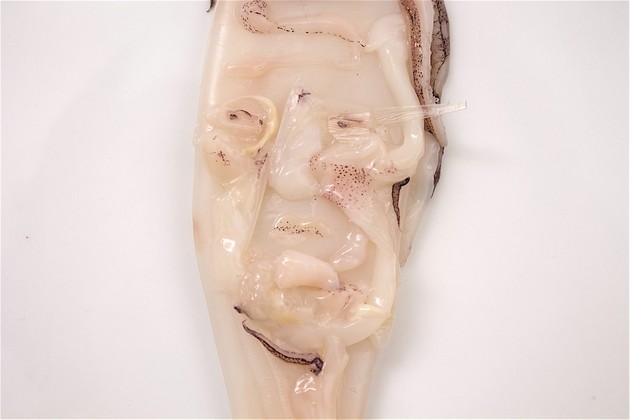 19. Paul Ryan, composed of squid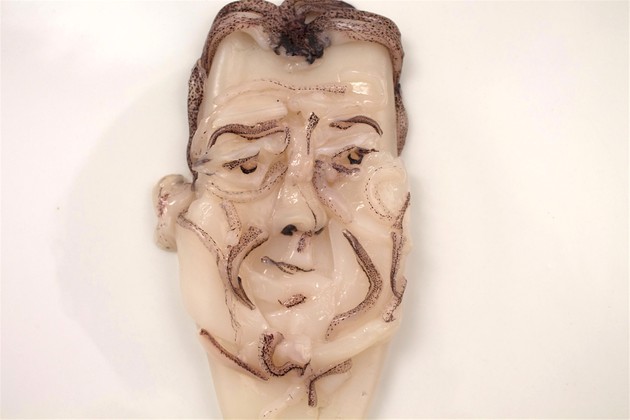 20. Reince Priebus, composed of squid