The Crown Is a Sweeping, Sumptuous History Lesson
Netflix's new show focuses on the early years in the reign of Elizabeth II.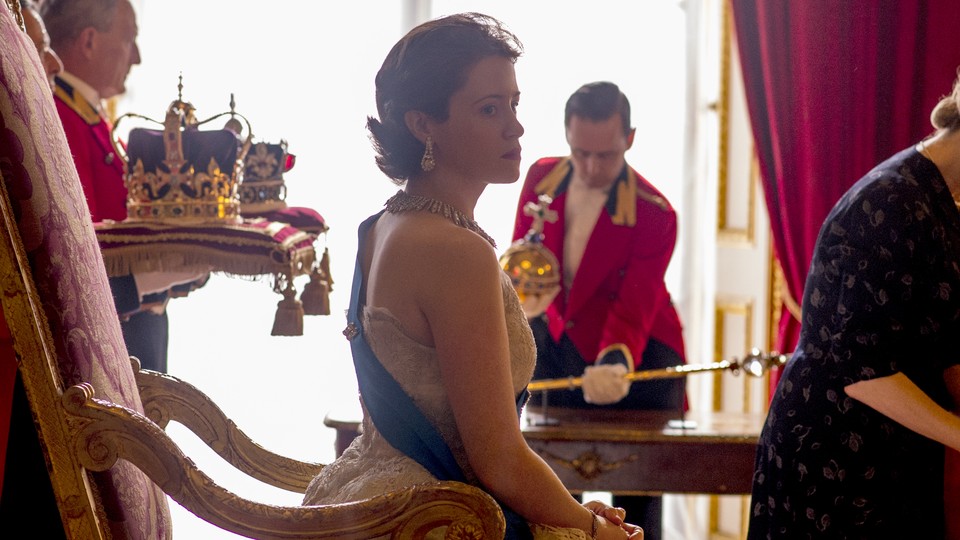 The opening titles of The Crown are everything you'd expect from a sumptuous period drama about the British royal family, not to mention one billed as Netflix's most expensive TV project ever. Rivers of glistening, molten gold flow together, eventually forging themselves into St. Edward's Crown, the daunting item that sits atop the monarch's head. This, surely, is the crown jewel in Netflix's expanding stable of original content, storytelling on an epic scale, charting one of the world's most famous families through Elizabeth II's postwar reign.
The Crown is epic, often opulent, and certainly expensive-looking, but it's light on soapy backstabbing and scandalous romantic twists. This is no Downton Abbey replacement—it's a surprisingly granular, methodical look at British political life in the 1950s, filtered through the eyes of Queen Elizabeth and her family. The royals have been the one constant in British politics throughout the post-war period, ceremonially presiding over the deconstruction of the country's colonial empire and decades of social and economic change. The Crown is sometimes too somber, and slow-moving to a fault (it intends to cover Elizabeth's entire reign over six seasons). But if you're looking for an immersive history lesson with all the royal trimmings (ermine and purple velvet among them), it's an extremely engrossing watch.
The show's creator Peter Morgan is an expert hand at dramatizing recent history on stage and in cinema. He's dabbled with presidents (Frost/Nixon), British prime ministers (The Deal), Idi Amin (The Last King of Scotland), soccer coaches (The Damned United), and racecar drivers (Rush). But his chief obsession seems to be Elizabeth II, upon whom he first cast a sympathetic glance in his 2006 film The Queen (which dramatized her reaction to the 1997 death of Princess Diana), before considering her career in the 2013 play The Audience. This project promises to be even more sweeping—but it's also more content to take its time.
As this first season begins, Elizabeth (Claire Foy) is a young princess in her mid-20s; her marriage to Prince Phillip (Matt Smith), and their surprisingly real passion for each other, is the only major thing on her mind. But her father, King George VI (an affecting Jared Harris), is already ill with the lung cancer that eventually takes his life at the age of 56; her investiture as the symbolic leader of her country is rapidly approaching. The early episodes focus on the stuttering, chain-smoking George, and Harris does a wonderful job giving a more brittle, nervy quality to the man without losing grasp on his underlying kindness.
George, who had the crown thrust on him by the abdication of his brother, Edward VIII (Alex Jennings), is a stoic, reluctant, dutiful figure, a model of tradition whom Elizabeth will eventually replicate. Much of The Crown's early episodes are concerned with those qualities—the strangely apolitical nature of the British monarch, who is present for the country's biggest parliamentary debates and has a direct line to its elected leaders, but little real influence. As Elizabeth becomes queen and grows into the role, Morgan stokes fascinating tension exploring the limits of her power, and the pushback she gets every time she brushes up against them.
Her chief adversary and advisor wrapped up into one is Winston Churchill (John Lithgow, a curious casting choice given the number of aged British thespians suited to the role). If the first season of The Crown is about young Elizabeth's early years on the throne and the growth of her influence, it's also about Churchill's postwar decline; the wartime Prime Minister, legendary for his leadership against Hitler, returned to office in 1951 for a much less successful term that saw him battling ill health while seeming grossly out of touch with Britain's expanding middle class. Lithgow is good, if hammy, in a role that's hard to overplay, but the show does well to strike a balance between the man's legendary status, which he milked for all it was worth, and his flaws as a leader later in life.
This political history is the most fascinating part of the show, digging into stories that feel a little fresher than the usual royal infighting. One whole episode of The Crown is devoted to the Great Smog of 1952, an environmental crisis in London that led to the banning of coal fires. Another charts the ongoing tensions surrounding Edward VIII (known as David), the former king who abdicated the throne in 1936 because he wanted to marry the American divorcee Wallis Simpson (Lia Williams). The political career of Anthony Eden (Jeremy Northam), who was groomed for power by Churchill and eventually succeeded him, is another slow-burning story arc that plays out in fascinating ways (research his career as Prime Minister if you're looking to spoil yourself).
A major plotline through all the episodes is the irascible Philip's distaste at his diminished role in the royal household, and the complex sexual politics Elizabeth had to navigate being a queen first and a wife second. But Elizabeth and Phillip's marriage (which, of course, has lasted to the present day) is presented as stable. Although there are some scandals on the fringes of the series, the biggest of them involving Elizabeth's sister Princess Margaret (Vanessa Kirby), this is not a particularly salacious show.
Morgan's chief focus is on historical accuracy, and blending that with a behind-the-scenes look at leadership for a country that was trying to shed its past as an empire without losing its pomp and circumstance. The Crown is sweeping, but it lives in its details, and it should prove catnip to history buffs and Anglophiles alike. Whether its slow, occasionally ponderous approach will find it a wider audience is tougher to guess—but the big budget, and the handsome window dressing it provides, should serve to draw people in for a glance at the very least.