How Stephen Colbert Tried to Process Trump's Victory
The late-night host's live Showtime special was an illustration of the cultural moment the country is entering.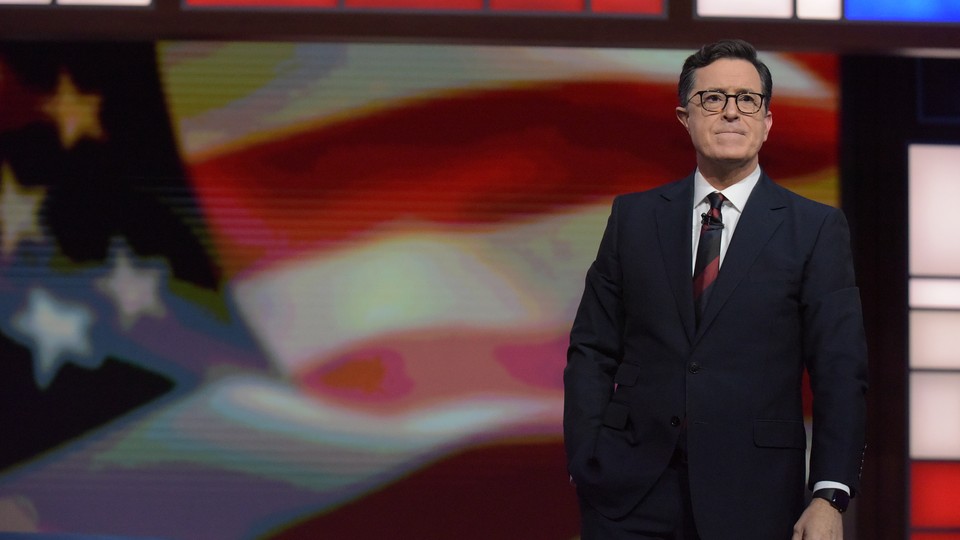 In times of national strife and confusion, comedy has long served as a vital release valve, a therapeutic outlet for viewers confronting difficult moments. But Tuesday night, as Stephen Colbert aired a live special on Showtime during the most crucial hour of the election, catharsis seemed a million miles away. The election of Donald Trump as president was obviously a positive outcome for his many supporters. But for Colbert's crowd, news of Trump picking up more and more states across the map prompted loud groans, and a bewildered performance by a host who clearly found less and less relief in humor.
Perhaps it says something about the vast polarization of America that the country's divisions extend to the world of pop culture and to late-night television. Perhaps it was just an indicator that if relief or reconciliation lies ahead for the country after this bitter election, at this point it's still too far off to comprehend. Calling Colbert's Showtime special "Democracy's Series Finale" was likely intended as nothing more than a cute gag, but as the night went on and Colbert progressed from scripted gags to somber conversation, the title seemed appropriate to his mood. It was a bizarre 90 minutes of television, a strange side dish to a similarly unpredictable night of broadcast TV, and it could very well set the tone for American comedy for the next four years.
Contributing to the special's uncanny vibe was that Colbert was broadcasting from his usual studio, where he hosts The Late Show on CBS, but with the free rein granted by premium cable, he was swearing with aplomb. At first, he reeled off jokes echoing what was obviously an outcome he presumed would happen—the election of Hillary Clinton. "Donald Trump wanted to build a wall, and Hispanics want him to pay for it," he said, noting increased Latino turnout in states in Florida and Texas.
The actor Jeff Goldblum appeared for a scripted bit mocking his nervy character from Jurassic Park, calling Trump a Republican Party experiment gone wrong. "The GOP took a hardened chunk of anger with prehistoric ideas and created a monster," he stuttered, to appreciative laughs from the live audience. Then real-time news began to trickle in, with the journalists Mark Halperin and John Heilemann joining Colbert to talk voting numbers and confront him with the reality that Trump was over-performing polls and likely to win states like Wisconsin and Michigan.
Colbert was once a chief clown for the left in his role at The Colbert Report, mocking the exaggerated right-wing punditry of Fox News. At The Late Show, he's walked a tighter line, making his political feelings clear (he was obviously a Clinton voter) while trying to reach out with empathy to the other side. He's noted that his whole extended family (from South Carolina) is politically divided, but that they love each other anyway. When he interviewed Trump, he tried to get the candidate to offer conciliatory words, and perhaps even apologize to people he might have offended during the campaign (Trump declined).
When Halperin finally told Colbert that Trump would likely win the election, the host visibly deflated. Comedy is, of course, allowed to be partisan, and it was not a moment where Colbert could disguise his feelings. "This has been the darkest presidential campaign that I've covered. I've covered every one since 1988, and in the aftermath, I think this is going to be a really challenging time for America. Good line for a comedy show, right?" Halperin said, half-jokingly. "I'm not sure if it's a comedy show at this point," Colbert replied, with a quiet grimace. "I think we're in the middle of a documentary right now." His words reflected the disbelief of millions who had trusted in public polls and data journalists predicting a victory for Clinton—and who all saw the results suddenly swerve in the opposite direction.
During their conversation, Florida was called for Trump, putting him on the doorstep of 270 electoral votes. "Wow. That's a horrifying prospect," Colbert said. "I can't put a happy face on that, and that's my job." It was darkly compelling television, in all its awkwardness—it was live, it was unrehearsed, and it was, for at least a moment, deeply honest. Colbert made sure to note the division between his audience and the voting public. "For Trump supporters, this is porn, what we're going through right now," he said with a laugh.
For Clinton fans, and much of Colbert's audience, perhaps the most necessary moment was Goldblum reappearing after Florida was called for Trump. He chatted soberly with the host about how he felt and how he wanted to approach the future. "Find yourself present in this moment, and say, 'This is what's going on,'" Goldblum said, with his usual meditative calm, avoiding the obvious apocalyptic humor and urging the audience to be mindful of the reality of Trump's victory. For a second, Goldblum seemed to be suggesting viewers think about the world outside of the show's bubble. But the rest of the show, after the news of Trump's impending victory took hold, felt like bizarre floundering— and comedy didn't seem like a useful outlet. The Daily Show host Trevor Noah was also doing a live show on election night, and he was similarly sober, bemoaning the moment but entreating his audience not to give into fear.
Just after midnight, Colbert tried to wrap things up, to offer a sweeping, comforting conclusion on a night of extreme uncertainty. "By every metric, we are more divided than ever as a nation," he said. "We overdosed especially this year. We drank too much of the poison. You take a little of it so you can hate the other side ... above all, we as a nation agree that we should never ever have another election like this one." It was a nice sentiment but it felt hollow—too clean a conclusion as the country looks to an unclear future with a President Trump in the White House. "The election is over. You survived," Colbert added. Then, the camera cut to his bandleader, Jon Batiste, an African American jazz musician from Louisiana, whose expression seemed locked in fear. Colbert's efforts to conclude things neatly weren't necessarily resonating with everyone.
The future of American late-night comedy (almost all of which is tilted left) will hinge on how it reacts to a Trump administration. After years of never showing more than mild irreverence for the Democratic White House, can hosts return to the more aggressive, angry, and politically charged days of the Bush era? Or has the polarization of this recent battle made that approach seem futile? At the moment when things began to depart from conventional wisdom and toward Trump, Colbert appeared drained of energy. Perhaps his election-night special was just a snapshot of a strange time in political history. But it also marked a hopelessness, a sense of defeat, and a necessary moment of reckoning that might echo for years to come.