Queer Writers in the Age of Trump
How literary expression can counter fear and anxiety at an uncertain moment in American history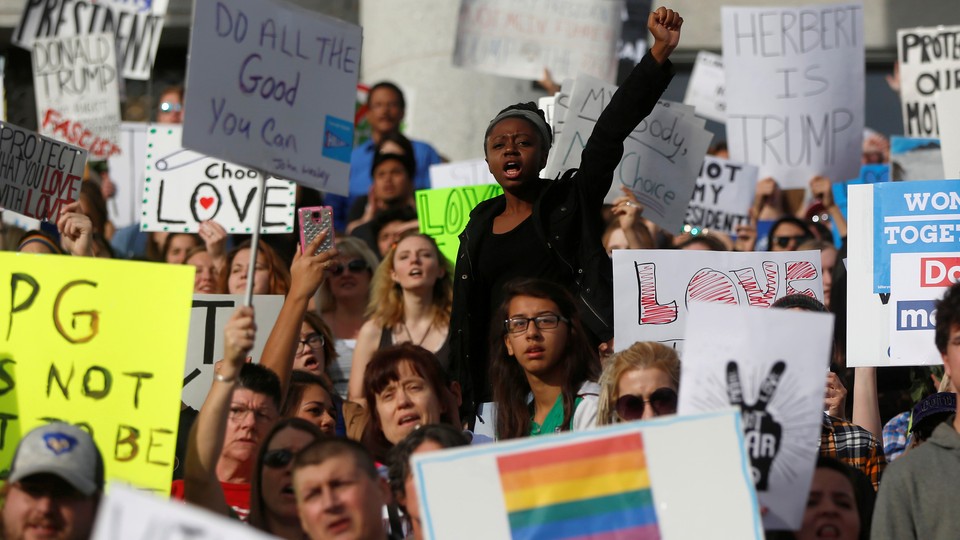 In 1948, when the American writer Patricia Highsmith started writing The Price of Salt, her seminal novel of lesbian love, she knew it would be difficult to find a publisher as an openly queer author. At the time, as she reflected in her 1989 afterword to the novel, it was already difficult enough just to be out as a lesbian in New York. "Those were the days," she wrote, "when gay bars were a dark door somewhere in Manhattan, where people wanting to go to a certain bar got off the subway a station before or after the convenient one, lest they be suspected of being a homosexual." It would be career suicide, she feared, to be known as a "lesbian book-writer." So when the publisher of her first novel, Strangers on a Train, rejected The Price of Salt, she released the latter elsewhere under a pseudonym, Claire Morgan. It went on to become one of the most important works of queer American fiction.
The United States in 2016 is generally more accepting of queer writers than the country Highsmith described. But some of the rhetoric of President-elect Donald Trump and a number of his supporters paints LGBT people in much the same way that they were seen in Highsmith's day: as people who don't deserve the same rights as other Americans. In January 2016, Trump told the Fox News host Chris Wallace that he would "strongly consider" appointing conservative justices who could repeal the ruling of Obergefell v. Hodges, the Supreme Court decision that made same-sex marriage legal last year. In June 2015, Vice President-elect Mike Pence, who has a long history of opposition to LGBT rights, had responded more strongly to the decision, reaffirming his belief that marriage is between a man and a woman.
As a queer American and as a writer, the prospect of a Trump presidency troubles me. Yet Trump's tenure, ironically, could be a spur to LGBT literature, propelling the development of an even more self-assured literature of American queerness than before.
I came to America from the Commonwealth of Dominica. For me, like many other queer writers in the U.S., particularly those who've come from less safe places, America represented a kind of hope. Here was a country I'd decided to stay, as a dual citizen, after coming out. My former home in the Caribbean wasn't a safe place to be openly queer in, and unlike the U.S., it lacked laws protecting LGBT persons from discrimination or violence. When I immigrated, I felt like a sea-traveler who had escaped from a storm, waves high as Hokusai's, and who was now in a calmer place, free to fill my eyes with stars.
Of course, the United States was far from perfect. The killing of trans women is in the news so often that I've come to expect it. Bigotry against LGBT people is written into innumerable "religious freedom acts" akin to the one Pence signed. But, for all that, America was still a sanctuary, a world that could accept—and even defend—someone like me. Queer people were never fully safe, but here we could be happy and hopeful.
The day Trump was elected, I began to think of Shirley Jackson's famous New Yorker story, "The Lottery." In Jackson's tale, published in 1948—the same year Highsmith began The Price of Salt—a New England town holds an annual lottery, in which each member of the town must pick a piece of paper from a closed box. One unlucky person who gets the single paper with a black dot on it will be stoned to death by the townspeople. Jackson's story is cool and compressed, revealing the mundane savagery in an ordinary American town that exists when people cling too closely and literally to violent traditions. I had voted, not taken part in a lottery, yet felt like I had pulled out a card with a smudged black dot: an indication that something terrifying, was coming.
Because the president-elect's stances on LGBT issues have varied and often differed from the demonstrated record of the vice president-elect, it is still unclear exactly what queer people are up against. In 2000, Trump told the American LGBT magazine The Advocate that "sexual orientation would be meaningless" in a Trump administration. In April, Trump said Caitlyn Jenner could use the women's restroom in Trump Towers, pushing back against the hardline anti-transgender rhetoric of Texas Senator Ted Cruz and North Carolina Governor Pat McCrory. Yet Trump told Wallace in January that marriage equality "should be a states' rights issue," and he appeared to implicitly double-down on his opposition to LGBT rights by choosing the staunchly anti-LGBT Pence as his running mate.
The day after Trump's win, the National Organization for Marriage, founded in 2007 to oppose same-sex marriage, issued a statement that they would plan to "work with President Trump to nominate conservative justices to the U. S. Supreme Court," who will "inevitably reverse" Obergefell, as well as to undo Obama's executive orders protecting transgender individuals. Though Trump recently stated on 60 Minutes that he is "fine" with marriage equality, it's difficult to trust him, given the variation and vagueness of his answers and the influence of anti-LGBT figures around him, including his top advisor, Stephen Bannon of Breitbart News.
The immediate reaction to the election among my community of queer writers was tinged with feelings of hopelessness, but many writers, such as Yezmin Villarreal, cautioned against wallowing in despair. The work of queer American writers has taken on a renewed importance and urgency now—an urgency that existed in the days before LGBT writers had legal protections. Many of the best-known queer texts, after all, emerged in times and places where being anything other than straight was—or remains—unsafe. The British writer Radclyffe Hall's 1928 novel, The Well of Loneliness, featured a lesbian couple that Hall gently championed, portraying their queerness as natural and deserving of legal recognition. Despite its tameness, the mere fact that the book did not reproach its lesbian protagonists led to it being condemned as "obscene" in a notorious U.K. trial the year it was published. The book was the subject of another obscenity trial in America, though that case was ultimately dismissed by New York courts. Both Hall's novel and Virginia Woolf's gender-shifting novel Orlando—published the same year—later became iconic queer works, yet both emerged in worlds where non-discrimination laws for queer persons did not exist.
From 1913 to 1914, E.M. Forster wrote—but never in his lifetime published—the novel Maurice, which revolves around two men in love. It was only published in 1971, 55 years after it was composed, and it's now one of Forster's most widely taught novels. "Publishable. But worth it?" Forster wrote in a comment on his manuscript, revealing that he knew, like Highsmith, that releasing it could ruin his career. Other major texts in queer literature, like James Baldwin's pioneering affirmation of bisexuality, Giovanni's Room (1956), Djuna Barnes's Nightwood (1936), which depicts gender dysphoria, and Rita Mae Brown's 1973 lesbian classic, Rubyfruit Jungle, appeared at at times when much of America was hostile to LGBT people.
These books helped inspire others like them. Many authors were tried in court for obscenity for writing works with queer elements, including Allen Ginsberg's iconic long poem, Howl, and William S. Burroughs' hallucinatory novel, Naked Lunch. These trials reinforced the danger of being openly queer, but also gave the texts in question greater visibility. Early LGBT literature in America helped counter a long history of works that portrayed queer people in a negative light: as jokes, as predators, as undesirables, or as monsters, as in the case of Joseph Sheridan Le Fanu's famous Irish lesbian vampire novella, Carmilla (1872).
Today, it's still subversive, if not outright dangerous, for many writers around the world to publish books that feature LGBT characters as normal human beings. And yet, these stories continue to be written. Chinelo Okparanta's 2015 novel, Under the Udala Trees, ends with a note tying it to anti-LGBT discrimination in Nigeria. The Jamaican writer Nicole Dennis-Benn's recent novel, Here Comes the Sun, features a powerfully rendered queer couple living in a homophobic society. Transgender literature, too, is gaining momentum. Novels like Imogen Binnie's Nevada, short-story collections like Casey Plett's A Safe Girl to Love, and poetry collections like Kokumo's Reacquainted with Life are powerful ways to write ourselves into being at a time when many people claim they have never knowingly seen a trans person before. Zines, journals, and publishing houses dedicated to queer literature, like Topside Press, are multiplying. And while it can still be difficult for queer writers to achieve mainstream visibility, the fact that so many publishers are creating new spaces for us is a critical step toward changing this.
In America, queer writers are no longer the outsiders we once were, but the legal repercussions of a Trump administration may force us back to the sidelines. Certainly, in many ways, Trump's presidency is a wild card, but it is also clear that the United States itself is increasingly supportive of LGBT rights. In May of this year, a PEW poll revealed that 55 percent of Americans supported same-sex marriage. While transgender rights remain more contentious, our increasing visibility in the media has also slowly begun to tilt public opinion toward acceptance of trans people.
Contemporary America is filled with shadows and ghosts; we have never been free of the bigotries of homophobia, sexism, and racism. But it is also, despite all this, a more tolerant America than the one Highsmith lived in. The title of her novel had come from the biblical story of Lot, whose wife turns into a pillar of salt because she looks back while running away from the fallen city of Sodom. We cannot turn back to the past, either.
There are still places where LGBT Americans fear to go. But at its best, and often in times of the deepest challenges and uncertainties, our literature has offered a vision to the world of the possibilities that may exist within each person, of our ability to resist and persist, of our ability to make and remake ourselves, even in the face of unspeakable pain. Many of us are accustomed to benign ignorance at best and violent hatred at worst—and the opposite of hatred is not love, but, rather, compassion or empathy, which is what the best literature tries to instill in us. In such an atmosphere of uncertainty, we must remember, that even if for many of us the sky seems dark, our art can still be one of the lights leading us through the night.
---
A prior version of this article was published before editing was finalized.