The Message of Newtown: Please Don't Forget
Kim Snyder's documentary examines how a community can even begin to recover in the wake of unspeakable tragedy.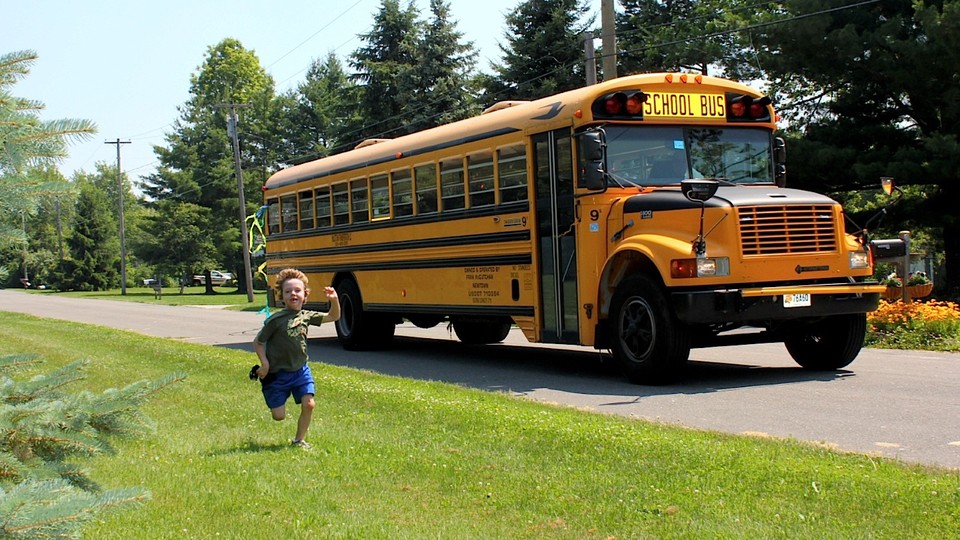 To say that Newtown is difficult to watch is as insufficient as saying that the events of December 14, 2012, were difficult for the country to get through. The murder of 20 first-graders and six adults who were trying to save them at Sandy Hook Elementary School by a 20-year-old with a Bushmaster semi-automatic assault rifle and a history of behavioral disorders is one of the darkest stains on the recent history of America. After that day, the nation grieved. People mourned, and even marched. But, eventually, by necessity, they also moved on.
The point of Newtown, a new documentary by Kim Snyder airing in theaters nationwide November 2, is, in the rawest terms, to reopen old wounds. On the surface, the film's intent is to try and understand how Newtown, Connecticut, is recovering four years later—to examine how, if at all, a community might process such a horrific event. But for viewers, its purpose is simpler. To watch it is to suffer through something again, perhaps even more acutely than before. And that seems to be Snyder's goal: to assert that something this unspeakable—the mass murder of children—shouldn't be forgotten. To find it bearable is to normalize it, and to normalize it is to accept the possibility that it might happen again.
This isn't to say that Newtown is gratuitous, or excessive in its appeals to audiences on an emotional level. It isn't interested in rehashing the explicit details of what happened, or reinvestigating anything (the shooter is never referred to by name, and considered only briefly). Instead, Snyder focuses on the people most affected by that day: the parents of children who were killed, the police officers and EMTs on the scene, the religious leaders and doctors left trying to heal impossible injuries. She also considers, with thoughtful care, the guilt of the parents whose children survived. In the movie's most heart-rending scene, early on, the camera hovers over an idyllic neighborhood street while superimposed text reveals emails from frantic community members. Parents communicate that their kids are OK. Then a single word: "Guys." There's a pause, followed by the rest of the message. "I'm so sorry to say our sweet little angel Daniel did not make it out."
"Daniel" is Daniel Barden, who was seven years old when he was killed. His father, Mark, is one of the film's primary subjects, along with Nicole Hockley, the mother of Dylan Hockley. Snyder also interviews Rick Thorne, a janitor at Sandy Hook, Laurie Veillette, a volunteer EMT, and Father Robert Weiss, a Catholic priest, among many others. Each subject seems almost baffled by the scale of the tragedy, as if it's in an order of magnitude that can't be fully comprehended. Parents talk about making spreadsheets to keep track of 26 individual funeral services and wakes. An emergency-room doctor from Newtown describes how most of the victims were so badly wounded they didn't even make it to the hospital. "When you have such horrific injuries to little bodies, that's what happens," the doctor says, visibly shaking. A bullet of the kind used by the shooter "explodes through the body, it doesn't go in a straight line. It goes in and then it opens up."
Snyder weaves together on-camera interviews, archive footage from home movies, and aerial shots of the town to present a compelling portrait of a community struck by the unimaginable. She films teachers from the school having a kind of potluck meeting that has all the familiarity of a book club, or a PTA dinner, which makes the fact that they're coming together to discuss their trauma all the more poignant. And she deftly manages the tricky task of not sensationalizing the events in any way, capturing their emotional impact without veering into voyeuristic territory. "I don't think that any of us feels like people need to know specifically what we saw," says Bill Cario, a police officer who arrived on the scene that day. "Emotionally they need to know, to understand it, but I don't think they need to know graphically what occurred in there."
There isn't anything hopeful or cathartic in the kind of pain that comes with hearing people talk about the worst day of their lives. What makes watching Newtown bearable, though, is that it feels like the closest thing to a tribute audiences can pay to the children and adults who died, and the town that continues to grieve them. To want to forget what happened that day is understandable, but the only way anything remotely hopeful can emerge from it is if we remember. "There is no closure," Nicole Hockley says toward the end of the film. "I don't want closure. How could I ever possibly say, 'I'm over this now'?" But she accepts her son's legacy, and that she has to be the one to fulfill it. That mission isn't one that offers the luxury of forgetting and moving on. Not for Hockley, and, Newtown hopes, not for America.